Albuquerque, NM – Albuquerque voters take to the polls today to decide whether abortions after 20 weeks gestation will be banned within the city limits. This first-of-its-kind initiative at the municipal level, known as the Pain Capable Unborn Child Protection Ordinance, has garnered national attention, with some calling this vote a "turning point" in the way the pro-life movement approaches the matter of bringing abortion to an end in America.
In Albuquerque, national media has referred to the local grass roots effort spearheaded by the hard work of Bud and Tara Shaver as a "rag-tag group of pro-lifers" who are on the verge of making history in spite of the huge amounts of money flowing in from abortion groups such as Planned Parenthood, the ACLU, and even President Barack Obama's Organizing for Action groups which supports leftist causes.
Operation Rescue's Cheryl Sullenger is on the ground in Albuquerque working in support of the ordinance, which she considers a continuation of her work to halt late-term abortions in Wichita, Kansas, where George Tiller once operated the largest late-term abortion clinic outside Communist China.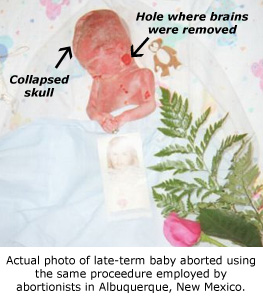 Yesterday, at a press conference held by the Shaver's political action committee, ABQ Voters for Late Term Abortion Ban, an enthusiastic crowd of supporters cheered outside Southwestern Women's Options – the largest late-term abortion clinic in the U.S. – as local pastors and national pro-life leaders from Operation Rescue, The Survivors, Students for Life in America, and Created Equal decried the barbaric practice of aborting babies after 20 weeks, praised the work of local activists, and urged everyone to turn out to the polls today.
All attention is now focused on getting out the vote in about every way possible from a 48 hour prayer walk conducted by Rev. Patrick Mahoney of the Christian Defense Coalition in Washington, DC, to canvassing, working the phone banks, and sign waves outside polling places. Radio and television ads sponsored by a coalition of pro-life groups, including the Susan B. Anthony List, flood the airwaves for the final GOTV push. Already, early voting set records here and a high turnout is expected today.
"This is the day we make history!" said Sullenger. "Win or lose, this is a game-changer. We have sparked a debate here about late-term abortions that we always win in the hearts and minds of the people and provided a template for others to employ in their communities where the political climate has limited pro-life advances in the past. Late-term abortions are indefensible and if we can ban them, we are not far from ending abortion altogether."
Initial polling showed that 54% of likely voters supported the ordinance, but since both side have aggressively campaigned over the past few weeks, the outcome of this election is difficult to predict.
If the energy displayed at the press conference yesterday is any indication, energy, enthusiasm and dedication are on our side. In the end, voter turnout is key, especially among church-going voters who were encouraged at Sunday Services to vote for the ordinance.
While all abortions are horrific, Americans are particularly uncomfortable with late-term abortions on babies that scientists have determined can feel pain, and it is easy to see why. The process is a grisly one that was pioneered by George Tiller in Wichita, Kansas, where two of the Albuquerque abortionists once worked. It lasts 4-5 days and in done using practices that fall below standards and results in a woman delivering a dead baby, sometimes into toilets in their hotel room or at the abortion clinic and sometimes through dismemberment.
In Albuquerque, Tara Shaver, who trained with Operation Rescue for a year in Wichita, obtained records of over a dozen 911 calls placed from Southwestern Women's Options (SWO) showing gross life-threatening complications, including a ruptured uterus during a 35-week abortion. Shaver also discovered that state tax dollars pay for these late-term procedures at the cost of thousands of dollars each. She also obtained an consent form from SWO where the abortion business admits that abortions after 18 weeks are more dangerous than live birth, which is contradicts the usual pro-abortion talking points.
In fact, the Shaver's work serves as the foundation and impetus for the Pain Capable Unborn Child Protection Ordinance.
The outcome of today's vote is being carefully watched around the nation. Already the Shavers have fielded phone calls from activists around the country seeking information about how this tactic can be applied in their communities.
A victory in a "Blue State" community where voter rolls are dominated by Democrats would send a shock wave across the country, which would especially reverberate in Washington, DC, where the Senate is considering a similar late-term abortion ban. It may be difficult for Democrats from some states to oppose protecting babies halfway through pregnancy when they know that their constituents support it and may hold them accountable during their next re-election campaign.
Tonight, pro-life supporters of the Pain Capable Unborn Child Protection Ordinance will gather from 7-10 pm at the Crown Plaza Hotel for an Election Watch Party sponsored by the Susan B. Anthony List.
Follow Sullenger on Operation Rescue's Twitter.com feed for live tweeting throughout the day and for up-to-the-minute election returns this evening. Also, pro-life supporters everywhere are encouraged to tweet under the #ABQ4Life hashtag today in support of the Albuquerque Pain Capable Unborn Child Protection Ordinance.