Pro-life supporters score a victory in Albuquerque, ensuring a city-wide vote on the "Pain Capable Unborn Child Protection Ordinance"

By Cheryl Sullenger
Albuquerque, NM – In front of council chambers packed with upset pro-life supporters, the Albuquerque City Council referred a contentious resolution, which would have blocked an upcoming abortion vote, was referred to a committee that will not take it up until after the election takes place.
"This battle has been up and down from the beginning, we are so thankful for yet another victory," said Tara Shaver, Chair of ABQ Voters For Late Term Abortion Ban Pac. "It's official and set in stone. We will have our election at the polls on Nov. 19th to end late-term abortion thanks to [City Council members] Don Harris and Dan Lewis, who made sure that the resolution is neutralized until after Nov. 19th."
Councilor Trudy Jones introduced Resolution R-15-250 that asked for the hiring of a special counsel who would seek a declaration from a judge concerning the Constitutionality of the proposed "Pain Capable Unborn Child Protection Ordinance" that was introduced through a direct legislative initiative. The resolution also provided for or the special counsel to seek an injunction against the vote, even though the city Council voted on September 16.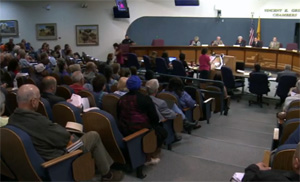 Around 50 pro-life citizens spoke at last night's city council meeting in opposition to Jones' resolution, with most expressing disappointment and sometimes anger that the council would attempt to subvert the legal process deny the people a vote. Only three spoke in favor of the resolution.
Earlier, Life Legal Defense Foundation stepped in on behalf of pro-life groups, including Project Defending Life and Operation Rescue, sending a letter to each city councilor, cautioning them that adopting Jones' resolution to block a vote on the "Pain Capable Unborn Child Protection Ordinance" violates the rights of the citizens of Albuquerque and is in direct conflict with the Albuquerque City Charter.
Meanwhile, Jones sought out New Mexico Attorney General Gary King's opinion of the ordinance. In a press release issued hours before last night's council meeting, King wrongly opined that the Ordinance was unconstitutional and unenforceable due to adverse court rulings against similar laws in other states.
King was referring to an opinion issued by the Federal 9th Circuit Court of Appeals that struck down a nearly-identical Arizona late-term abortion ban. However, Arizona has filed an appeal with the U.S. Supreme Court in that matter, leaving the final decision on the issue of Constitutionality of Pain Capable Unborn Child Protection laws unsettled. Currently 11 states have such laws in force.
Pro-life groups collected nearly 27,000 signatures on a legislative initiative petition in just 20 days to put the ordinance, which would ban abortions after 20 weeks within the city of Albuquerque, up for a vote. The required signatures were certified, triggering a mandatory election under the City Charter.
Albuquerque is the location of Southwestern Women's Options, the largest late-term abortion clinic in the U.S., earning the city the dubious moniker of "Late-term Abortion Capital of America." SWO conducts abortions through all nine months of pregnancy. Research and documentation gathered by Shaver and Operation Rescue shows that life-threatening complications frequently occur there. The risky abortion process sends the baby into cardiac arrest, forcing the mother to deliver a dead baby after spending hours in unmonitored, painful induced labor at home or in a hotel room.
"We thank every pro-life supporter who sacrificed their time to stand up for life and the rule of law. Last night, you made the difference!" said Operation Rescue President Troy Newman. "We look forward now to victory on November 19."
On Monday, ABQ Voters For Late Term Abortion Ban PAC launched its campaign in favor of ending abortions in the fifth month of pregnancy and beyond. Visit LateTermAbortionBan.com to learn more and donate to the campaign.