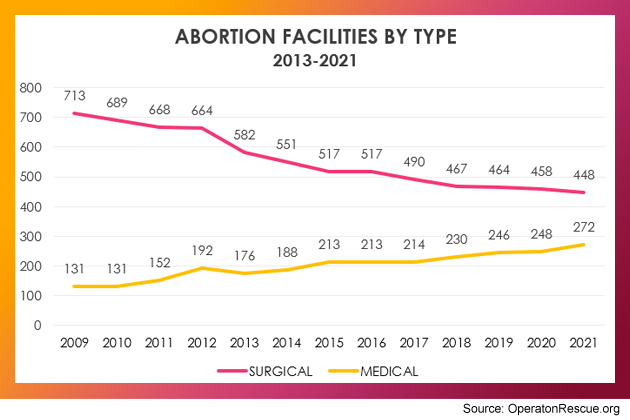 An exclusive Operation Rescue Special Investigative Report
By Cheryl Sullenger
[Read Part One "The Status of American Abortion Facilities in 2021."]
New trends in the business of abortion have been documented through Operation Rescue's exclusive 2021 survey of abortion facilities in the U.S.
"We found that the trend toward the use of chemical abortions expanded in 2021. There was a rise in the number of first trimester abortion facilities to accommodate the increased demand," said Troy Newman, President of Operation Rescue. "Overall, two factors had the most impact on abortion trends in 2021. Those were the passage of the Texas Heartbeat Bill, which prohibits abortions after about six weeks of pregnancy, and the new pro-abortion policies of the current administration in Washington, D.C., which include the relaxing of Federal regulations on how abortion pills are dispensed."
The survey also found the following:
There are 720 abortion facilities in the U.S., comprised of 448 surgical and 272 abortion pill clinics. This continues the trend of contracting numbers of surgical abortion facilities while reinforcing the trend toward more facilities focused on chemical abortions.
The number of surgical abortion facilities in the U.S. that limit abortions to no more than 13.6 weeks increased a notable 33 percent in 2021 to 132 facilities.
There was a shift away from a willingness to conduct second trimester abortions in favor of first trimester procedures and abortion pill distribution.
The number of abortion facilities willing to do the unpopular and risky abortions at 20 weeks gestation or later fell in 2021 – down nine percent since 2019.
The national average cost of a first-trimester abortion dramatically dropped in 2021 to the lowest price in seven years. This was driven primarily by an expansion of the use of telemedicine for the less expensive (but more dangerous) delivery of abortion drugs.
The national average wait time for abortion appointments rose to a five-year high of 10.5 days but remained much lower than the national average appointment waiting times for non-abortion-related medical services.
"The outcome of the 2020 Presidential Election was responsible for a significant shift in the way abortion facilities function in America in 2021," said Newman. "The data from our survey confirms that the current pro-abortion political administration is driving changes within the Abortion Cartel that are putting the lives of women and their babies at greater risk."
Methodology
Each year, Operation Rescue conducts a nationwide survey that involves contact with each abortion business in the U.S. The information gathered about the abortion clinics and their practices represents the most accurate data available.
This most recent data was compiled by Operation Rescue, which conducted a survey of all abortion facilities in the U.S. from November 15 through December 17, 2021.
Operation Rescue defines "abortion clinics" as those businesses that conduct abortions outside a hospital setting. There are two categories of abortion clinics:
Surgical Abortion Clinics: These offices conduct surgical abortions. Almost always, surgical facilities also distribute abortion-inducing drugs.
Abortion Pill or "Medication" Clinics: These offices supply abortions through the administration of drugs (pills) or other chemical means. They do not conduct surgical abortions.
Gestational Age Limits – Abortion Pill Facilities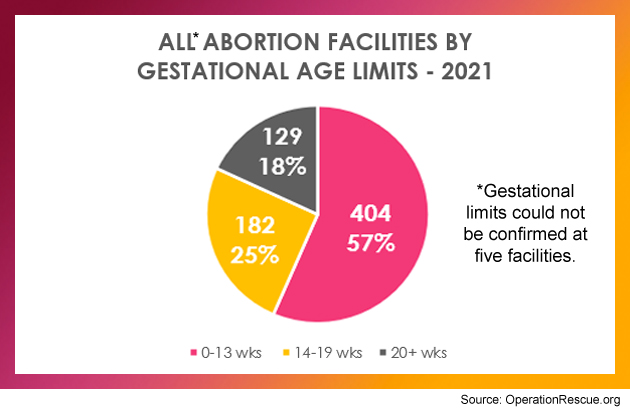 While most states set gestational limits on abortions, each abortion facility sets its own self-imposed limit within those parameters on how far into a pregnancy they are willing to conduct an abortion.
Because of the nature of abortion drugs, facilities that offer only that option limit abortions to 11 weeks gestation or less.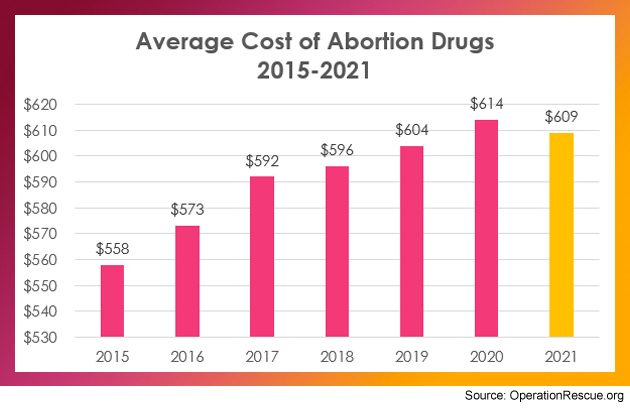 In 2021, 33 new chemical abortion facilities opened. Fourteen additional facilities dropped surgical procedures and now only dispense abortion pill for abortions. Eleven abortion pill facilities halted all abortions or closed for good.
Planned Parenthood now controls 78 percent of all abortion pill facilities, operating 211 out of the 272 such clinics now open.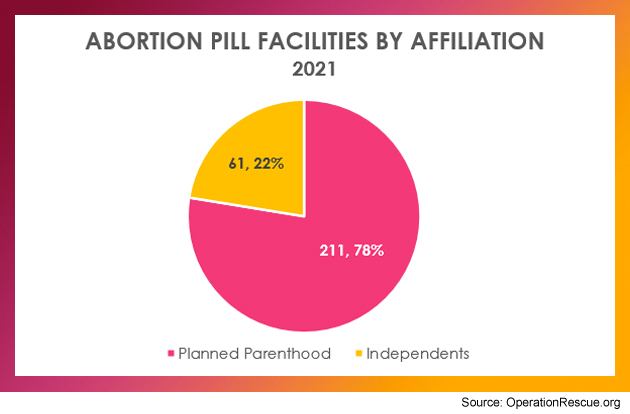 Abortion pill businesses – both the "brick and mortar" and "pill by post" varieties – increased, due primarily to the Biden Administration's decision to lift restrictions that required in-clinic visits to obtain abortion pills. That policy was made permanent by the U.S. Food and Drug Administration in December 2021.
(More about that in Part One.)
Gestational Age Limits – Surgical Facilities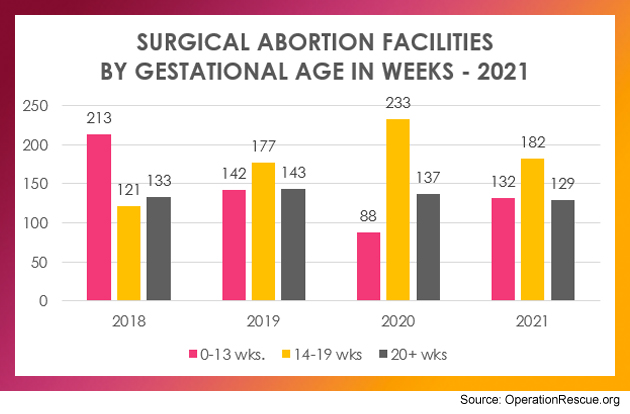 Out of the 448 surgical facilities now operating, eight of them opened in 2021. An aditional eleven facilities were originally chemical abortion facilities, but added surgical procedures last year. Sixteen surgical abortion facilities halted all abortions or closed permanently.
Here is a breakdown on gestational age limits at surgical abortion facilities.
There are currently 132 surgical abortion facilities that limit abortions to 13.6 weeks or under. That is up significantly from 88 facilities in 2020. This is the only category that saw an increase in 2021.
Surgical abortion clinics that set self-imposed abortion limits between 14-19.6 weeks gestation numbered 182 in 2021. This is down from 233 in 2020. Part of this drop is attributable in part to a decrease in surgical facilities, and in part to a surge in the use of abortion inducing drugs at the expense of other procedures.
Facilities willing to abort babies at 20 weeks gestation or older dropped slightly in 2021 to 129 – eight fewer than in 2020.
Planned Parenthood operates 176 surgical abortion facilities in the U.S., accounting for 38 percent of all such facilities nationwide.
Third Trimester Facilities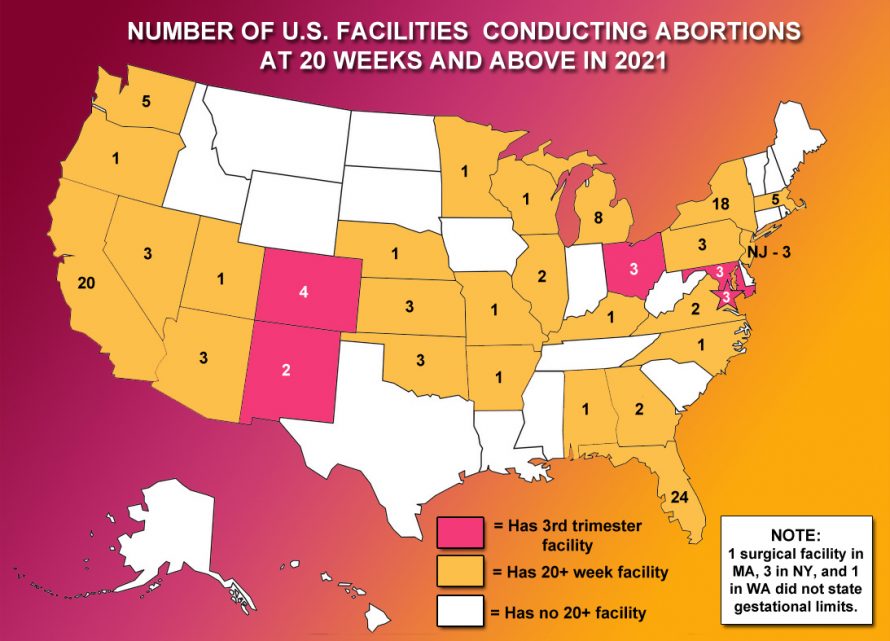 Only a few abortion facilities that offer abortions throughout all stages of pregnancy openly admit to it. Others may state limits under the third trimester of pregnancy even though they will conduct them much later. Abortion facilities with "fetal indications" programs or conduct abortions for other so-called "medical" reasons, may not admit to conducting third trimester abortions, but those programs are good indicators that they do.
Currently, six abortion facilities openly abort throughout all nine months. Those include:
Boulder Abortion Clinic in Boulder, Colorado.
Stated limit: No limit. (Halted early abortions in 2020.) Owner: Warren Hern.
Capital Women's Services in Washington, D.C.
Stated limit: 36 weeks. Stake Holder: Steven Chase Brigham.
CARE (Formerly AbortionClinics.org) in Bethesda, Maryland.
Stated limit: 35 weeks. Owner: LeRoy Carhart.
Southwestern Women's Options in Albuquerque, New Mexico.
Stated limit: 32 weeks. Owner: Curtis Boyd.
Women's Med Center in Dayton, Ohio.
Stated limit: Under 22 weeks. Ohio law bans abortions after "viability." Website still offers "fetal indication" abortions, which can run later. Owner: Martin Haskell.
DuPont Clinic, Washington, D.C.
Stated limit: None. Mention "beyond Operators: Matthew Reaves, Stacey Rubin, and Jessica Kuperstock.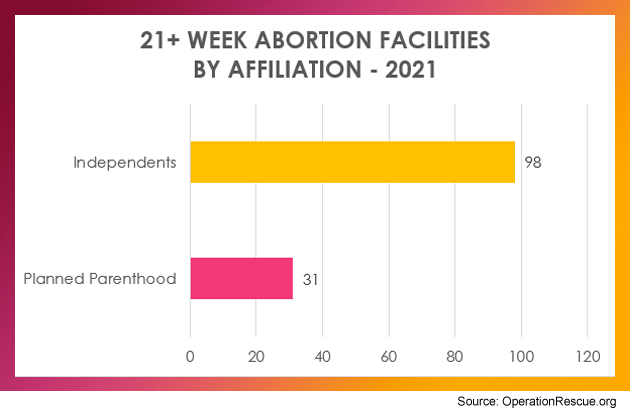 Removed from the third-trimester list in 2021 is the Pro-Choice Medical Center, in Beverly Hills, California, owned by Josefa Seletz. It closed in January of last year.
Also removed was the Washington Surgi-Center, which reduced its stated limits to 27.6 weeks – one day before the start of the third trimester. Owner Cesare F. Santangelo has instead added profitable chemical abortions to his list of "services."
First Trimester Abortion Costs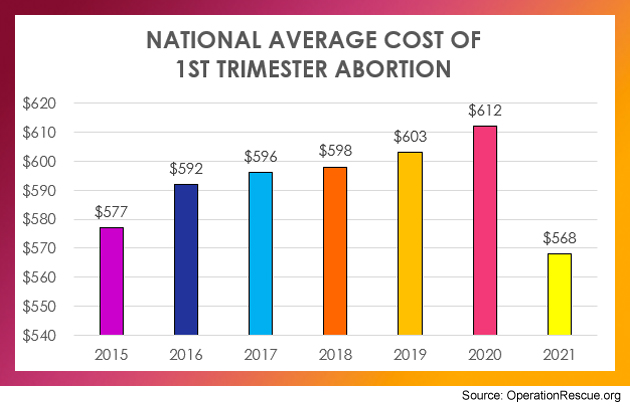 According to the Centers for Disease Control's Abortion Surveillance Report for 2019, the most recent year with data available, 92.7% of all abortions take place in the first trimester of pregnancy, at or below 13 weeks gestation.
Operation Rescue has tracked the cost of first trimester abortions for the past seven years because it is most representative of what the average woman would commonly pay.
The overall national average cost of a first trimester abortion in 2021 was $609 – a drop of five dollars over the previous year. This is the first decrease in the nation average cost for a first trimester abortion at least since 2015.
The cost of an abortion varied by type of abortion and by type of facility.
The average cost of a surgical abortion was $632 – a record high. It represents an eleven dollar increase over 2020's average price.
Overall national average for a chemical abortion in 2021 was $589, down $17 from 2020's average.
However, the cost of abortion drugs varied by where and how the pills were delivered.
Abortion drugs obtained at surgical abortion facilities nationwide averaged $605 – an increase of seven dollars over 2020 prices.
Abortion drugs obtained at abortion pill clinics were the most expensive option at $618, even though it represented a drop of four dollars over the previous year. This decrease is likely due to the increased use of telemedicine at abortion pill facilities in 2021, which are usually less expensive.
Abortion drugs distributed using telemedicine was dramatically lower at a national average of $418.
From these data points, it is easy to see that the use of telemedicine to deliver abortion pills, either at an abortion facility or by mail, has been the primary reason for the drop in the average of medication abortion prices in 2021.
The fact that abortion drugs obtained at non-surgical abortion facilities are more expensive than the same drugs dispensed by a surgical abortion facility is an interesting one, especially since it is less expensive to operate an abortion pill clinic. That is because they do not have to be equipped to conduct surgeries and need no surgically trained staff that might require higher salaries.
Billing Trend Continues
In 2020, Operation rescue's survey discovered an interesting billing trend that seemed to be confined to Planned Parenthood Mar Monte and Planned Parenthood Northern California detected an interesting occurrence not observed in previous years.
That trend continued in 2021.
Those Planned Parenthood facilities charge an astounding $2,009.00 for abortion drugs obtained in clinic and up to $1,838 for first trimester surgical abortions. This is far above what other Planned Parenthood affiliates and independent clinics in California charge.
Their prices for abortion drugs a whopping $1,420 above the national average. Surgical abortion prices are $1206 above the national average – a staggering amount.
There is an explanation for this.
Planned Parenthood will take cash payments, but they prefer to bill insurance. They use a sliding scale based on income when charging women for abortions. Insurance reimbursements are billed to make up the difference. In California, Medi-Cal is a government-run program that provides free or low-cost health insurance. It has paid for abortions for low-income women and minors for decades. The state of California is essentially giving the Planned Parenthood affiliates a blank check for every abortion.
That may explain why so many California Planned Parenthood abortion facilities are price-gouging.
"Abortion has traditionally been a cash business. Now it appears that these Planned Parenthood facilities have quite the profitable racket going. They charge women a little then bilk tax-funded state programs for the balance of grossly overpriced abortions," said Newman. "Unfortunately, Planned Parenthood has so much political cover within California's corrupt government that it is unlikely they will ever be called on the carpet for this suspicious billing scheme."
Highest and Lowest
Given Planned Parenthood's exorbitant abortion pill prices, it is not surprising that California posted the highest average cost in the nation for both surgical abortions at $1,014 and abortion drugs at $939.
New Jersey weighed in as the least expensive state for surgical abortions with an average price of $448.00.
The state with the lowest average price for abortion drugs was Maryland at $433.00 – 54 percent lower that California's average cost

Wait times for appointments
It is not unusual to hear leftist news reports about how women must wait weeks on end to get an abortion appointment due to the passage of pro-life laws. In 2021, that rhetoric ramped up to hysterical proportions with the passage of the Texas Heartbeat Act.
While it is true that several states are seeing slightly longer wait times, in many other states, it is still business as usual. In states with no waiting period, like California, for instance, it is still very easy to get an appointment the same day or simply walk in for an abortion.
The national average time for a woman to wait for an abortion rose to 10.5 days from 2020's wait time of 8.4 days.
This time is measured from the day a woman picks up the phone to make an appointment to the day of her actual abortion procedure. It includes a first appointment and state-mandated reflection times of 24-72 hours. When counting waiting days, Operation Rescue included weekends and holidays.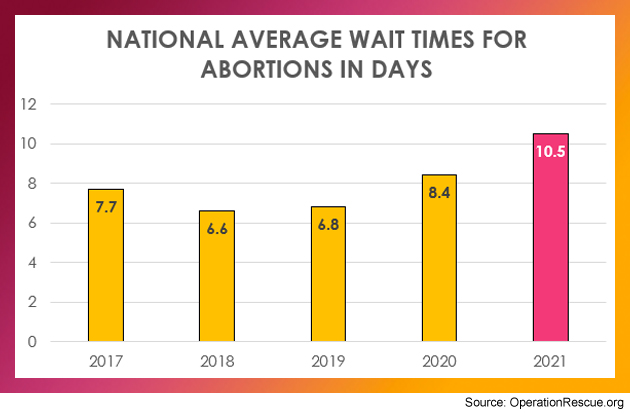 While the 10.5-day national average wait for an abortion represents an increase over 2020, it is not an unreasonable amount of time to wait for an appointment, considering the 2020-2021 national average wait time for a general health care appointments in the U.S. According to www.financesonline.com, the average wait time for an appointment with a physician in the largest metro markets is 24.1 days — more than double the wait for an abortion. That adds perspective to the statistic and illustrates that abortion wait times are slow on average compared to wait times for other medical services.
There are three reasons identified by Operation Rescue during the nationwide survey for the longer abortion wait times:
Staffing issues: In normal times, fully staffing abortion facilities is a challenge. However, with the China Virus tossed into the mix, there are times when an abortionist or adequate staffing is simply not available. The high unemployment payments, which have kept workers out of the employment market, plagues almost every kind of business, including the business of abortion. This has limited availability as some abortion facilities and contributed to longer waiting times.
Texas Heartbeat Act: It is true the Texas Heartbeat act is driving women to surrounding states for abortion appointments. Oklahoma, Kansas, and New Mexico appear to have experienced the largest influx. However, most states have seen little to no impact on abortion waiting times, according to data obtained during the national survey. However, the Texas Heartbeat Bill has saved lives. Abortions have dropped 50% in that state, thanks to this creative piece of legislation.
Texas clinics are paying for traveling expenses to states with large numbers of abortion facilities: A receptionist at one Planned Parenthood surgical abortion facility in Texas informed Operation Rescue that they were paying full travel expenses for women to go to states such as New York, New Jersey, and Florida to get abortions.
Conclusions
Late-term abortions
There was an interesting change in the gestational age limits of surgical abortion facilities in 2021. Our survey revealed a drop in facilities offering second trimester abortions with several of those facilities limiting abortions the first trimester of pregnancy. This represented a shift in focus to the use of abortion drugs and the use of telemedicine to distribute them.
There was also a drop in facilities that will openly conduct third trimester abortions. This shift was due to one retirement and another formerly third trimester facility limiting abortions to the end of the second trimester as they added the availability of abortion pills.
Profit-taking
The average abortion cost is reflective of what a woman would pay out of her pocket. That price fell in 2021 due to an expansion of the use of telemedicine, which can be less expensive that a regular office visit.
The trend toward profit taking persisted in 2021, especially at some California Planned Parenthood surgical facilities, which continued to charge exorbitant prices for surgical and chemical abortions, then pressured clients to allow them to bill their state-financed insurance that has no limits on abortion pay-outs.
Wait times
While the national average wait time for abortions increased in 2021, it remained much below the national average waiting time for other medical services.
Texas Heartbeat Act, which limits abortions to around six weeks gestation when a baby's heartbeat is detectable, caused some women to seek abortions in surrounding states, extending waiting times there. However, the sky did not fall, even though news reports about increased waiting times tried hard to convince Americans it had. Operation Rescue's survey data showed the Texas Heartbeat Act had only a nominal effect on waiting times most states, leaving the national average wait time for abortions reasonably low.
Future in the balance
Operation Rescue's abortion facility survey identified some disturbing trends, including the increased use of telemedicine and the now-permanent policy that allows abortion pills to be delivered through the mail.
This policy change is expected to open the floodgates in 2022 to opportunistic and unaccountable pop-up businesses distributing abortion drugs through the mail. With abortion pills four times more likely to result in complications than surgical abortions, there will likely be an uptick in emergency room visits.
In 2022, current events will have tremendous impacts on the future of abortion and as well as the direction of our nation. In fact, America stands at a crossroads in terms of our nation's future as a free country, and in the matter of abortion. So much is at stake! Which way she will go remains to be seen.
Politics have a great effect on abortion policy, as we saw with the rise of telemedicine use by abortion businesses. The 2022 Mid-term Elections will determine who controls the U.S. House and Senate for the next two years. This will undoubtedly affect abortion policy. If Republicans win both houses of our Congress, we can expect to see them put up a roadblock to some of the pro-abortion provisions that Democrats will surely attempt to push through Congress. A Democrat win would accelerate plans to pass more legislation to promote, fund, and expand abortion nationwide.
The U.S. Supreme Court is also expected to issue a ruling in the spring on the pivotal Dobbs v. Jackson Women's Health Organization case that involved a Mississippi law that bans abortions after 15 weeks gestation. The High Court is being asked to overturn Roe v. Wade and send the decision on whether to allow abortions back to the states.
Should Mississippi win the case, that decision could prompt the pro-abortion Biden Administration to push Federal legislation that would ensconce unfettered abortion in every state. It may also lead to the packing of the Supreme Court with pro-abortion leftists who would ensure that abortion will be allowed in the U.S. for generations to come.
In the past year, there has also been an erosion of free speech and suppression of truth in favor of political propaganda, especially in online forums and social media platforms. This is a challenge pro-life supporters must overcome if we are to continue speaking out on the evils of abortion and the precious value of each human life.
"The last election installed an administration which, in just one short year, produced policies that have led liberalized abortion and economic hardships that are known to drive women to seek abortions," said Newman. "Elections have consequences, and it is our duty to fight to restore honest elections so that this Constitutional Republic and the freedoms it guarantees can be preserved — freedoms necessary for us to liberate Americans from the horrors of abortion. This we must do so we can continue to freely advocate on behalf of the most vulnerable amongst us, and with God's grace, perhaps even end abortion once and for all."