An Operation Rescue Special Investigative Report
By Cheryl Sullenger
Much of the post-election attention has been drawn to the allegations of election fraud brought by the Trump Campaign. Based on information now in the public record, it appears that election fraud took place in key battleground states – and likely beyond.
Witnesses presented testimony at hearings so far in Pennsylvania, Arizona, Michigan and Georgia. Those witnesses and affidavits sworn under penalty of perjury provided one report after another of ballots being counted multiple times, dead people voting, people voting illegally, dumps of ballots showing up mysteriously in the middle of the night, and election software algorithms that allowed for electronic manipulation of vote tallies.
All testimony indicated that only Joe Biden was the beneficiary of these "irregularities."
But there was another, more subtle manipulation of the 2020 election, from the top to the bottom of the ballots in some cases. This manipulation was done through the use of an expensive Washington, D.C. political consulting firm called SKDKickerbocker.
This ultra-elite organization provides public relations, campaign consultation and messaging, and crisis management to some of the most well-known Democrats, corporations, progressive non-profits, and unions in the nation.
According to their website, "SKDK is one of the top political consulting firms in the United States, and our experience and track record are second to none. Our team has worked on six presidential campaigns and has elected hundreds of members of Congress, senators, mayors, governors, local elected officials and spearheaded winning ballot initiatives."
SKDK was a prominent component of the of Joe Biden for President campaign. It also represented Kamala Harris for President in the primaries.
Their clients include the likes of Andrew Cuomo, Michael Bloomberg, Bill Clinton, Barack Obama, the Rockefeller Foundation, Facebook, the Obama Presidential Center, AT&T, and the Center for Reproductive Rights – to name a few.
SKDK ran a crisis management campaign for Planned Parenthood in 2015, which essentially killed all negative media related to the abortion group's illegal sale of aborted baby body parts and flipped the narrative to make Planned Parenthood the victims while vilifying the pro-life journalists who exposed their wrongdoing.
In the 2020 general election, SKDK represented the following in Federal elections:
Joe Biden and Kamala Harris for President and Vice President
Three Democrat candidates for Governor (1 winning campaign)
Five Democrat candidates for Senator (2 winning campaigns)
Ten Democrat Congressional candidates individually (7 winning campaigns)
Ten additional Democrat Congressional campaigns through third party clients (6 winning campaigns)
SKDK also represented several organizations and Political Action Committees that involved themselves in various races. Here are a few:
Emily's List (supports pro-abortion candidates)
Beyond Carbon (a Bloomberg-funded leftist environmental group)
Independent USA PAC (Bloomberg-funded)
Abolish the Electoral College PAC (It supported no federal candidates in 2020 but attacked the Electoral College during the 2020 campaigns.)
NAACP
AFL-CIO
SKDK also was involved in many state and local races, including State House and Senate races in several states, as well as a few mayoral and City Council races.
The chart below from SKDK's own website lists its 2020 election clients.
SKDKs Work in the 2020 Election Cycle – SKDK SKDK by Cheryl Sullenger on Scribd
Why Hamilton County, Ohio?
Perhaps SKDK's most unusual clients appeared involved in an effort to take control of the Office of the Sheriff, Prosecutor, and Clerk of the Courts in Hamilton County (Cincinnati), Ohio.
SKDK represented Charmaine McGuffey, a self-avowed lesbian who was a candidate for Hamilton County Sheriff. They also represented former judge Fanon Rucker, candidate for Hamilton County Prosecutor; and Aftab Pureval, who ran for re-election as Hamilton County Clerk of the Courts, but was the subject of allegations he violated campaign finance laws.
SKDK candidates McGuffey and Pureval won, but Rucker lost his bid for County Prosecutor.
"We have to wonder what might be going on in Hamilton County when an ultra-exclusive and very expensive inside-the-Beltway company like SKDK would become involved in a Clerk of the Courts' re-election race in Ohio. Most candidates for that office cannot afford to pay for such high-priced political consulting. But combine that office with the Prosecutor and Sherriff, and, if successful, whoever is pulling the strings would be in complete control of the enforcement/justice system in an important and populous county," said Operation Rescue President Newman. "This is a very sketchy situation. Someone obviously had or still has plans there, and the people of Ohio need to be aware of that and remain watchful."
Hallmarks of SKDK Campaigns
Political campaigns run by SKDK are easy to spot if one knows what to look for. They all display the same hallmarks. First, polling takes place to determine which issues and positions on issues resonate with the people of a particular state or area. The campaign message is then crafted to strike those notes, whether the candidate actually supports them or not.
For example, in 2018, SKDK was hired to assist with the campaign of a little-known Kansas Democrat, Laura Kelly, who was running for Governor against a well-known former Secretary of State Kris Kobach, a strong Trump supporter. (View SKDK's "Case Study" on Kelly's campaign.)
Kelly's campaign painted her as a moderate who reflected the positions of the majority of Kansans, particularly on education. A willing Kansas media fawned over her and vilified Kobach for his association with the Trump campaign. Kelly won handily, but has now been revealed as one who will march in lockstep with the Democrat agenda – no matter how far left that agenda goes.
Then in 2020, Kansas Senate Republican Pat Roberts announced his retirement, putting a coveted Senate seat up for grabs.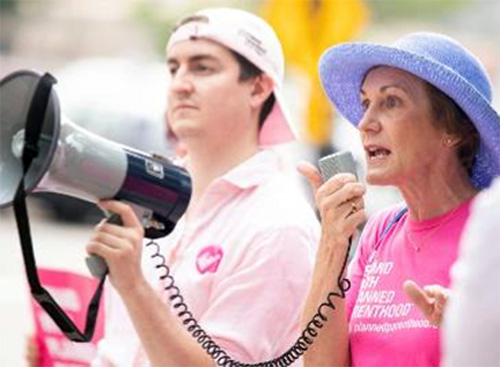 SKDK was hired to represent Democrat Barbara Bollier, who again was cast as a moderate who would be an independent voice for Kansans. Her campaign flyers frequently listed prominent Republicans that backed her campaign. She even boasted of being an "elder" in her church and "leading with Christian values."
However, Bollier was anything but a political moderate with "Christian values." That was evident in the fact that another of SKDK's clients, Emily's List, which supports candidates that embrace and promote unfettered abortion, was one of Bollier's biggest campaign contributors.
"In reality, Bollier was not who she claimed to be," said Operation Rescue President Troy Newman. "She was a radical supporter of abortion throughout all nine months of pregnancy and supported the controversial and dangerous distribution of abortion-inducing drugs via the webcam telemedicine scheme. She opposed licensing and basic health inspections for abortion facilities. Planned Parenthood proudly endorsed her. That is about the farthest from 'Christian values' as one can get."
Until just weeks before Election Day, the Kansas Senate race had gotten almost no public attention outside the Sunflower State. Real Clear Politics considered it to be a solid win for Republicans, who were in a pitched battle to maintain control of the Senate.
While eyes were turned elsewhere, Bollier out-raised her Republican opponent, Rep. Roger Marshall, almost 3-1. Her ads flooded airwaves and her flyers jammed mailboxes across Kansas. Marshall, who was cash-strapped in comparison, ran few ads early on.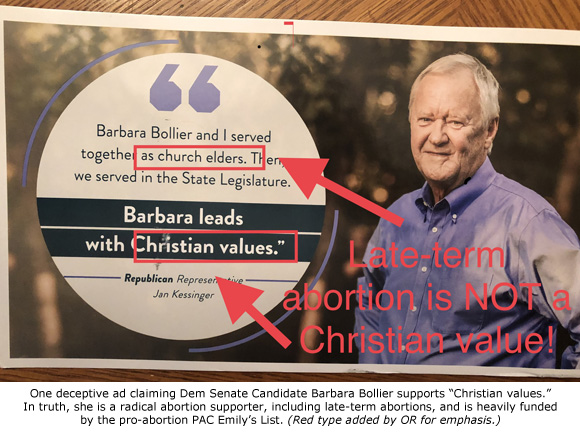 Bollier was close to winning that race, thanks to the SKDK deceptive depiction of their radical left client, along with an infusion of an additional $7.5 million in cash in the last three weeks of the campaign from a Super PAC, Duty and Country, that was controlled by Senate Minority Leader Chuck Schumer.
But instead, Bollier's march to Washington D.C. was stopped in its tracks by news reports published late in the campaign by Breitbart News, based partially on Operation Rescue's reporting. Those articles detailed Bollier's stealthy Senate candidacy and warned that the Kansas race was indeed in play.
The Breitbart reporting got the attention of the Republican Party, which helped boost Marshall's campaign finances. He began to run better ads calling out Bollier's radical positions on late-term abortions and what would surely be her steadfast allegiance to Chuck Schumer.
On Election Day, SKDK's messaging for Bollier – the same messaging that won the Governor's race for Laura Kelly in 2018 – lost by nearly ten percentage points.
"SKDK has become a king maker in politics through their use of the news media to parrot their contrived campaign talking points," said Troy Newman, President of Operation Rescue. "But when the public becomes aware of their tactics and the Fake News' complicity, Americans are more likely to reject their candidates."
Biden Moderate?
SKDKickerbocker used the same tactics to portray Joe Biden as a "moderate" during the 2020 Presidential campaign, and as someone who disgruntled Republicans could embrace. They played up his Catholic faith to make him appear moral, while suppressing media coverage of evidence that the Biden family was compromised by corrupt connections to China, as revealed by the Hunter Biden laptop.
While Biden was historically considered an establishment Democrat, as Vice President, he readily supported the radical leftist policies of former President Barack Obama.
In reality, a Biden administration would be heavily influenced by the radical socialist wing of the Democrat Party. On September 16, 2020, self-avowed socialist Rep. Alexandria Ocasio-Cortez told a reporter with Just the News that, "We can likely push Joe Biden in a more progressive direction across policy issues."
Now that Biden has prematurely claimed victory, he is boasting that his proposed administration will be among the most "progressive" in history.
"I have a very ambitious, very progressive agenda, and it's going to take really strong leaders in the House and Senate to get it done," Biden told NBC News recently.
Media Manipulation
SKDK's hallmark influence over the mainstream media and ability to manipulate a story helped Biden's campaign immensely. Former Obama Communications Director Anita Dunn*, who served as a Senior Partner at SKDK, helped manage communications for Biden's Presidential Campaign. Now that the election is over, she plans to return to her position at SKDK.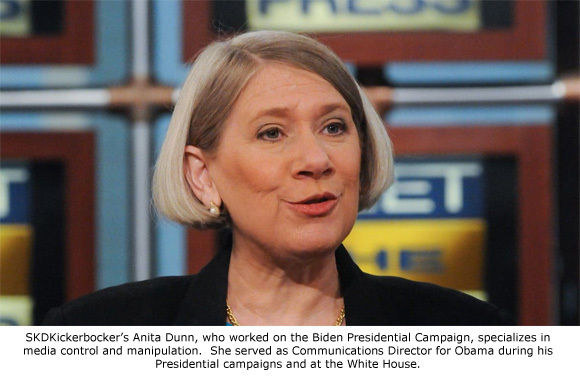 Dunn, whose favorite philosopher is Mao Tse-tung, has bragged about her ability to control the media. In one interview recorded in 2009, Dunn discussed how the Obama campaign controlled the media.
"It was very much, 'we controlled it,' rather than 'the press controlled it,' Dunn explained. "Very rarely did we communicate to the press anything that we did not control."
That media control was evident in Biden's Presidential campaign.
When the Hunter Biden laptop scandal broke with evidence of Joe Biden accepting corrupt payoffs from China, the Ukraine, and other countries, the media was used to suppress the story, which should have been the biggest news of the entire election cycle.
The media was also used to make it appear he was mentally competent to lead this nation, while in reality, Biden's symptoms of advancing cognitive disability were painfully obvious.
"SKDK's ability to control the media to advance false narratives and suppress true stories that could generate negative media proves how powerful and dangerous SKDK is, and how politically biased the media has become," said Newman. "They are little more than propagandists for the Democrats."
"Man Behind the Curtain"
It is clear that for many crucial political campaigns in 2020, SKDKickerbocker was the "man behind the curtain," to borrow an analogy from The Wizard of Oz.
Now it's time to pull back the curtain and see SKDK political consultants for what they really are – media manipulators who use polling and focus groups to craft false images for candidates that mask their true leftist agenda and make them appear more palatable to voters.
"Politicians that make promises they never intend to keep are certainly nothing new in American politics. But the level of manipulation coming from this very expensive and influential firm is like nothing we have seen before. These people are behind the most influential Democrats in America, and employ stealth candidacies to disguise their radical socialist, pro-abortion agendas," said Newman. "In the future, SKDK's involvement in political campaigns must be heavily scrutinized. Information about the true agendas of SKDK candidates must be made available to voters, so we can cast our fully-informed votes accordingly."
__________
Note: Anita Dunn, happens to be the wife of Perkins Coie's Robert Bauer. Perkins Coie was the legal firm that long represented Planned Parenthood. It was also involved in paying Fusion GPS to produce the fake Russian Dossier against President Donald J. Trump, then was instrumental in changing election laws in important swing states prior to the 2020 Presidential election to allow mail-in ballots and extended voting deadlines, which were susceptible to fraud.