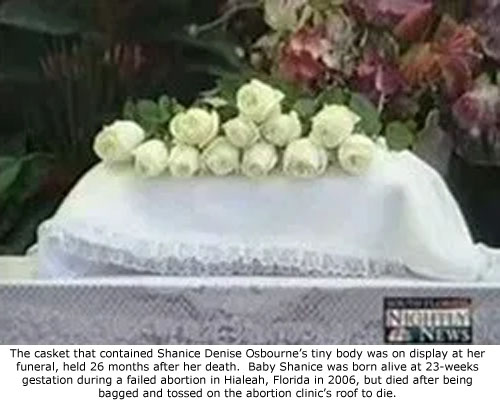 By Cheryl Sullenger
Pierre Renelique was a Haitian-born man who received his medical education in that third-world country. He wasn't a particularly good physician, not by American standards, anyway. Nevertheless, after immigrating to the U.S., Renelique found a home working as an abortionist in South Florida, in the summer of 2006.
Renelique split his time between at least two abortion facilities, one in North Miami, and one in Hialeah. Despite his lack of skill, Renelique was willing to do abortions late into pregnancy when maternal risks run high.
On July 19, 2006, 18-year old Sycloria Williams sought out Renelique's services North Miami abortion clinic where he worked.
She was 23 weeks pregnant.
Renelique inserted laminaria, gave her a drug that would stimulate uterine contractions, and sent her home with instructions to return to A Gyn Diagnostics in Hialeah the following morning when he would complete her abortion.
When Williams arrived at the Hialeah clinic the next morning at 9:00 a.m., she was already experiencing labor pains, but Renelique was nowhere to be found.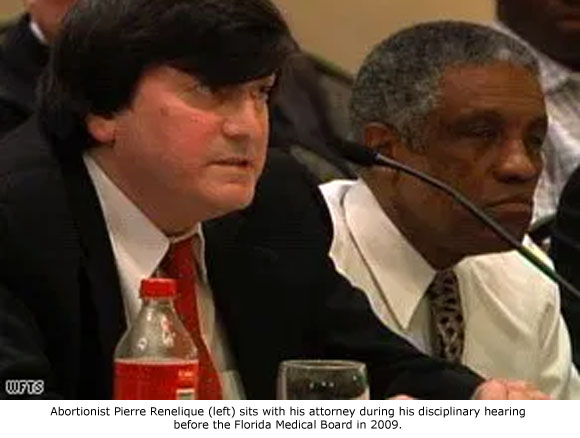 Clinic co-owner Belkis Gonzalez, a woman with no medical training, directed Williams to wait in the clinic's recovery room, where she was given additional medication. As the minutes and hours ticked by, Williams began feeling worse. She suffered the pain severe contractions and nausea.
Williams' complaints were met by stern orders for her to sit down and keep her legs shut, even though Williams instinctively knew that her baby was coming. Williams was told that Renelique would be there by 2:00 PM, but as the hour passed, the abortionist still was not responding to pages. At that point, Williams lifted herself out of the recliner and birthed a baby girl.
The tiny baby was writhing, her chest rising and falling as she struggled for her first breaths.
Had Gonzalez instead called an ambulance for the newborn infant, she would have had a good chance of survival. Babies born at 23 weeks gestation often survive premature births if they receive proper medical care.
Instead, pandemonium broke out inside the clinic. Gonzalez grabbed a pair of orange-handled desk scissors and severed the baby's umbilical cord, but did not clamp it. She shoved the baby into a red biohazard bag along with caustic chemicals meant to speed decomposition, and tossed the baby onto the roof of the clinic.
When Renelique arrived at the clinic at 3:00 PM, he finally attended to Williams.
At a hearing of the Florida Medical Board held in February, 2009, Renelique told the Board that he was so confused and unaware of William's condition that he started an abortion procedure on the sedated woman even though she had delivered her baby an hour earlier.
"That's when one of the employees came to me and said, 'Dr. Renelique, what are you looking for?' I said, 'I'm looking for a fetus.' And she said, 'What fetus?'" Renelique said.
Renelique and his associates then falsified the patient's charts to indicate that he had conducted the abortion and discharged her at 12:05 PM even though Williams did not give birth until 2:00 p.m. and Renelique did not arrive at the clinic until after 3:00 p.m.
An informant sneaked out to a nearby pay phone and called the police to report the murder of baby Shanice Denise Osbourne, as her mother would later name her. The police arrived and searched the clinic but could not find the baby. On second search, the body of Shanice was found. The abortion clinic was closed by the state.
This launched a criminal inquiry into baby Shanice's death focusing primarily on the actions of Belkis Gonzalez, who was considered most responsible for the murder of Baby Shanice.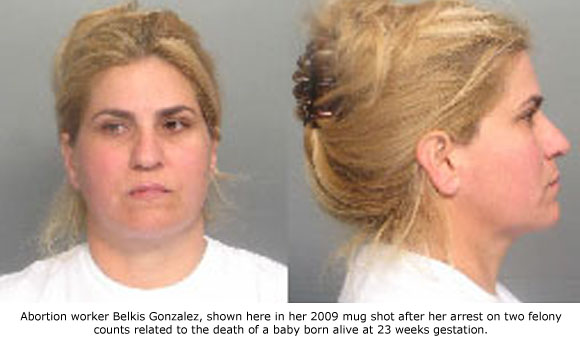 Meanwhile, when Renelique finally appeared before the Florida Medical Board on February 6, 2009, the Board initially had no intention of revoking his medical license. However, after questioning him, that plan dramatically changed.
One Board member tested Renelique on his knowledge of medical equipment. The following excerpt from an AP report on Renelique's disciplinary hearing was revealing:
During the board's questioning, Dr. Elizabeth D. Tucker, an obstetrician-gynecologist from Pensacola, asked Renelique about three different types of medical forceps. Renelique replied that he possessed each of the instruments.

After each question, Tucker also held up a metal instrument, different from the one she had named and inquired about. One of the tools was a metal rod with an arrow attached at the tip.

Tucker asked Renelique if he had that. He replied that he did.

"For the record, these are from my antique collection," she said later. "We don't use these in terminations."
Board member Dr. Jason Rosenberg rebuked Renelique for his "callous disregard" for Williams, saying, "You acted as though you had no interest in treating this patient." The Board then voted to revoke Renelique's Florida medical license.
Two weeks after the dramatic Medical Board hearing, the Florida House of Representatives issued a letter to State Attorney Katherine Fernandez Rundle calling for criminal charges to be filed against all involved in the death of Baby Shanice. The following day, the Christian Defense Coalition held a press conference in front of Rundle's office criticizing the two-and-a-half year investigation and demanding criminal charges for Belkis Gonzalez.
Under public pressure, an arrest warrant was finally issued for Gonzalez on March 3, 2009. She was charged with the unlicensed practice of a health care profession resulting in serious bodily injury, a second-degree felony, and with tampering with or fabricating physical evidence, a third-degree felony. Those charges carried a minimum penalty of a fine of $1,000 and a minimum mandatory period of incarceration of one year.
Even though it was well documented that Gonzalez snipped the baby's umbilical cord, bagged her and tossed her on the clinic's roof to die, she was never charged with Baby Shanice's murder.
In fact, Gonzalez was never brought to justice. Two years after her arrest and nearly five years after Baby Shanice's brutal death, all charges were dropped against Gonzalez.
"Everyone wants to use common sense. There was no common sense involved in this case. We went strictly on the letter of the law," Ed Griffith, spokesman for the Miami-Dade State Attorney's Office told Operation Rescue at the time. "The physicians backed away from the position that she was practicing medicine. We had no prosecutable case."
Operation Rescue had launched an effort to have Gonzalez charged under the Born Alive Infant Protection Act of 2003, but was stunned to learn that there was no enforcement mechanism in that law and no penalties for its violation. That law was essentially meaningless.
The U.S. Senate has an opportunity to right this injustice by voting to send on the Born-Alive Abortion Survivor's Protection Act for a full Senate vote.  This is a bill that has teeth and is enforceable.  Not only are women given the right to sue abortionists for the death of their babies that survive abortions, those in violation can be criminally charged in Federal Court for intentionally killing or attempting to kill a human being.
This will not bring justice for Baby Shanice or her mother, but it will provide a mechanism for justice to be done when – not if – other babies survive abortion attempts, and it might just save their lives.
"We have advocated for criminal penalties for allowing a born-alive infant to die without medical care for over a decade," said Operation Rescue President Troy Newman. "If politicians cannot act to protect innocent premature babies, they are unfit to serve."