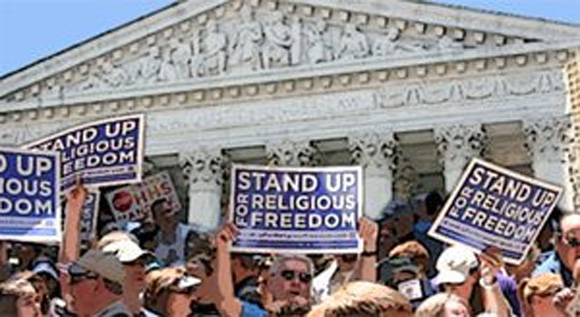 PRESS RELEASE
Washington, D.C. – Today, the Trump Administration announced new rules that will provide new conscience protections for Americans.
As a result of the rules, those who have moral or religious objections to contraceptive and abortifacient services will now be exempt from paying for them in Obamacare insurance policies. The exemptions will apply to individuals as well as organizations and small businesses.
In May, President Donald Trump signed the "Executive Order Promoting Free Speech and Religious Liberty" in which he advised the Departments of Health and Human Services, Treasury, and Labor, to consider amending rules under the Obama Administration that essentially forced Americans to violate their consciences with mandated payments in their Obamacare health insurance policies for contraceptive and abortifacients that they found morally objectionable. Today's action is in response to that directive.
"Thank you, Mr. President, for your leadership in protecting the religious liberties we hold dear," said Troy Newman, President of Operation Rescue. "We are sincerely grateful for this action that will now restore governmental respect for the deeply held beliefs of Americans who oppose abortion, abortifacient drugs, and certain life-destructive contraceptives."
The unjust "Obamacare Mandate" had suffered repeated losses in the US. Supreme Court, which ruled the government is not allowed to punish organizations or businesses for their religious beliefs.