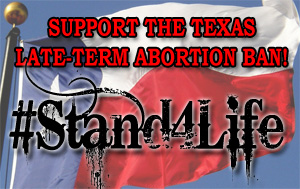 Austin, TX – The second special session of the Texas Legislature, set to begin today, promises to provide more high drama as a pro-life bill is considered that bans abortions after 20 weeks and provides other abortion clinic safety regulations to protect women.
The new 30-day session was called by Gov. Rick Perry after a contentious pro-abortion mob disrupted the Senate last week after a filibuster failed in the waning hours of the session. A vote was taken to pass the pro-life law, but could not be signed before the session expired due to the disruption.
Gov. Perry assured an audience at the National Right to Life Convention on Thursday that the much-needed Texas legislation, now called House Bill 2, would pass in this session.
"This is simply too important a cause to allow unruly actions of the few to stand," said Perry, who called on pro-life supporters to "match their intensity, but do it with grace and civility."
Pro-lifers in support of the law gathering at the Texas Capitol in Austin are urged to wear blue.
Late-term abortion atrocities came to light during the murder trial of Pennsylvania abortionist Kermit Gosnell, who was convicted on three counts of murder for snipping the spinal cords of late-term babies born alive during abortions at his squalid West Philadelphia abortion clinic.
Just two days after Gosnell's conviction, news broke that three former employees of Houston abortionist Douglas Karpen accused him of twisting the heads off babies born alive during abortions. Operation Rescue, which had worked with the ladies to bring their allegations to the proper authorities, released a full report and photos taken by the women that showed large, late-term aborted babies that had large gashes in their necks. Karpen is under active investigation by the Homicide Division of the Houston Police Department.
These two revelations gave new urgency to the immediate passage of the late-term abortion ban in Texas since the Legislature only meets every two years. Polls have shown that 64% support a second-trimester abortion ban, while over 80% of Americans support a ban on abortions in the third-trimester of pregnancy.
HB 2 is set for a hearing in a House committee tomorrow, but already pro-abortion activists are mobilizing with a rally today. Sen. Sylvia Garcia promised more opposition to a bill that would provide protection to late-term babies and ensure that more safety measures are in place at abortion clinics.
"If anything, we will be more energized," Garcia told the Houston Chronicle. "We will be energized from the beginning."
"It's hard to imagine anyone opposing safer conditions for women and protections for babies that can feel pain and survive if birthed instead of aborted," said Operation Rescue President Troy Newman. "In reality, the pro-abortion mob is supporting unsafe abortion clinics, lower medical standards for women, and the inhumane and brutal killing of babies that suffer terribly during an abortion. They are completely out-of-step with the vast majority of people in Texas who are horrified by such abuses."
To show support for the Texas pro-life legislation, pro-life supporters are taking to the social networking site Twitter.com and tweeting under the hashtag, "#Stand4Life."
A live Internet feed of the proceedings can be viewed at http://chron.com/txpolitics.