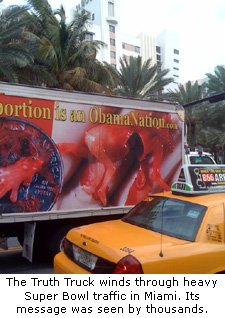 Miami, FL – The Truth Truck hit the streets of Miami on Super Bowl Sunday as throngs of people partied along the city's palm-lined avenues.
For several weeks, the Truth Truck has rocked South Florida, showing images of aborted babies and directing viewers to the web site www.AbortionIsAnObamanation.com.
Last weekend, the Truth Truck circled the Pro-Bowl venue, which boasted the highest attendance in NFL history. Over the next week, the Truth Truck navigated the congested streets of Miami, seeking out the large crowds of tourists in town to celebrate the nation's most-watched sporting event, sometime crawling through massive traffic snarls at only about 2 miles per hour. This gave onlookers time to contemplate the message and the plight of the preborn.
With the focus of so many on the Tim Tebow ads sponsored by Focus on the Family, the Truth Truck was especially relevant.
"In all, it was a super day for life," said Operation Rescue President Troy Newman.
Check out the Focus on the Family ads. Click this link for the more serious pre-game ad. Click this link for the more humerous ad.
Next weekend the Truth Truck is off to the Daytona 500, a NASCAR event attended by thousands of people every year.
"We go where the crowds are because that is where we can most effectively reach the most people using the fewest resources," said Operation Rescue President Troy Newman. "We are trying to change the hearts and minds of the American people and help create a society that will ultimately reject the abortion mentality and abolish it forever. In order for abortion to become an unthinkable act, it must become an unavoidable issue."
Please consider making a donation to Operation Rescue today to keep the Truth Trucks rolling. Your gift of just $60 will fill our gas tank and help us reach thousands of people with the truth about abortion.