By Cheryl Sullenger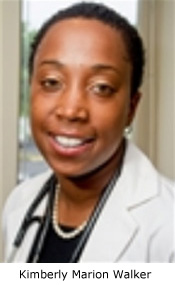 Baltimore, MD — The tragic suicide of a woman once associated with the notorious abortionist Steven Chase Brigham and his "secret" late-term abortion clinic in Elkton, Maryland, has helped to shed light on how high employee turn-over at abortion clinics make them magnets for desperate workers with mental health and addiction issues who may find it difficult to obtain employment elsewhere.
Kimberly Marion Walker's mental illness began to manifest in 2005, three years after graduating from medical school at Drexel University and during her residency at St. Peter's Hospital in New Jersey. The New Jersey Professional assistance program diagnosed her with "cannabis dependence and possible paranoid delusions."
Certainly Walker is not alone among abortion clinics workers who experience drug and alcohol abuse and mental illness. The issue drew attention during the trial of Philadelphia abortionist Kermit Gosnell, when at least three of his former employees testified that they suffered from various mental illnesses in conjunction with substance addiction.
"Our research shows that abortion clinics across America have often employed those with known mental health and substance abuse issues. This poses a danger to women that is a matter that needs greater attention from oversight authorities in order to protect the public," said Operation Rescue President Troy Newman. "Walker's tragic life is a case in point."
After her diagnosis, Walker voluntarily entered an inpatient treatment program where doctors found that her paranoia led her to believe that "people were following her and attempting to harm her." She was suicidal. During her treatment, she was diagnosed with a mood disorder, prescribed medication for that condition only, and released.
But without the anti-psychotic drugs she apparently needed, her condition only worsened.
On October 26, 2006, during her leave of absence from a residency program during which she sought treatment for her mental illness, Walker walked into St. Peter's Hospital, pointed a loaded handgun at a security guard, and fired repeatedly.
Miraculously, the gun failed to discharge and no one was hurt, but Walker was arrested and stood trial for attempted murder. She was found not guilty by reason of insanity and was admitted into the Ann Klein Forensic Center where her delusions, such as thinking the radio and television were speaking directly to her, continued to manifest. She was even wrongly convinced that she had murdered her boyfriend.
Three mental health evaluations conducted after her arrest produced three different — but all very serious — diagnoses, according to records obtained by Operation Rescue from the Maryland Board of Physicians. Those diagnoses were: Bipolar, Type II with Psychotic Features; Schizoaffective, Bipolar Type; and Schizoaffective, Bipolar Type with a differential diagnosis of Schizophrenia, Paranoid Type.
She was treated and prescribed an anti-psychotic drug that seemed to stabilize her condition by 2008. However, when Walker would reduce her medication dosage on her own, her symptoms would return.
Now living on her own and working part-time jobs, Walker began to believe that her medication was the cause of her mental health issues. She reduced her medication dosage and finally stopped taking it altogether on July 8, 2009.
A week later, she applied for a medical license in the State of Maryland.

Unsurprisingly, Walker's symptoms returned. It was during this time, in July or August of 2009, that she first met Steven Chase Brigham through a "help wanted" ad on his website. She submitted her Curriculum Vitae online and was soon contacted by Brigham. He indicated he wanted to hire her as soon as her medical license was approved and offered to train her to do abortions.
In September, 2009, anticipating that a medical evaluation was a requirement of licensure, Walker resumed taking her anti-psychotic medication.
The medical license application process took longer than anticipated, so in January, 2010, Brigham brought Walker into his Elkton facility three to four times per month apparently for the purpose of "observing" abortion procedures.
In another parallel to the Gosnell case, Walker later told Board investigators that Brigham's abortion clinic "nursing staff" appeared to be comprised of "foreign medical graduate[s]" with doctorates who were unlicensed, just as she was. Gosnell employed similar workers, such as Steven Massoff, who was an unlicensed graduate of a medical school in the Caribbean who could not obtain a legitimate residency in the U.S., and Eileen O'Neal, who was also a medical school graduate who held no valid medical license.
Like Gosnell, who paid his unlicensed "doctors" a shockingly low salary, Brigham paid Walker just $50 per session to cover "gas and tolls."
Walker later told a Board of Physicians inquiry that she personally witnessed Brigham administering intravenous sedation and conducting at least 50 abortion procedures even though he has never been licensed to practice in Maryland. Those abortions, she said, were mostly second trimester abortions, with about 30 percent of "cases" consisting of abortions beyond 20 weeks gestation.
After "observing" Brigham for eight months, on August 2, 2010, Walker was informed that her medical license application was rejected due to her mental instability and the fact that she was found not guilty of attempted murder by reason of insanity. The Board determined that she posed a danger to the public, yet she continued to "observe" abortions at Brigham's Elkton facility.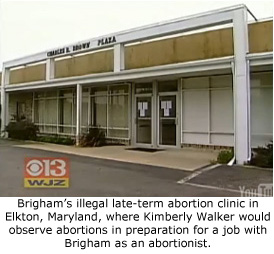 Walker was not present on August 9, 2010, when a patient known as D.B. suffered a perforated uterus and pulled bowel during a late-term abortion at the Elkton facility requiring emergency surgery to save her life. She was informed of the botched abortion incident by Brigham a few days later. He warned her that there would be in investigation and told her not to come in the following week because the Elkton clinic would be closed.
Indeed, there was an investigation. Hospital emergency room staff notified police of the suspicious behavior of Brigham and his associate, Nicola Riley, when they dropped their seriously injured patient at the hospital. This prompted the Elkton Police to raid of Brigham's Elkton abortion clinic, where they seized records along with the bodies of 35 late-term aborted babies that had been stored in a bloody freezer. A Board of Physicians inquiry ensued.
Among those records seized by police was a patient log that indicated "Dr. Woaker," referring to Kimberly Walker, had provided recovery care after abortions for patients at Elkton on August 4, 2010 – two days after her application for licensure had been rejected by the Maryland Board of Physicians.
Walker denied treating any patient and said did not know why her name was on the patient log, a denial that may or may not have been the truth since Brigham also falsely denied treating patients. She indicated that she never knew Brigham was unlicensed in Maryland, telling investigators that she just assumed that he was.
Since Brigham was not licensed, the abortions done in Elkton either by him or with his assistance were illegal. Both Brigham and Riley were later arrested on murder charges for aborting viable babies during the commission of a crime. Those charges were later dropped after an expert witness for the prosecution unexpectedly backed out of the case.
One might expect that this episode would have been the end of Walker's medical career, but surprisingly, despite her attempt to murder a hospital security guard, despite her serious mental illness, despite her history of not properly taking her medication, and despite her involvement with Brigham's illegal late-term abortion business, the Maryland Board of Physicians issued Kimberly Walker a license to practice medicine on February 26, 2013.
But that license came with conditions. In a consent agreement, Walker had to promise to work under a mentoring physician, who had to file regular reports about Walker's progress. She also had to submit to continued psychiatric treatment and comply with a prescribed medication regimen.
By October of 2013, it became obvious that Walker had failed to live up to the conditions the Board placed on her. She changed her medication and stopped attending appointments with her psychiatrist. She failed to undergo regular drug screening, and cancelled meeting with her case manager.
In further violation of her consent agreement, Walker entered into a contract for employment at an unspecified "medical clinic" and provided "patient services" without notifying the Board or gaining their approval.
Operation Rescue has reason to believe that this "medical clinic" was an abortion facility. One of her on-line physician profiles indicated that Walker's practice was "focusing on women's health as an OB-GYN" and that patients could expect a "full range of medical care." Those phrases are often used by abortionists who do not want to openly admit that is what they are.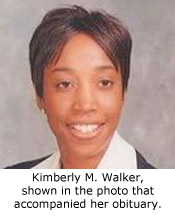 In light of at least ten consent agreement violations noted by the Board, Walker's medical license was revoked for a period of two years. The revocation order was signed on December 30, 2013.
Two weeks later, Kimberly Marion Walker was found dead at the age of 36 from a self-inflicted gunshot wound to the head.
An autopsy conducted on January 14, 2014, noted that a toxicology screening revealed that she had no drugs or alcohol in her system at the time of her suicide. Her mental illness had taken its final toll.
Ironically, Steven Brigham, who had been the cause of some of Walker's legal issues, commented on her obituary guest book that her loss was a tragedy and that "she had so much to offer."
It is hard to understand, given Walker's history of serious mental illness and her lack of judgment displayed in her association with Steven Brigham, that the Maryland Board of Physicians would ever grant her a medical license in the first place. That act placed Walker's patients at risk, especially in light of her propensity to frequently alter or ignore her medication regimen. In this case, the Board, whose duty it is to ensure that only competent medical providers are licensed, let the public down.
But the fact that Brigham had been so anxious to hire her, having known of her struggles with mental illness – in the same way Gosnell sought to hire workers that had mental health histories – should raise a red flag.
Abortion clinics are often desperate to maintain enough workers to keep their doors open. Even Walker told investigators that she observed "an influx of different nurses that worked in and out of that office."
"The high employee turnover rate at abortion businesses makes them frantic for workers. Those like Walker and the women Gosnell employed are desperate for employment. That creates a 'perfect storm' that places those who are suffering from mental instability in abortion clinics around the country," said Newman. "We know of many current and former abortion clinic workers who suffer from depression and other mental disorders that have found homes inside the abortion cartel. This creates a climate where women are placed at unacceptable risk."
Operation Rescue's research as shown that Walker and the Gosnell workers that suffered mental illnesses are not alone. Watch for Part Two of this report on mental illness inside the abortion cartel.
Source Documents: