By Cheryl Sullenger
Kansas City, KS — A troubled Kansas City abortion facility, Central Family Medical, also known as Aid For Women, announced on its website that it has ceased operations effective July 26, 2014, stating that its abortionist, Ronald Yeomans, and clinic administrator were "retiring."
Pro-life activists discovered the closure when they arrived at the facility to offer help to abortion-bound women. After seeing no sign of activity on a normally busy Saturday, they checked the Aid for Women website and found the closure notice.
Under pressure from Operation Rescue's complaint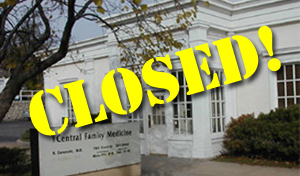 Aid for Women was under pressure from a Kansas State Board of Healing Arts investigation that was based on a complaint filed by Operation Rescue in 2012. That complaint included evidence that Aid For Women pre-checked boxes on official health department Termination of Pregnancy forms to indicate that there was no suspicion of abuse for women obtaining abortions at that facility. This indicated that Aid For Women engaged in the illegal practice of never reporting abuse.
Operation Rescue was informed just last week in a letter from the Board of Healing Arts that the two-year-old case against Aid For Women's only abortionist, Ronald Yeomans, was still ongoing.
"We are aware that Yeomans was feeling the heat from the Board on some very serious allegations, including failure to report suspected incidents of abuse," said Troy Newman, President of Operation Rescue. "While Board investigations are confidential, the case was at a point in time when we would expect that Yeomans was having his legal options limited. There is no doubt that in addition to the faithful presence of local pro-life activists outside that facility, our case contributed to his decision to retire and shut down his seedy abortion operation, although I doubt that he would ever admit it."
Informant provides evidence
Operation Rescue's 2012 complaint was based on documents and medical refuse, supplied to Operation Rescue by a confidential informant, which were improperly dumped by the abortion facility. Those documents contained private medical information for 86 identifiable women, including at least four minors, who visited the clinic for abortions during the single month of April, 2012.
In addition to the pre-checked Termination of Pregnancy reports that concealed possible abuse, the Aid For Women papers contained the following:
• Names of abortion patients.
• Patient ages.
• Gestational ages of their pregnancies.
• Patient phone numbers.
• Photocopies of patient driver's licenses.
• The date and cost of the abortions.
• Sonograms with information such as patient name, date, and age of the pre-born baby.
• Empty cash envelopes that indicated the names of the abortion patients, date of the abortions, how much cash was placed in the envelopes, and other medical information.
• Communications from the clinic medical director regarding a 2011 clinic licensing law that showed mocking contempt for safety regulations.
• Admission that the only suction mechanism they have to clear airways is a uterine cannula attached to the abortion suction machine that would likely injure the trachea.
• Admission that they would not intubate patients who need it out of fear of lawsuits.
• Admission that the surgical assistants have no licensing whatsoever.
Local activists also supplied Operation Rescue with incriminating video showing post-abortive women in various stages of distress being routinely released from the abortion facility before they were stabilized. Most were unable to stand or walk on their own, with some in obvious pain.
In order to protect the privacy of women that has been so completely disregarded by the abortion facility, Operation Rescue turned over the original records and other materials to the Kansas State Board of Healing Arts.
Sued to stop reporting child sex abuse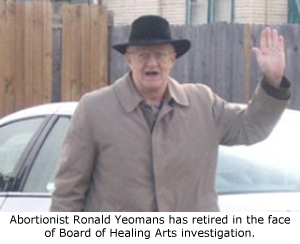 Aid For Women was so defiant of the Kansas mandatory child abuse reporting law that it once sued former Attorney General Phill Kline, challenging his opinion that abortionists were mandatory reporters. A Federal Court judge known for liberal rulings originally sided with AFW, dangerously declaring that the reporting of suspected child sexual abuse should be left to the discretion of abortionists. That case was later dismissed as moot after wording in the law was modified.
Long history of sloppy practices
Operation Rescue published an exposé in May, 2012, detailing the long history of problems at Aid for Women, which is owned by convicted felon Malcom Knarr. During his tenure as abortionist there, Knarr's license was suspended for substandard patient care issues including botched abortions, failure to maintain malpractice insurance, writing illegal prescriptions, and failure to monitor drugs resulting in the disappearance of narcotics.
According to a former employee of Knarr's, who filed an affidavit against him in 1992, these kinds of complications were common. Knarr once left a tenaculum and speculum inside a patient and was known to come to the clinic while chemically impaired.
Should have closed 3 years ago
In 2011, the Kansas Legislature passed a sweeping abortion facility licensing law that would have placed clinics under the oversight of the Kansas Department of Health and Environment. It would have also required abortion facilities to submit to inspections and meet minimum safety requirements.
Aid For Women admitted in their initial license application that they were not in compliance. The facility would have been denied a license to operate and closed at that point, but a lawsuit filed by another Kansas abortionist blocked enforcement of the law. This allowed AFW to continue operations for an additional three years despite the awareness that their practices were dangerously below standard.
That case continues to languish in Shawnee County District Court with no end in sight. There has been no activity on the case whatsoever since August, 2012, despite repeated urgings by Operation Rescue that Attorney General Derek Schmidt defend the law.
"The hidden scandal in this whole affair is that a law was passed and signed that should have shut down Aid for Women and other substandard facilities three years ago because they fail to meet minimum medical health and safety standards. But because of a lack of prosecution, deficient and dangerous abortion facilities continue to defiantly operate. It is a national embarrassment for the State of Kansas," said Newman, who strongly supports the law. "Instead, Aid For Women's sleazy abortion business had to be closed by citizens who reported their back-alley-like behavior or stood outside the facility day after day warning and offering help to unsuspecting women who had no idea what kind of shoddy practices awaited them inside."
Another state shows Kansas law would successfully save thousands of lives
A law similar to the 2011 Kansas abortion clinic licensing law was passed in Texas in July, 2013. Since then, over half of that state's 41 abortion clinics have closed resulting in 9,200 fewer abortions. This represents an impressive 13% decrease in abortions in just one year. By September 1, when the remainder of the Texas provisions go into effect, only six abortion facilities are expected to remain open, which is sure to result in thousands of additional lives saved. This proves that enacting the Kansas abortion law will close substandard abortion clinics, protect women, and save lives.
"We rejoice that a horrific Kansas abortion mill has closed. We know that lives will be spared and women will be protected from abuse and exploitation, but we remain very concerned about the remaining three abortion facilities in Kansas that are currently unaccountable and daily placing women at risk simply because we have an attorney general that refuses to do his duty and defend a duly constituted law. Because of this governmental failure, women and their babies are denied the protections they deserve. We again urge Governor Sam Brownback to order the Kansas Attorney General's office to immediately defend the 2001 abortion clinic licensing law."
Sign the petition to Gov. Brownback asking him to order the Attorney General's office to defend the 2011 abortion facility licensing law.