By Cheryl Sullenger
Topeka, Kansas – Just a few years ago, Kansas was home to seven abortion facilities, including the largest late-term abortion center outside Communist China, and was considered the prime destination for late-term abortions that were illegal in most other states.
However, the abortion landscape has drastically changed in Kansas as demand for abortion continues to dramatically decrease, a trend that began the year Operation Rescue moved its national headquarters to Wichita in 2002.
According to a preliminary abortion report released last week by the Kansas Department of Health and Environment, abortion numbers recorded in 2015 decreased 4.4 percent over the previous year.
A total of 6,974 abortions were done in Kansas last year, the lowest that number has been since 1987.
Since 2001, abortions have decreased in Kansas by an impressive 44 percent.
Nearly half (49%) of all abortions done in Kansas were done on non-residents. Of those non-residents, the vast majority, 90%, were done on Missouri residents.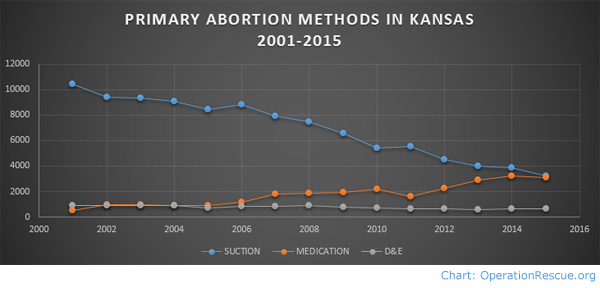 As in the rest of the nation, there has been a trend toward increased usage of medication abortions in Kansas. However, last year the Sunflower State bucked that trend with a slight decrease in medication abortion usage.
As for the late-term abortions for which Kansas was once so famous, none of the Digoxin/Induction Method late-term abortions have been done in Kansas since 2009. The 2015 abortion report notes there were three abortions done on Kansas women past 22 weeks gestation, but only one of those was actually done in Kansas. The other two were done out-of-state.
Of the seven abortion facilities that operated in Kansas in 2001, all but two of those businesses have closed.
In 2013, when the South Wind Women's Center abortion business opened in Wichita, there were fears that abortions would increase once again in Kansas. Those fears never materialized. Despite heavy marketing by the new abortion business, abortions have continued to decrease.
"Thankfully, demand for abortions in Kansas continues to steadily decline. This is fruit of the tireless work of pro-life activists here in Kansas, including Operation Rescue, which continue to expose abortion abuses, offer practical assistance to abortion-bound women, and work toward changing the laws to protect both women and their babies," said Troy Newman, President of Operation Rescue. "Kansas is proof that when abortion facilities close, innocent lives are saved."
In March, Planned Parenthood in Wichita began selling medication abortions two days per month for the first time, a decision Newman considers doomed to failure.
"With Planned Parenthood making the bad business decision to move into a decreasing medication abortion market, it only means that it will be taking business away from the South Wind abortion facility. This could actually result in the benefit of both abortion businesses suffering financially," said Newman. "We do not expect abortions to increase in Kansas because more and more women are rejecting abortion in favor of life. Each time that happens, we win."
Read the Preliminary 2015 Kansas Abortion Report