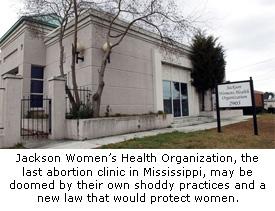 Jackson, Mississippi – Documents filed in Federal Court Friday by the State of Mississippi show that serious health and safety concerns were primary motivating factors in passing a law that threatens to close that state's last abortion clinic. That law, which requires that abortionists be Board Certified or eligible as Ob/Gyns and that they maintain local hospital privileges, was challenged by Jackson Women's Health Organization in Federal Court to block its implementation after admitting that it could not comply with the law.
The brief, submitted by Special Assistant Attorney General Benjamin Bryant, cited the recent closure of Alabama's New Woman All Women after the Alabama Department of Public Health discovered 76 pages of violations, including "evidence that clinic staff failed to respond to complaints of post-surgical complications." New Woman All Women was owned by Diane Derzis, who also owns the Jackson Women's Health Organization.
Instead of remedying the violations, Derzis agreed to close the abortion clinic and disaffiliate from any one that might attempt to relicense the facility.
The State's brief also cited a lawsuit filed in 2011 by abortionist Joseph Booker, a former employee of the Jackson Women's Health Organization (JWHO) who sued the clinic "alleging that Derzis had instituted numerous practices that jeopardized the health and safety of patients, including:
Permitting untrained staff to perform and interpret ultrasounds, despite the fact that accurate ultrasound are vital to the medical safety of patients.
Pressure from the JWHO administrator to administer RU486 abortion pills in a manner that is "dangerous" and not approved by the Federal Food and Drug Administration (FDA).
Belief that JWHO does not carry malpractice insurance.
JWHO is jeopardizing patient safety by not using a "local doctor who has hospital admitting privileges" when administering RU486 because of the "real risk of severe hemorrhage" and "the risk of ectopic pregnancy" associated with the drug.
The State noted that as the Supreme Court abortion rulings currently stand, "the right to abortion services belongs to the women who access those services – not to the physicians who provide them." Parker has claimed that his right to perform abortions is jeopardized by the new law, when no such Constitutional right exists.
The State's Exhibits are devastating to the abortion clinic's arguments that abortion is so safe that hospital privileges are unnecessary.
A declaration submitted by John Thorp, Jr., M.D. notes that hospital privileges make it more likely that abortionists can effectively care for patients. He stated that 73% of hospitals report inadequate on call coverage by specialists, especially Ob/Gyns. Dr. Thorp also concluded that hospital privileges prevents patient abandonment by itinerate physicians. Dr. Thorpe backed up his statements with impressive qualifications, including a 57-page Cirriculum Vitae.
A declaration by James C. Anderson, M.D. states that the new law "will most likely improve the quality of care…and enhance patient follow-up care after an abortion."
Anderson continued, "As stated earlier, I have worked in local Emergency Rooms across Virginia for over thirty years. When women have come to the Emergency Room with complications related to an abortion, never once have I received a phone call initiated by the provider conveying information about the abortion, the young woman's condition or potential complications. I have always had to evaluate the situation, come to my own conclusions, and initiate what I thought was appropriate treatment. This definitely created some time delays that were not in the patient's best interest. I have called many abortion clinic physicians but never once has the provider come to the Emergency Room to assume care. I have always had to call a staff physician. This then creates another delay since the staff physician is taking care of his/her own patients, but now much change his/her schedule to assume the care of someone else's patient. These delays can have life-threatening implications when dealing with hemorrhage or infection."
Dr. Anderson cites the cases of 35 abortion clinics and providers from recent news stories as "illustrative of the need for state regulation of abortion practice and conformity to standards of care in medicine." Those cases include many in which Operation Rescue had involvement, such as that of Ann Kristin Neuhaus in Kansas, Feliciano Rios and Andrew Rutland in California, Rapin Osathanondh in Massachusetts, Alberto Hodari in Michigan, and ten abortionists in Texas who were discovered to have committed violations during an undercover investigation conducted in 2010 by Operation Rescue and The Survivors, and other cases.
Judge U.S. District Judge Daniel P. Jordan III, who is an appointee of President George W. Bush, will hear oral arguments at a hearing scheduled for Wednesday, July 11, 2012.
"We are guardedly optimistic that the judge will uphold this much needed safety rule on Wednesday, and are very confident that the law will eventually be cleared by the courts for enforcement since similar laws in other states have been upheld as Constitutional," said Troy Newman, President of Operation Rescue and Pro-Life Nation.
"The states have a right to protect women, and that is what Mississippi is trying to do. It is ridiculous to argue, as Jackson Women's Health Organization has, that it is in the best interest of women to keep an abortion facility open that cannot ensure that patients receive safe and timely emergency care. If they can't comply with even this minimum safety law, then they should not be allowed to continue to endanger the health and safety of women."
View Court Documents free at AbortionDocs.org