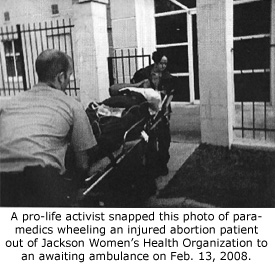 Jackson, MS – The Jackson Women's Health Organization, the last remaining abortion clinic in Mississippi, failed to meet a Friday deadline for compliance with a new law that requires abortionists to maintain local hospital privileges.
In a brief filed Friday in response to the JWHO request for a preliminary injunction further barring enforcement of the law, the State of Mississippi reiterated that the law was meant to protect women from abandonment by itinerant abortionists. Currently JWHO currently employs four abortionists, three of which fly in from other states to do abortions then fly out, leaving women suffering complications without continuity of care. The fourth abortionist maintains hospital privileges in Jackson, but does few, if any abortions. All local hospitals have rejected out-of-state abortionists' applications for hospital privileges.
Attorneys for the state point out that JWHO's owner, Diane Derzis, has been charged previously with health and safety violations so severe that it led to the State of Alabama to issue an order closing another of Derzis' abortion clinics, New Women All Women, in Birmingham last year.
Furthermore, abortionist Joseph Booker, who worked at JWHO until July, 2010, filed suit against his former employer alleging that Derzis had "instituted numerous practices that jeopardized the health and safety of patients" including not using a "local doctor who has hospital admitting privileges" in the event of abortion complications.
The state bolstered its arguments concerning the need for hospital privileges to ensure continuity of patient care with evidence that Mississippi has a "checkered past of unsafe practices and unscrupulous providers."
Mississippi's history of substandard abortion providers include:
• Malachy DeHenre was an abortionist at the defunct New Woman Medical Center in Jackson. DeHenre's medical license was suspended in Mississippi, Alabama, and New York after he was held liable for a botched abortion on Latosho Travis, which resulted in severe hemorrhaging and an emergency hysterectomy. Other allegations against DeHenre include a death in Alabama and other malpractice claims. DeHenre is currently serving a 20 year sentence for manslaughter in the shooting death of his wife.
• Milan Chepko was also an abortionist at New Woman Medical Center in Jackson. He and abortionist Larry Lipscomb were sued for alleged negligence related to a failed abortion. He was convicted of "a felony or misdemeanor involving moral turpitude" in 1991. His North Carolina medical license was revoked in 1991, leading to the loss of medical licenses in New Jersey and Georgia.
• Thomas Tvedten was a Mississippi abortionist who was sued for malpractice related to injuries suffered during an incomplete abortion in 1995.
• Thomas W. Tucker operated abortion clinics in Jackson and Southaven, which were closed after Tucker's Mississippi medical license was suspended.
"After looking at the abysmal safety record of abortionists in Mississippi, the hospital privilege requirement is the very least that the state can do to protect women," said Troy Newman, President of Operation Rescue and Pro-life Nation. "It's time to enforce the law before more harm is inflicted on the public by Derzis and her shoddy abortion practices."
The new law was the result of collaboration between Newman and Terry Herring of the Pro-Life America Network.
A date has not yet been set for a hearing in this case. Meanwhile Jackson Women's Health Organization continues to operate behind the shield of a temporary injunction in noncompliance with the law, leaving women at risk.
Read the State's Brief in Opposition to JWCO's request for Preliminary Injunction
Background