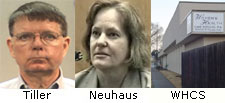 Topeka, Kansas – Today marked the third day of testimony in the disciplinary hearing of Ann Kristin Neuhaus. Dr. Liza Gold, a Professor of Psychiatry at Georgetown University, has so far been the only witness and remained on the stand for most of the day.
Dr. Gold has stated that it is her professional opinion that Neuhaus violated the standard of care in each of the eleven cases that are the basis for the Kansas Board of Healing Arts disciplinary action. Dr. Gold indicated that Neuhaus should have referred all eleven patients, ranging in age from 10 to 18 who were all at least 25 weeks pregnant, to either experts in child psychology or specialists in adolescent psychology.
Neuhaus provided mental health consults exclusively to late-term abortion patients of George Tiller's now-closed Women's Health Care Services. Kansas law required that a second physician concur that continuation of the pregnancy would result in "substantial and irreversible impairment of a major bodily function of the woman." "Bodily function" was interpreted to include mental health issues as long as the risk met the standard of "substantial and irreversible" mental impairment.
All late-term abortions referred by Neuhaus were justified by mental health diagnoses made concurrently by Neuhaus and physicians at WHCS.
On cross-examination by Neuhaus' attorney, Robert Eye, questioned Dr. Gold about standard of care for mental health evaluations for late-term abortions. Dr. Gold replied that there is no such thing. She explained, "Late term abortion is not a treatment or intervention for any psychiatric condition." That statement was initially stricken from the record at Mr. Eye's request, but Dr. Gold continued to repeat her opinion on the record when asked.
When questioned about whether she had ever admitted a patient to the hospital for a late-term abortion, Dr. Gold responded, "It would be inappropriate for a psychiatrist to admit a patient to a hospital for abortion services." That comment was also stricken from the record.
When asked if an unwanted pregnancy put a teen at risk for developing psychiatric disorders, Gold was emphatic.
"Teen pregnancy is not a risk factor for psychiatric disorders," she said.
"It appears that Tiller and Neuhaus created phony mental health excuses based on shoddy or non-existent mental health evaluations to justify third-trimester abortions that would have otherwise been illegal in Kansas," said Operation Rescue's Cheryl Sullenger, who filed the initial complaint against Neuhaus that has resulted in this week's hearings. "We are very thankful that the Board has taken action to hold Neuhaus accountable for her irresponsible and negligent actions that could have caused harm to young ladies already facing complex life issues.
The hearings are scheduled to resume on Thursday. If the Board finds Neuhaus did indeed violate the standard of care, discipline could include license revocation.