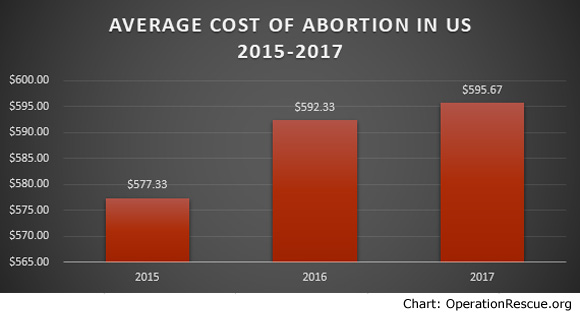 An Operation Rescue Special Report
By Cheryl Sullenger
Washington, DC – Across America, the amount of time women waited to have an abortion dropped, while the average price of an abortion rose. These trends were documented during an annual survey of abortion facilities conducted by Operation Rescue.
The survey took place from November 27-December 15, 2017. Using a number of investigative methods, each abortion facility was directly contacted. Facility personnel voluntarily verified that abortions were available, and shared information on abortion pricing and wait times, although they were not aware the information was going to Operation Rescue.
Wait times decreased
Despite dire predictions from the Abortion Cartel that pro-life legislation would result in increased wait times for abortions, the opposite is actually true. In 2017, the national average time a woman waited to get an abortion was 7.7 days. That represents a decrease from 2015, when the national average time waited for an abortion was 8.5 days.
Wait times were measured from the day a caller initially contacted an abortion facility for an appointment, until the day when the abortion would have taken place.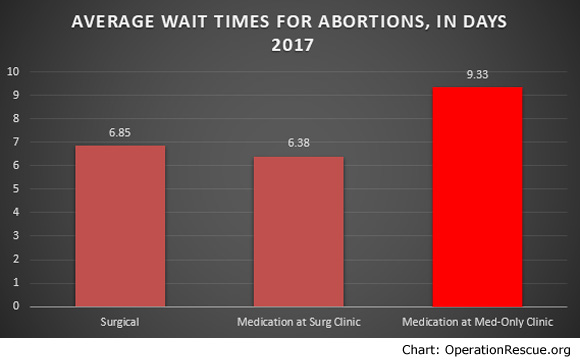 This year, at surgical facilities, women waited an average of 6.85 days for a surgical abortion, and 6.38 days to get a medication abortion at a surgical facility.
In contrast, women were required to wait 9.33 days — nearly three days longer — to get a medication abortion at facilities that offered only that type.
Two states with the longest waiting times for abortion appointments were West Virginia at 25 days, and Montana at 23.5 days. This likely reflects that low demand for abortion in those states, making it unprofitable to schedule abortions with greater frequency.
Two states with the shortest wait times were Vermont, which would conduct an abortion on a woman the day after her initial phone call, and Nevada, with an average wait of 1.2 days.
Many abortion facility scheduling receptionists – primarily with Planned Parenthood affiliates — refused to answer questions about the abortions or inform callers when abortion appointments were available. Instead, the schedulers insisted that women go through a lengthy phone interview that required providing detailed personal and health information. After the interview, women would then be given a preliminary appointment.
Women were told that they would have questions answered at the preliminary appointment. Only then would they be told when their abortions were scheduled.
This convoluted appointment practice had the effect of keeping abortion customers in the dark. It demeaned the callers by treating them with suspicion, and denied them information that was important for decision-making. One scheduler admitted that the extra appointment and level of secrecy was to prevent pro-life protesters from finding out when abortions were taking place.
"As much as the abortionists complain about state mandated reflection periods and other pro-life laws, Planned Parenthood facilities across the nation are actually the ones making women jump through a complex series of hoops before they can even receive answers to their questions about abortion. This paranoia actually works in our favor, and likely helps save lives," said Operation Rescue President Troy Newman.
Abortion prices rose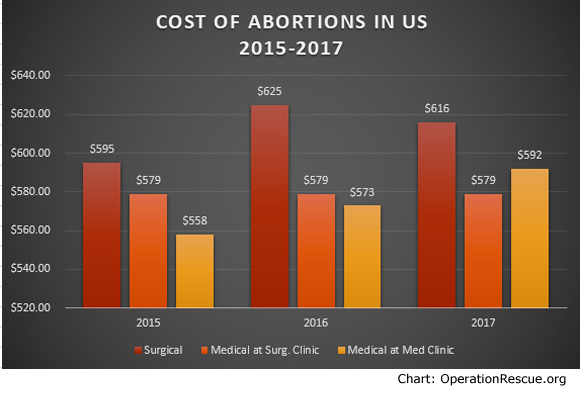 Operation Rescue has included first trimester abortion pricing in its survey for the past three years. Overall, the national average cost of an early abortion has steadily increased since 2015. In 2017, women paid an average of $595.67 for a first trimester abortion. This this reflects a three percent price hike over what women paid just two years ago.
Surgical abortions up to 12 weeks were the costliest of early abortion methods, averaging $616.16 nationally in 2017. Yet, that price was down about 2% since last year.
Medication abortions, (generally done through 9-10 weeks), received at clinics that also conducted surgical abortions have held firm in price at $579 since 2015.
However, there has been a dramatic price increase for medication abortions received from facilities that only dispense abortion drugs. In 2017, the national average cost of an abortion at a medication-only facility was $592, up about 6% since 2015.
This means that medication abortion facilities not only make women wait longer for their abortions, but also charge them more.
This price increase was ironic since, in many states, the abortion pill-only facilities have lower overhead and are able to avoid licensing requirements that may drive up prices. Some states, such as California, have attempted to reduce costs even farther by allowing non-physicians to prescribe abortion drugs. Medication abortion-only facilities have been favored by abortion businesses, particularly Planned Parenthood, as a stated means of keeping abortion costs down, but data shows that these facilities are actually driving up the price of an abortion.
Abortion prices varied, sometimes greatly, from state to state.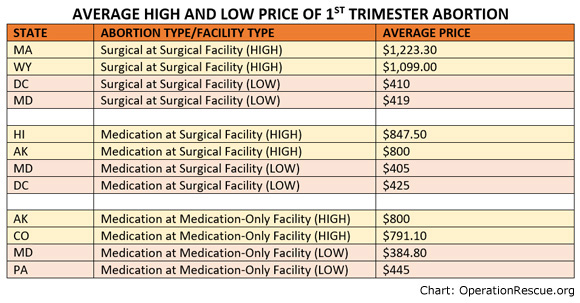 The two states with the highest average price for a first trimester surgical abortion were Massachusetts and Wyoming. Massachusetts' average surgical abortion cost $1,223.30, while in Wyoming, the average surgical abortion fee was $1,099.00. The two states with the lowest price for surgical abortions were the District of Columbia at $410, and Maryland at $419.
The two states with the highest average cost of a medication abortion at a medication-only facility were Alaska at $800, and Colorado at $791.20. Maryland had the lowest average price for a medication abortion in the nation at $384.80, followed by Pennsylvania at $445.
"This is another case where Planned Parenthood is 'talking north and walking south.' There is obviously exploitative profit-taking occurring at the medication abortion-only facilities, where overhead is the lowest," said Newman. "For Planned Parenthood, it is always about the money."
Conclusions
Operation Rescue's 2017 survey results reveal new insights into abortion trends.
The new data shows that abortion facility numbers continue to shrink at the same time that abortion wait times are dropping. This debunks the notion that fewer abortion facilities will lead to higher wait times.
Meanwhile, the price of an abortion is rising most in the area where there is the least overhead. This shows clearly that pro-life legislation is not necessarily the lone factor in driving up abortion prices. In fact, according to the new data, greed is a primary factor that is driving up prices and increasing profits for abortion businesses.
"Our data reflects the most accurate numbers available for abortion costs and wait times," said Newman. "The data exposes the deceptive rhetoric of the Abortion Cartel, which has resorted to lies and exploitation to keep their failing businesses afloat. The truth is that more and more women are rejecting abortion in favor of life – and that has the Abortion Cartel running scared."
Read Operation Rescue's Special Report "2017 Abortion Facility Survey: Abortion Clinic Numbers Keep Dropping."
[Note: This article has been corrected to show that Maryland, not Missouri, has the lowest price of medication abortions.]