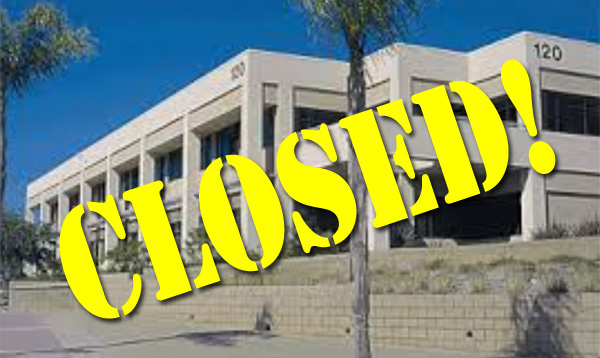 By Cheryl Sullenger
San Marcos, CA – A Southern California abortion clinic that had long been the site of pro-life outreaches has unexpectedly closed.
It is likely that Kung as taken an early retirement. He was set to retire in 2016.
The North County Women's Medical Clinic, located in the North San Diego County community of San Marcos, was owned and operated by abortionist George Kung. Its website was quietly replaced with a message noting that the closure was effective August 1, 2015.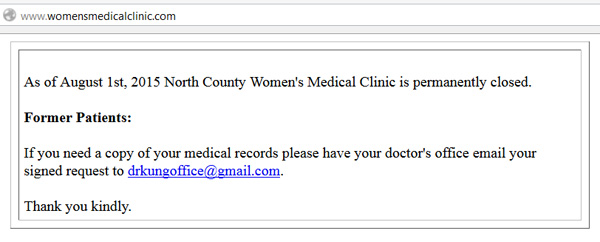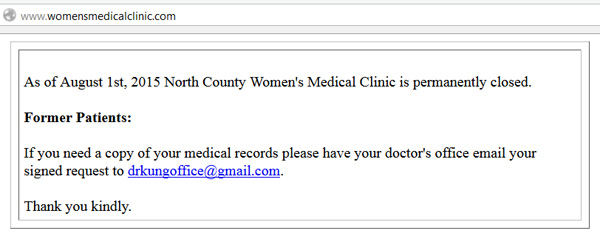 Kung was a well-known abortionist in the San Diego area who operated his controversial abortion business continuously since 1981.
But Kung's dedication to providing abortions to women had limits. He once told the LA Times in 2001 that he refused to offer the RU486 abortion pill, stating, "If a patient doesn't keep her [post-abortion] appointment. . .if she cramps in the middle of the night, I don't want to deal with that. I don't want to be responsible around the clock, seven days a week."
Kung frequently tangled with pro-life activists in court. In 1993, he joined with fellow abortionists Bruce Tarzy and William Quisenberry to sue local activist Connie Youngkin, for costing them abortion business with her consistent presence outside their abortion facilities. All three of those abortionists have since closed their clinics.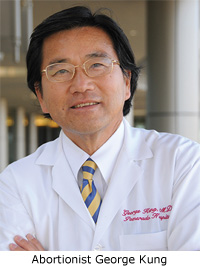 "Kung was the first abortionist to sue me," said Operation Rescue President Troy Newman, who entered pro-life activism in Southern California in the early 1990's. "It is personally gratifying to see his abortion clinic closed. He made a fortune in blood money, but that won't buy him the repentance and forgiveness he so desperately needs. I continue to pray for him."
Kung also harbors political aspirations and for years has sought positions that would provide him the respect that his abortion business had stripped from him. He formerly served as Pomerado Hospital's chief of staff and president of the San Diego Gynecological Society.
Last year, Kung sparked controversy when he ran for a position on the Palomar Health Board after he donated $1 million to the Palomar Health Foundation and his true career as an abortionist was exposed. He lost badly, garnering just 5.91% of the vote.
On a related note, Kung's friend, abortionist Bruce Tarzy, died on July 27, 2015, at age 68 from pancreatic cancer. Tarzy had closed his Poway abortion business several year ago.
"The closure of Kung's abortion business and the passing of Tarzy is an end to an era," said Newman. "Only a very few abortion clinics in San Diego County that were operating when I first came into the pro-life movement are still in business. Most have shut down. When I look back and see that about three quarters of all abortion clinics in America have closed since 1991, I am excited about how far we have come as a movement. Total victory is just around the corner!"
Related:

A running total of all abortion clinics in America and documentation related to them is available at AbortionDocs.org.
Get the new book, Abortion Free: Your manual for building a pro-life America one community at a time, by Troy Newman and Cheryl Sullenger, available now at Amazon.com, and from WorldNetDaily.com.