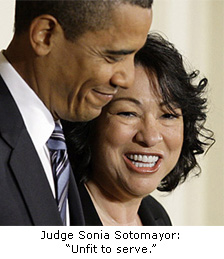 Washington, DC – As Senate hearings are underway this morning to consider the nomination of Judge Sonia Sotomayor to the U.S. Supreme Court, Operation Rescue releases the following statement, attributable to Troy Newman:
"We are blessed to live in a nation that is founded on the rule of law with protection for certain inalienable rights, including the precious right to life. Without this right, the rest of our laws are meaningless.
"Unfortunately, in our country today, that right is routinely ignored while vulnerable human beings in the earliest stages of their existence are deprived daily of their right to life through abortion with the consent of a 1973 Supreme Court decision, Roe v. Wade, that many now agree was wrongly decided.
"Judge Sotomayor has shown disregard for the lives of these individuals with her personal support for abortion. She has also shown a disturbing propensity for allowing her personal beliefs to impact her legal decisions. It is clear that she would further the injustice of abortion by upholding the errant Roe decision and would continue to deprive the most vulnerable among us of their right to life.
"This makes her unfit to serve on our nation's highest court.
"The latest polls show that the majority of Americans now identify themselves as "pro-life" and especially oppose abortions done after the first trimester of pregnancy. Judge Sotomayor's views on abortion and rule of law are out of step with the American people and out of step with common decency and compassion that would abhor the violence of abortion and work instead to build a society where killing babies for convenience is considered the unthinkable evil that it truly is.
"For this reason, Operation Rescue opposes the confirmation of Judge Sotomayor, and will encourage the new pro-life majority of the American people to immediately contact their Senators to voice their opposition to this nominee as well."
Click here to contact your Senator now!