Kansas City, Kansas – Revelations that a Kansas City abortion clinic may be breaking the law by failing to report incidents of suspected abuse are only the latest in a long and sordid history of patient injuries, sloppy practices, dirty conditions, and disciplinary action that the clinic has experienced over its years of operation.
"The Central Family Medical abortion clinic has been proven to pose a serious danger to the public. It is unbelievable that it is allowed to continue operations," said Troy Newman, president of Operation Rescue and Pro-Life Nation. "An investigation is certainly in order, especially in light of what we found in documents leaked to us by a confidential informant, which show a continuing pattern of disregard for the law and for patient safety."
Abortion clinic documents now securely in Operation Rescue's possession show that Central Family Medical, also known as Aid for Women, uses pre-printed forms that are filed with the Kansas Department of Health and Environment (KDHE) indicating that no abuse reports are ever filed.
Complaints were filed with the KDHE, the Kansas State Board of Healing Arts, the Kansas State Board of Nursing, and the Attorney General's office. So far, only the Board of Healing Arts has acknowledged that it has opened an investigation.
"We appreciate the rapid response from the KSBHA, but are disappointed that the Attorney General has been slow to act. This is a serious criminal issue with the safety of vulnerable girls on the line," said Newman.
The dark background of this clinic should be taken into consideration.
Malcom Knarr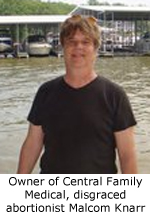 It is owned by William Malcom Knarr, a disgraced abortionist who was disciplined for shoddy medical practices in the 1990s. Knarr had felony convictions in Oklahoma in 1970 for the sale of marijuana and LSD and the possession of hashish. He failed to report these convictions on a federal application and to the KSBHA when he applied for a medical license in Kansas in 1984.
Knarr's Kansas license was suspended in 1994 for a variety of charges, including:
Patient care issues including botched abortions
Failure to maintain malpractice insurance
Wrote prescriptions in violation of Federal Regulations
Prescribed and administered drugs without federal registration
Failed to monitor drugs resulting in the disappearance of narcotics
Knarr's hospital privileges were terminated by a Kansas City area hospital after Knarr was called in to treat a 20-year old patient who ended up in the emergency room with cervical lacerations after an abortion at Karr's clinic. Knarr negligently stitched her cervix closed. As the patient's condition deteriorated, the hospital repeatedly attempted to contact Knarr but was unable to do so. Knarr later told the hospital's board of trustees that his telephone was disconnected due to redecorating. Another hospital doctor took over the patient care and was forced to perform a hysterectomy on her.
According to a former employee of Knarr's, who filed an affidavit against him in 1992, these kinds of complications were common. Knarr once left a tenaculum and speculum inside a patient and was known to come to the clinic while chemically impaired.
According to a news article that appeared in the Topeka Capital Journal on October 19, 1997, Knarr's license was suspended in 1994 and conditions were placed on his license that included "banning Knarr from going inside a doctor's office, hospital or any other health-care facility in Kansas except if he is a patient or is a 'non-health-care providing visitor of a patient.'" Knarr also agreed to "not participate in the health-care field in the state of Kansas in any manner whatsoever."
His license was cancelled by the KSBHA in 1997 after he failed to renew it, but then reinstated his license a few months later maintaining its suspended status. His license was permanently cancelled in 1998.


Knarr's "Delinquencies"
Today, documents obtained by Operation Rescue online show that Knarr currently owns the building where Central Family Medical operates through a corporation called Mercantile Properties, LLC. He owns the abortion business as well through another corporation called Central Family Medical, LLC. The Kansas Secretary of State's web site indicates that the status of both corporations are currently listed as "Delinquent."
Tax rolls for Wyandotte County, Kansas, indicate that Knarr owes $4,282.34 in back property taxes and fees on the abortion clinic property.
Long list of troubled abortionists
Other abortionists associated with Knarr and Central Family Planning also have had serious legal and patient care issues including:

Clinic sues to block accountability
But that is not the first time that reporting has been an issue with Central Family Medical. In 2007, then known as Aid for Women, the clinic sued to block enforcement of the mandatory child sex abuse reporting laws, claiming that mandatory reporting might drive women away from the abortion clinics. The case originally was ruled in favor of Aid for Women, but the verdict was later set aside when the law was changed.
Currently Central Family Medical is suing in state court to block enforcement of a clinic licensing law that would require that abortion clinics submit to inspections and meet minimum safety requirements.
Demanding enforcement
An open records request made by Operation Rescue revealed that the abortion clinic has never been inspected or investigated by KDHE in its history. In fact, an anonymous complaint letter sent to KDHE and other agencies last year resulted in no investigation whatsoever.
"We are working hard to make sure that the complaints are heard and this time we will not allow the abuses to be swept under the rug," said Newman. "Little girls who are the victims of sex abuse are placed in further danger by abortion clinics that refuse to report, but instead return these girls to the hands of their rapists for further abuse. This is unconscionable, and any state authority that refuses to investigate this should be ashamed."
Read the Report: Leaked Documents Show Private Medical Records Illegally Dumped By Kansas Abortion Clinic