Babies burned, a baby saved, and a baby returns to give thanks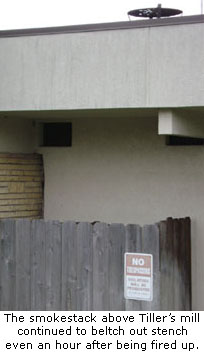 By Cheryl Sullenger
Wichita, Kansas – While Mondays are not full-blown abortions days at George Tiller's Women's Health Care Services, they can be eventful days nonetheless for volunteers who maintain vigil outside the infamous late-term abortion mill.
Last Monday, the morning started with the stench of burning babies. Tiller operates a full-sized crematorium, like the ones used by funeral home. All the babies aborted there are incinerated on site. I arrived after the ash had dissipated, but while the stench was still clinging in the air. It is an unforgettable acrid smell that seems to permeate even the clothing. While sometimes Tiller's staff intentionally fires up the incinerator to discourage pro-lifers, it only serves to strengthen our resolve.
The Kansas Coalition for Life manages the schedule of volunteers that man the gate outside Tiller's abortion clinic every hour they are open. Among the volunteers is experienced sidewalk counselor, Jennifer McCoy, who also networks with Operation Rescue. We partner with the KCFL, maintaining a daily presence at Tiller's mill with the Truth Truck and providing other resources. This day, Jennifer tells me that she intercepted a 17-year old girl and her mom who had come from New Mexico for a late-term abortion. Out-of-towners usually come on Mondays to get their paperwork started for their abortions, which begin on Tuesday.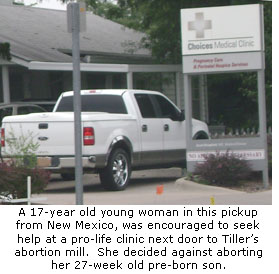 The girl, who we will call "C." was 27 weeks pregnant. Jennifer successfully redirected them to Choices Medical Center, a pro-life clinic directly next door to Tiller's abortion mill. While other duties called me away, Jennifer faithfully waited for four hours to speak with the women after their visit to Choices. Thankfully, "C." and her mom assured Jennifer that the C. would keep her baby and that they would be returning home the next day.
While Jennifer was waiting for C. to finish her visit to Choices, a young mother named Jillian stopped by with two young children in tow. It seems that Jillian had come to Tiller's clinic for an abortion about two years ago, but was, like C., intercepted by pro-lifers at the clinic entrance. Jillian chose life for her son, Zachary, and wanted to come back and thank those who had helped her.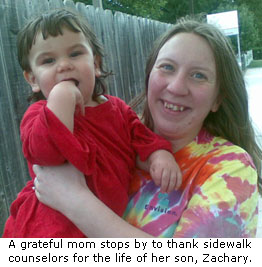 "Don't ever think that what you are doing is in vain," a grateful Jillian told Jennifer.
Zachary is the apple of his mom's eye, and has been recently been joined in the family by a new little sister. He is a happy little guy with a thick mop of brown hair and an irresistible smile. It is unthinkable to imagine what could have been…what almost was.
It is moments like this that keep us going. The Enemy attempts to dishearten us, but Christ is there with hope and encouragement. While we were taunted by the morning burning of babies, C.'s saved baby gave us hope that the wickedness of child-killing will not always prevail, and Zachary gave us encouragement to keep going, knowing that the fruit of our labors will live on beyond our humble efforts.
"All we need to do is make ourselves available, and God will use us," said Jennifer. "It's as simple as that."
________
For those in the Wichita area, there will be training for on-site volunteers on Saturday, September 27, from 10 AM until noon at Operation Rescue's headquarters, located at 3013 E. Central Ave. in Wichita. For more information, click here.