"Jim gave his 'last full measure of devotion' to the cause of life."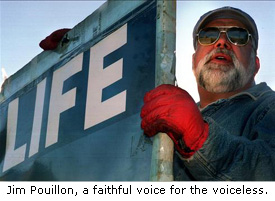 Wichita, KS — Operation Rescue announced today that slain pro-life activist James Pouillon is the posthumous recipient of its 2009 Person of the Year Malachi Award.
Mr. Pouillon was a long-time pro-life street activist from Owosso, Michigan, who was gunned down on September 11, 2009, as he protested abortion outside Owosso High School. A local man, Harlan Drake, has admitted to targeting Mr. Pouillon for death because he did not agree with his views on abortion.
Mr. Pouillon was a regular protester at the Feminine Health Care Clinic in Flint, Michigan, operated by abortionist Alberto Hodari. Since Mr. Pouillon's death, Hodari has placed that abortion clinic up for sale in the wake of a lawsuit filed by Caitlin Bruce who alleges that Hodari forced an abortion on her there even though she had withdrawn her consent after viewing her pre-born baby on ultrasound. Operation Rescue and other pro-life groups are asking for a criminal investigation of Hodari, who appears to be liquidating his assets so he can flee the country to avoid being brought to justice.
"It's too bad that Jim did not live to see that abortion clinic in Flint go up for sale, where he spent countless hours praying and offering practical help to abortion-bound women. The impending collapse of Hodari's abortion empire is a tribute to Jim and his tireless public defense of the pre-born," said Operation Rescue President Troy Newman.
"Jim Pouillon gave his 'last full measure of devotion' to the cause of life, and it is our privilege to award him with Operation Rescue's fourth annual Person of the Year Malachai Award."
Each year Operation Rescue presents the Malachi Award to pro-life activists who are impacting the nation for the cause of life. The award is named after an aborted baby that was discovered in an abortion clinic dumpster, whose image has been used nationally to bring attention to the desperate plight of the pre-born.
Previous recipients include Lila Rose of Live Action Films, for her documentation of Planned Parenthood abuses, Dr. Johnny Hunter of LEARN, who is exposing the devastating effects of abortion on the African-American community, Leslee Unruh, who spearheaded efforts to ban abortion in South Dakota, and Phill Kline, the former Kansas prosecutor whose abortion investigations led to 107 criminal charges against Planned Parenthood.