UPDATE: VICTORY! On October 15, 2010, the Kansas Supreme Court issued an order remanding the case back to the Johnson County District court for prosecution. District Attorney Steve Howe will now review the case and decide whether to prosecute, but the former District Attorney, Phill Kline, who filed the charges in 2007 tells Operation Rescue that the case should now proceed. We will be watching and praying.
Thank you to all who participated in this petition. It is because of your willingness to hold the authorities accountable that this case against criminal abortions at Planned Parenthood can now proceed.
The goals of this petition have been successfully fulfilled and the petition is now retired.
-Operation Rescue Staff
__________________________
For background information about the need for this petition, please CLICK HERE.
Petition to the KANSAS SUPREME COURT in Topeka, Kansas, concerning State of Kansas vs. Comprehensive Health of Planned Parenthood, criminal case number 07CR2701: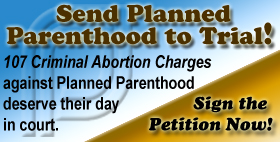 We the undersigned are concerned about the health and safety of pregnant women and their pre-born babies and with the proper and timely enforcement of laws enacted by the State of Kansas related to the business and practice of abortion.
We have serious concerns that the excessive delay in moving forward with the prosecution of Criminal Case Number 07CR2701 involving 107 criminal charges related to the commission of unlawful abortions filed in Johnson County, Kansas, on October 17, 2007, against Comprehensive Health of Planned Parenthood has created a situation that has placed at risk the health and safety of women and their viable babies that the laws of Kansas have been enacted to protect.
We are concerned that efforts to begin prosecution of Planned Parenthood actually began in 2004 and, six years later, have yet to be resolved.
We understand that a judge has found probable cause to believe that Planned Parenthood violated the law, precipitating the filing of the 107 count complaint consisting of the following:
• 23 felony counts of Making a False Information
• 26 misdemeanor counts of Unlawful Failure to Maintain Record
• 29 misdemeanor counts of Unlawful Failure to Determine Viability for a Late-Term Abortion
• 29 misdemeanor counts of Unlawful Late-Term Abortion
We are concerned that since the aforementioned charges were filed, the prosecution of this case on behalf of the people of Kansas has been characterized by extraordinary delays that have led to the appearance of impropriety on the part of the Kansas Supreme Court and the Kansas Attorney General's office under Paul Morrison and Steven Six.


We are further concerned that a long and complex series of legal maneuvers, some kept secret from the public, have resulted in a gag order being placed on critical evidence in this case as well as on the custodian of those records, District Court Judge Richard Anderson by the Kansas Supreme Court at the request of Attorney General Steven Six on April 4, 2008. That order has served only to impede the prosecution of the case and contribute to the appearance of impropriety.
We understand that oral arguments in State of Kansas vs. Comprehensive Health of Planned Parenthood took place before the Kansas Supreme Court on May 13, 2009, at the Kansas Judicial Center in Topeka, Kansas, wherein arguments were made on appeal asking the Court to reinstate the State's subpoenas for witnesses against Planned Parenthood and for a dissolution of the gag order on evidence and on evidence custodian Judge Richard Anderson.
We are concerned that over nine months later, the Kansas Supreme Court has yet to issue a ruling on that appeal.
We are further concerned that the inexplicable delay by the Kansas Supreme Court to rule has caused an obstruction of the prosecution of 107 serious criminal charges and in so doing has placed the health and safety of women and their viable babies at unnecessary risk of suffering unlawful abortions at the hands of Planned Parenthood.
We understand that there is truth to the adage that "justice delayed is justice denied."
We are convinced that this case must be allowed to be tried on the facts and with all available evidence and testimony so that public confidence in a fair and impartial judiciary can be restored and that proper justice can be served.
[[petition-3]]
NOTE: You do not have to be a Kansas resident to sign this petition.
(Signing this petition will enable you to receive e-mail updates on this and other important issues from Operation Rescue.)