Luis Mendoza is a sidewalk counselor in Chula Vista, CA, at an abortion mill that has had difficulty keeping abortionists, in part because of his caring outreach. Because Operation Rescue once conducted an extensive campaign involving this chain of mills, to which the Chula Vista mill is a part, we have been able to offer some small encouragement to his ministry. (Click here to read more about this troubled chain of abortion mills.) The Chula Vista site is one of five remaining Clinica Medica Para La Mujer De Hoy mills out of eleven that once operated in Southern California.
This article, which appeared in the June, 2006, issue of the San Diego News Notes, is a great story of what even just one person can do to affect great change in the hearts and minds of those that often seem unreachable. We pray that you will be inspired by it to even greater works on behalf of Life. —Operation Rescue Staff
Adopt an Abortionist
How a Chula Vista Man Helped an Abortionist Find a New Path
BY ROBERT KUMPEL, San Diego News Notes, June, 2006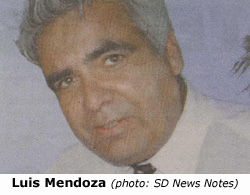 Doctors who perform abortions often exist in a Manichean universe where there are only two kinds of people: Those who leave them alone about their work and the "terrorists" who stand in front of their clinics with picket signs and rosaries. Some hire extra security to escort them in and out of their abortion clinics. The idea of actually having a relationship with one of the protesters is unthinkable.
Yet in early 2005, Dr. John Rivera, an abortionist, found himself having coffee with Luis Mendoza, a protester who had videotaped him coming to work at Chula Vista's Clinica Medica Para La Mujer de Hoy. Mendoza was surprised when Dr. Rivera told him, "I think God wants us to sit down and talk."
Mendoza began praying and counseling in front of abortion clinics in 2004 after his adopted son, Martin, died in July of that year from pediatric liver cancer. "When we looked at the biological mom's medical records, we saw that she had scheduled an abortion. She never showed up for it. When his birthday came up on September 24, he would have been five years old and it was the feast day of Our Lady of Mercy. I wanted to do something to celebrate his life. A lady at my church, Most Precious Blood, invited me to a prayer/protest in front of this clinic. I started going more often. There was a Presbyterian prayer group there on Thursdays who needed someone who could speak Spanish to the young women, so I volunteered to help them.
"Dr. Nolan Jones was the first abortionist I knew about working there. He had botched abortions and we were pressuring him until one day he just didn't show up. They were left without a doctor for a few weeks and one day Dr. Rivera showed up. I approached him and tried to talk to him. He didn't want to talk to me. He just put his head down and went straight into the clinic."

Mendoza wasn't initially sure that Rivera was the physician at the clinic, so he decided to take pictures to verify if Rivera was, in fact, the doctor there. He began videotaping Rivera as he entered the clinic. "He didn't like that," Mendoza recalls. "I also kept asking him to have a cup of coffee with me somewhere. The videos kept turning out blurry, so I taped him a few times to get a better shot. Finally, he got angry with me and said, 'Stop it! That camera is very intimidating. We shouldn't be so aggressive about this. Maybe we should sit down and talk.' So we did. We ended up at a Starbucks not far away. I told him how I got involved in pro-life and he told me about his situation with his wife.
"He told me that his main reason for being an abortionist was that he needed the money to pay for his wife's medical expenses. His wife had cancer and his medical license was on probation, so he couldn't work at a decent place. Plus, he has a nine year-old daughter."
Dr. Rivera's three-year probation was a disciplinary measure taken by the state medical board after he was convicted of being under the influence of a controlled substance at the September 2001 Street Scene. He was also accused of groping a young woman at the same event.
Without his normal good standing as a physician, Dr. Rivera was reduced to doing blood tests and other tasks reserved for nurses and lab technicians. "He got a call from Bertha Bugarin, who owns a chain of abortion mills and she offered him a job," Mendoza says.
Mendoza describes Rivera as a reluctant abortionist. "He had never done abortions before and wanted to tell the women about the risks. In his point of view, if a woman still wanted to proceed, then he felt he was acting in an ethical manner. His father is a Protestant minister and his mother was raised Catholic. I think he was trying to keep his abortion work secret from his parents."
Although the two men found some common ground, they initially had to agree to disagree. "He said, 'I'm not going to change your mind and you're not going to change mine, but there's no reason why we can't be civil to each other and talk about what's going on.'"
The dialogue continued for several months. "We would get together and he would talk to me about how he talked to the women and explained to them all the risks. He wanted to get more information about the psychological risks. He asked me to provide him with information about adoption, so he could pass it on to his patients. We'd meet maybe once a month for coffee or lunch."
Prayer was one of the key ingredients for these meetings. Besides praying in advance, Mendoza would enlist other pro-lifers to pray for Rivera and him during each meeting. Over the course of their meetings, Mendoza discovered that he and Rivera came from similar backgrounds. Rivera's mother was born in Peru and Mendoza is a native of Peru. "We even went to a Peruvian restaurant one time. This was the second time his wife was fighting cancer, and my wife and I had dealt with Martin's cancer."
He found out that Rivera's former employer was pro-life and probably wouldn't approve of his abortion work. One thing that surprised Mendoza was Dr. Rivera's openness about his difficulties. "He told me about when he was at Street Scene. He was high on ecstasy and he grabbed a woman inappropriately. He said that getting arrested and facing the possible loss of his medical license changed his life. He knew he had to get help for his drug use and he discovered God, or what his version of God is, a 'higher power.'"
After many meetings a seeming coincidence brought the situation to a head. Mendoza spoke with a couple from Tijuana at the clinic who told him that a pro-life OB/GYN physician in San Diego had referred them to Rivera. "The lady had a miscarriage and needed to have the baby removed. I called the doctor to let him know he was referring the patients to a place where abortions were performed and found out that he was Rivera's former employer and he was willing to hire Dr. Rivera back once his probation was over. When I told this doctor what Rivera was doing, I think he was surprised and wanted to talk to him."
In a follow-up phone call to Rivera's former employer, the doctor suggested that Mendoza call Rivera. "He told me that I should talk to Rivera. His exact words were, 'I don't think he's going to be at that clinic very long.' He told me that Rivera was going through hell because of his wife.
"Rivera was mad at me at first," Mendoza remembers. "He said, 'That was a low blow. I can't believe you contacted my former employer.' So our relationship wasn't as amicable as it had been, but he got friendlier again. Finally, he stopped showing up. I had tried calling him and he didn't return my calls. Four weeks went by and the clinic didn't have a doctor. Then, on Saturday, April 22, I ran into him. He assured me that he was out of the abortion business."
If Mendoza had anything to do with Dr. Rivera's decision, he takes little credit for it. "It obviously wasn't all my doing. Our Lord had a lot to do with it. Sure I talked to him, but it was a combination of a lot of factors, including his wife's illness and his parents' religious background. He mentioned one time that he didn't want his wife's family to find out because they were Catholic."
Citing a chapter from Joseph Scheidler's CLOSED: 99 Ways to Stop Abortion (Tan Books & Publishers) Mendoza says that his approach to Dr. Rivera was a textbook case in finding the human side of an abortionist. "The Chapter was called 'Adopt an Abortionist.' It said that if at all possible, try to make friends with the doctor and treat him respectfully. So I figured, 'Yeah, that can be done.' So I tried to do it."
Dr. Rivera's wife recently underwent a bone-marrow transplant. His probation ended on May 28. Luis Mendoza asks for prayers for Dr. Rivera.