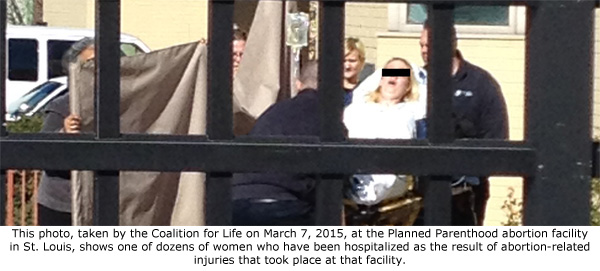 By Cheryl Sullenger
St. Louis, MO – In a defiant and obstructive act meant to deny critical information to Missouri legislators, Planned Parenthood of the St. Louis Region and Southwest Missouri is refusing to honor a subpoena issued by a legislative committee investigating Planned Parenthood.
The Missouri Senate Interim Committee on the Sanctity of Life, headed by Sen. Kurt Schaefer, issued a subpoena for records related to about fifty incidents of medical emergencies that occurred at Planned Parenthood's St. Louis abortion facility.
The Committee allowed for Planned Parenthood to redact any patient identifying information.
Nevertheless, Planned Parenthood held a telephonic press conference on Friday complaining about the investigation and announcing that they would refuse to comply with the legislative subpoena, prompting a legal showdown with the Legislature.
"I guess there's something they don't want us to find out," Schaefer told reporters in response to Planned Parenthood's refusal to cooperate with the investigation, which was prompted by the release of undercover videos by the Center for Medical Progress over the summer.
"Based on earlier wrongdoing uncovered by this committee, they have every right to seek more information about Planned Parenthood's suspicious and obviously dangerous abortion practices," said Operation Rescue President Troy Newman, who also sits on the Board of the Center for Medical Progress. "Based on our documentation of abortion-related emergencies that have resulted in dozens of patient hospitalizations, the Planned Parenthood in St. Louis is among the worst abortion clinics in the nation when it comes to patient safety."
Operation Rescue is currently suing the St. Louis Fire Department for failing to release public records related to 911 calls placed from the St. Louis Planned Parenthood abortion facility.
Sen. Schaefer has indicated that consequences of refusing to comply with a legislative subpoena include jail time and fines, but specific action will be considered by the full Senate.
"Planned Parenthood's refusal to comply with a subpoena is all about covering up for their own wrongdoing and has nothing to do with patient privacy," said Newman. "It is in the public's interest to know why so many women are being hospitalized from botched abortions at the St. Louis Planned Parenthood. Hiding behind their patient's privacy rights to avoid responsibility for the harm they have caused is frankly despicable."
Earlier, Schaefer's committee uncovered an illegal relationship between Planned Parenthood and Missouri University. MU employees using state funds recruited and assisted a Planned Parenthood abortionist, Colleen McNicholas, to obtain what were later found to be bogus hospital privileges from University Hospital that were then deceptively used by Planned Parenthood to obtain a state abortion facility license and resume abortions at their Columbia facility.
As a result, MU withdrew McNicholas' "refer and follow" privileges, which should have forced the Department of Health to revoke the Columbia Planned Parenthood's abortion facility license. However, Planned Parenthood sued and a judge has allowed it to keep its license through the end of the year. In the meantime, abortions have since ceased in Columbia.