By Cheryl Sullenger
Lexington, KY – In Kentucky, shoddy, unsafe abortion businesses are the norm. For years, troubled abortion facilities have plagued the women of that state.
One such abortion business recently made headlines after it was announced that EMW Women's Clinic in Lexington would close down effective January 27, 2017, leaving only one remaining abortion facility in Kentucky.
EMW Women's Clinic halted abortions in June 2016, after the administration of Kentucky Gov. Matt Bevin attempted to shut it down for failure to obtain an abortion facility license. The last straw for came with the facility's landlord failed to renew its lease. The abortion business had occupied the same location since 1989.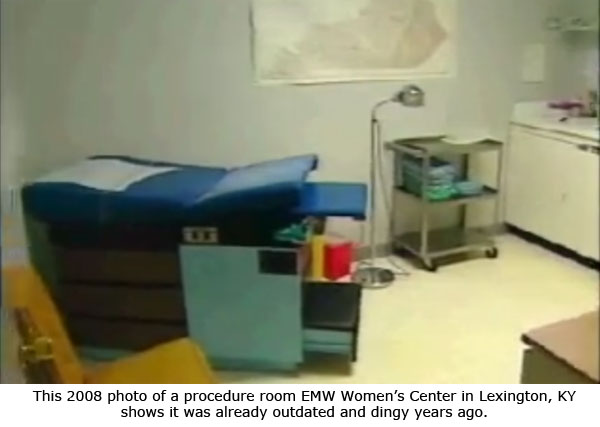 "What hasn't been reported was that this facility is only one in a list of Kentucky abortion providers that have had brush-ups with the authorities. This is just one of several that have set up shop in Kentucky over the years," said Operation Rescue President Troy Newman. "In fact, this facility should have been closed years ago."
Several other Kentucky abortion businesses have been known to operate dangerously and outside the law.
Unlicensed Abortions
For example, Planned Parenthood office in Louisville was caught last year conducting abortions even though it had not yet received an abortion facility license and lacked a hospital transfer agreement, which is a safety prerequisite to licensing.
After it was brought to the attention of Gov. Bevin, who called Planned Parenthood's excuses for breaking the law a "sham," a lawsuit was filed against Planned Parenthood seeking damages for every day the facility conducted unlicensed abortions.
In the wake of ensuing negative publicity, Planned Parenthood "voluntarily" halted abortions at their Louisville facility.
Bevin's suit was later dismissed, but Planned Parenthood has yet to receive an abortion facility license. As of this writing, no abortions are done at the Louisville or the Lexington Planned Parenthood offices, which are the only two Planned Parenthood locations in the state.
"Gross Negligence"

In January, 2011, Kentucky abortionist Walter T. Bowers II was placed on five years of probation and ordered to cease the practice of obstetrics after the gross mismanagement of a wanted pregnancy resulted in a dead child. Bowers settled a claim with the parents for $250,000. Bowers was also ordered not to perform any obstetric procedure and take additional training classes.
A review of five other medical charts from his Kentucky practice indicated that Bowers failed to meet the standard of care for each of those five patients.
The Medical Board in Kentucky found that Bowers' conduct "borders on gross ignorance and is malpractice." His treatment of patients was "below minimum standards and constitutes gross negligence."
Bowers resurfaced in Ohio on a variance issued to the notorious late-term abortionist Martin Haskell. In lieu of Haskell's clinic obtaining a hospital transfer agreement, Bowers agreed to provide emergency hospital care to patients injured during abortions at the Women's Med Center in Sharonville, a suburb of Cincinnati. After Operation Rescue publicized Bower's history of negligent care, Haskell dropped him from the variance, but by then, the damage was done. Haskell eventually lost his abortion facility license in Sharonville, and is now prohibited from conducting surgical abortions there.
"Hellish Abortion Operation"
Lexington abortionist Hamid H. Sheikh operated what reporters called a "hellish abortion operation," which was discovered once he fell under suspicion of defrauding Medicaid. In 2007, Sheikh was indicted by a grand jury for Medicaid fraud after it concluded Sheikh billed for services he never provided. Within months, the Kentucky Medical Board suspended his medical license and forced his Lexington abortion business to close. A year later, his medical license was permanently revoked.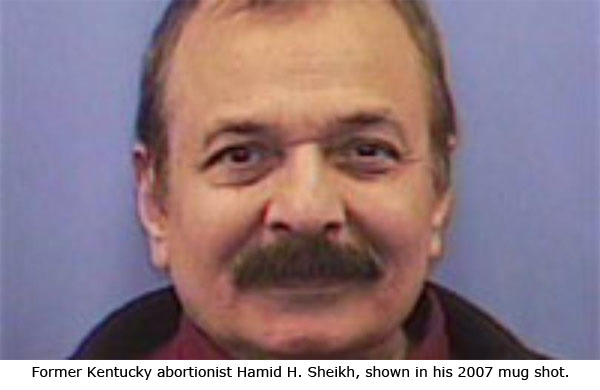 His revocation documents detail his horrific treatment of women, which was tantamount to physical torture. He conducted surgical abortions on women without any kind of pain relief. When they cried out in agony, he told them to shut up and stop scaring the other patients.
The medical board also found that he failed to maintain a hospital transfer agreement and operated in a filthy and ill-equipped office.
Ironically, during news coverage of Sheikh's legal issues, one news station visited EMW Women's Clinic in Lexington — the office that will soon close. The news footage included a look inside one of the EMW Women's Clinic's abortion rooms. Even in 2008, the facility appeared outdated and dingy.
"We thank God that all these abortion businesses have closed," said Newman. "We know this has saved lives and spared women from harm. There's just one more abortion facility to close in Kentucky and we pray that soon, Kentucky will be an abortion-free state. That would be remarkable!"