Sign up for the livestream and win a chance for a FREE trip to next year's March and SFLA National Conference!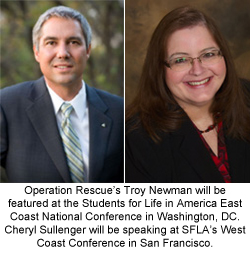 Washington, DC — Troy Newman, President of Operation Rescue will be a featured speaker at the Students for Life in America East Coast National Conference on January 23rd in Washington, D.C.
The SFLA East Coast National Conference is the largest Pro-Life conference in the world. It features an impressive array of nationally-known personalities speaking on relevant pro-life topics that dominate today's headlines.
This year, Newman will be speaking on the topic of "Exposing the Darkness in Your Community."
You won't want to miss this exciting conference!
In addition, Cheryl Sullenger, Senior Policy Advisor for Operation Rescue will be featured at the SFLA West Coast National Conference to be held on January 25th in San Francisco, California.

For those that cannot make to the SFLA National Conference in Washington, D. C. this year, a livestream of the conference will be available at www.sflalive.org so you won't have to miss a single speech!
Sign up for and watch the livestream of the SFLA East Coast National Conference for a chance to win a FREE trip to the next year's March for Life and SFLA 2016 National Conference!
Registration for both the East Coast and the West Coast National Conferences is still open. For more information visit http://sflalive.org/.
Newman and Sullenger are the authors of Abortion Free, an exciting new book that gives insight from decades of experience and offers step-by-step instructions on how to build a Pro-Life America one community at a time. The book will be available for purchase at both SFLA National Conferences in Washington, D.C. and San Francisco.
Watch for updates on these energizing and enlightening conferences on your social networking sites at #sfla2015.