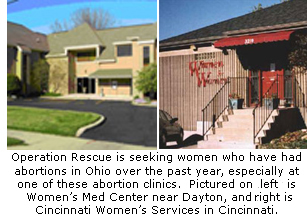 Operation Rescue is asking women who have had abortions in Ohio in the past year to contact them.
"We are conducting a research project and are encouraging women who are ready to share their stories about their abortion experiences in Ohio to contact us as soon as possible," said Operation Rescue Senior Policy Advisor Cheryl Sullenger. "Of course, all communications with us will be held in strictest confidence."
We are especially looking for women who had abortions at Women's Med Center on Stroop Rd. in Kettering (near Dayton), or at Cincinnati Women's Services on Jefferson Ave. in Cincinnati over the past 12 months.
If you had an abortion in Ohio in the past year, we would love to speak with you. Your communications will remain confidential and your identity will be protected. Contact Operation Rescue at 316-683-6790, ext. 112, or e-mail us at cheryl[at]operationrescue.org.