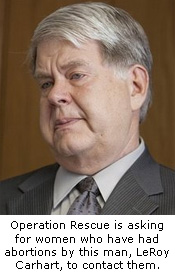 Wichita, KS – Operation Rescue is asking women who have had abortions by LeRoy Carhart in the past five years to contact them.
"We are conducting a research project and are encouraging women who are ready to share their stories about their abortion experiences with LeRoy Carhart to contact us as soon as possible," said Operation Rescue Senior Policy Advisor Cheryl Sullenger. "Of course, all communications with us will be held in strictest confidence."
Carhart operates an abortion clinic known as the Abortion and Contraception Clinic of Nebraska in Bellevue, Nebraska, a suburb of Omaha. He was employed until its closure at Women's Health Care Services in Wichita, Kansas. He is also licensed to operate in Indiana, New Jersey, Ohio, and Pennsylvania. He may have done abortions in Iowa in the past, as well.
If you had an abortion at by LeRoy Carhart in any of these states over the past five years we would love to speak with you. Your communications will remain confidential and your identity will be protected. Contact Operation Rescue at 316-683-6790, ext. 112, or e-mail us at info@operationrescue.org.