Records available online debunk her story about dinner with Tiller in 2007 and prove Tiller gave her more money that she admits.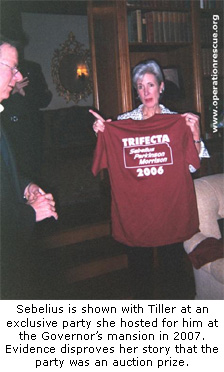 Washington, DC – The U.S. Senate Finance Committee has published written answers submitted by Kansas Gov. Kathleen Sebelius in response to questions submitted to her during her examination for confirmation as Secretary of Health and Human Services.
Official public records prove that her response to a question from Sen. Jon Kyl (R-AZ) about her relationship with late-term abortionist George R. Tiller is filled with falsehoods, again raising ethical questions about Sebelius' fitness to serve.
In response to Sen. Kyl, Sebelius stated that she received $12,450 from Tiller during her campaign for Insurance Commissioner.
However, contribution and expenditure reports on file with the Kansas Governmental Ethics Commission show the figure to be closer to $38,450 – a discrepancy of $26,000. Records also show that some of that money was used for her 2002 campaign for governor. Detailed information on Sebelius' campaign finance ties to Tiller has been meticulously compiled by a political researcher and is available on his blog at www.kansasmeadowlark.com.
Sebelius added comments regarding a 2007 party she hosted at the official governor's mansion, Cedar Crest, for Tiller and his entire abortion clinic staff. She stated that in 2006, she donated a reception at Cedar Crest to a "non-profit" group, the Greater Kansas City Women's Political Caucus (GKCWPC), for their annual fundraiser, the Torch Dinner. All costs were reimbursed to the state.
However, there are several factual problems with Sebelius' statement:
• The Greater Kansas City Women's Political Caucus is a Political Action Committee, not a non-profit group.

• GKCWPC records on file with the Kansas Governmental Ethics Commission show no purchase or contribution of any kind by Tiller or anyone related to him in 2006.

• Sebelius claims that the cost of the Tiller dinner was reimbursed to the state. However, Operation Rescue obtained receipts that show the dinner was paid for by taxpayers. Sebelius' spokesperson has stated that the reimbursement occurred on May 23, 2008, but official expenditure records for the GKCWPC for that time period show no such reimbursement. No receipts to prove a reimbursement occurred have ever been produced.

• All documentation supports the claims of Operation Rescue's original source, a former Tiller employee who attended the Cedar Crest party. She provided photos of the event and told OR that it was an invitation only dinner given by Sebelius to honor Tiller and his abortion clinic staff, not an auction prize. No evidence has ever been produced to refute her claims.
For an in depth analysis and links to full documentation, click here.
"The records prove that Sebelius' story about the Tiller dinner being an auction prize is manufactured out of whole cloth. There is not one shred of evidence to back it up. Sebelius' continued unwillingness to tell the truth about her relationship with Tiller, in spite of the evidence, shows that from an ethical standpoint alone, she is not fit to serve," said Operation Rescue President Troy Newman. "If she will lie to the U.S. Senate and the American people about this, she simply cannot be trusted."