Meanwhile, RNC Chairman calls for Obama to withdraw Sebelius' nomination to HHS
UPDATE! The confirmation vote on Sebelius' nomination as HHS Secretary is scheduled in the full Senate for Tuesday, April 28. Your efforts are working! Now is the time to increase the pressure. Please contact your senator and voice your opposition to Sebelius.
CLICK HERE TO BLAST FAX EVERY SENATOR NOW!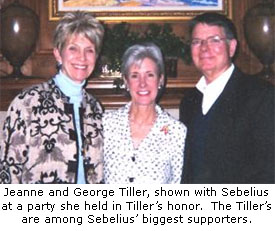 Topeka, KS – Gov. Kathleen Sebelius vetoed a bill late today that would have required abortionists to report the specific reasons for post-viability abortions, reinforcing her reputation as a pro-abortion extremist.
In her veto message, Sebelius falsely attempts take credit for the falling abortion rate in Kansas.
"Abortions have decreased in spite of her, not because of her. Abortions actually started to decline the year Operation Rescue moved our headquarters to Kansas – one full year before Sebelius was elected as governor," said Operation Rescue Senior Policy Advisor Cheryl Sullenger. "Her false claims are a slap in the face to the hundreds of pro-life advocates who have worked tirelessly to expose her friend, late-term abortionist George Tiller, and provide help and practical alternatives to abortion-minded women outside Kansas abortion clinics."
Sebelius' veto will benefit only one abortionist in the state, and that is her political benefactor George Tiller. The bill would have required him to give the specific diagnosis used to justify a post-viability abortion. Kansas law requires that such abortions can only be done if the continuation of the pregnancy will result in "substantial and irreversible impairment to a major bodily function" of the pregnant woman.
"As it stands, no one can even check to see if Tiller is actually complying with the law," said Sullenger. "Now Sebelius is helping Tiller continue to conceal the true nature of what is going on at that late-term abortion clinic. She apparently wanted to do Tiller one last favor before heading off to Washington."
But Sebelius has endangered her recent nomination as Secretary of Health and Human Services by underreporting the full amount of campaign contributions she received from Tiller.
Opposition to her nomination continues to grow. Today Republican National Committee Chairman Michael Steele has asked President Obama to withdraw Sebelius' nomination unless she answers more questions about abortion.
"Michael Steele is hardly an ardent pro-life supporter. The fact that he is now opposing Sebelius really shows how truly radical she is on abortion," said Sullenger. "It's a huge embarrassment for the state of Kansas when you look at her and realize that she is too extreme and too short on integrity even for the jaded political environment of Washington, DC."
Text of Veto Message