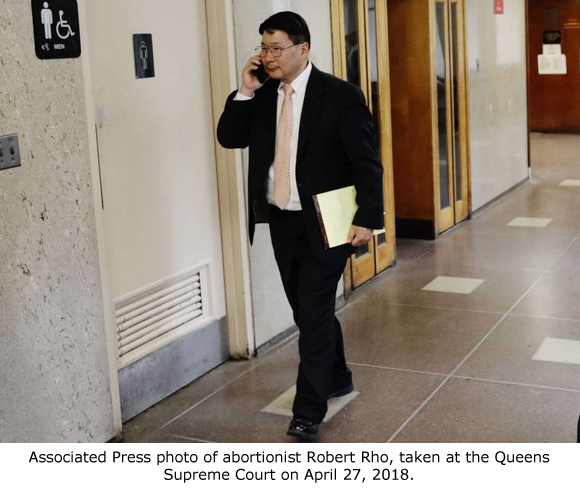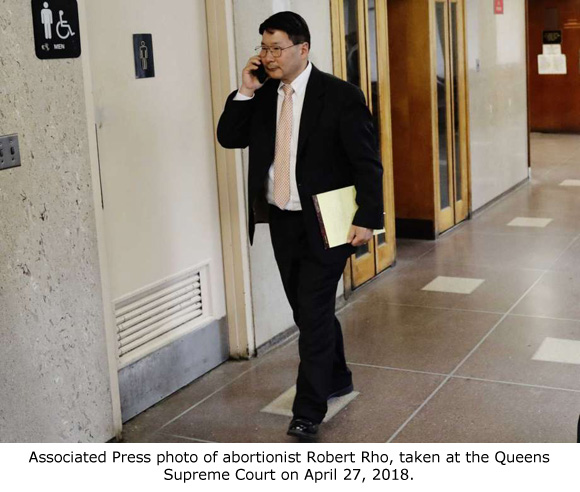 By Cheryl Sullenger
Queens, NY – Robert Rho is due to be sentenced and taken into custody tomorrow on the charge of Criminally Negligent Homicide for causing the death of Jaimie Morales during a severely botched second trimester abortion nearly two years ago.
Jaime Morales died on July 9, 2016, after a late-term abortion done by Rho at his now-shuttered Liberty Women's Health Care in Flushing, New York. Morales pre-born baby was 24-26 weeks gestation.
Ever the one to cut corners, Rho conducted her abortion in just one day instead of using the standard 2-3 day procedure. The results were catastrophic.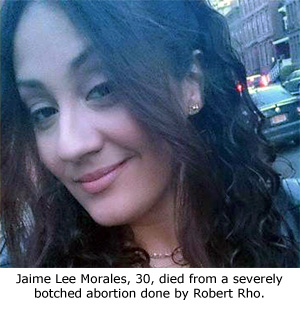 While at the clinic, Morales endured two abortion procedures during which Rho lacerated her cervix and vaginal wall, punctured her uterus and sliced her uterine artery. Morales hemorrhaged profusely, but instead of calling an ambulance, Rho stitched her cervix closed to make it appear the bleeding had subsided while she continued to hemorrhage internally.
With Morales drifting in and out of consciousness, Rho released her from his facility. He left just five minutes later. Morales lost consciousness during the ride home and was transported to a hospital where she died later that day from her fatal injuries.
Rho's trial was filled with drama and surprises. To courtroom witnesses, he appeared to be an arrogant man who just wanted to get the trial over as cheaply as possible so he could move on with future plans to open a new abortion business. He never showed remorse.
Rho was originally charged with Manslaughter, (recklessly causing a death), a Class C Felony that carried a penalty of 3 1/2 to 15 years in prison.
In a courtroom shocker, just as the judge announced that the jury had reached a verdict and was about to bring them into the courtroom for the verdict reading, Rho's attorney, Jeff Lichtman, jumped up and told the court that Rho would accept a previously offered plea bargain to a lesser charge.
Rho, who was reluctant to accept responsibility for Morales' death, grudgingly pleaded guilty to Criminally Negligent Homicide, a Class E Felony that carries a lesser penalty of 16 months to four years in prison.
"A young woman is dead, her viable baby is dead, and her family and friends have been left grieving. This is all Rho's fault. He will never get what he deserves in this life, but the least the judge can do is sentence him to the maximum four years in prison. Anything less will be just a slap on the wrist. Jaime, her baby, and her loved ones deserve better," said Operation Rescue President Troy Newman. "But perfect justice will have to wait until Rho stands before God to give an account at the final judgement, and I would not like to be in his shoes on that day."
Rho is set to be sentenced on Tuesday, June 26, 2018, in the courtroom of Judge Gregory Lasick, who heard the three weeks of testimony against Rho. Operation Rescue will post updates as information becomes available.
Read Operation Rescue's previous reports, including eye-witness accounts from the courtroom.