Your help is urgently needed to pass the most important piece of federal legislation to be introduced since the criminalization of slavery.


On February 2, 2005, Congressman Duncan Hunter (R-CA) introduced the Right to Life Act of 2005 (View Text) which, if passed, would implement the right to life for each born and pre-born human person under the 14th Amendment to the US Constitution. This legislation would literally STOP abortion in America — all abortion — because the Constitution would guarantee the right to life for the pre-born.
As the current situation now stands, even if Supreme Court Justices were appointed that would overturn Roe v. Wade (and we have serious doubts this will happen), the so-called "right" to an abortion would revert to the control of each state. Some states would certainly outlaw abortion, but many states already have laws on the books to make sure that abortion on demand continues unabated.
That is why control of the Supreme Court, while critically important, is only a partial answer to seeing the scourge of abortion forever removed from our nation.
The Right to Life Act is nothing new to the US Congress. It was introduced yearly by former Rep. Bob Dornan, the firebrand pro-lifer from Orange County, California when he served in Congress in the 1990s. When Dornan was defeated in 1997, Congressman Duncan Hunter of San Diego County agreed to continue to submit this legislation each year, but each year no hearings were scheduled and the bill languished in obscurity and neglect.
However, this year is different.
The culture in America is undergoing a remarkable change and is increasingly uncomfortable with abortion on demand. The Pro-life Movement is especially making great gains among the younger generation, which is more pro-life that ever before. In fact, for the first time in decades, the majority of Americans consider themselves pro-life!
The last presidential election was a water-shed moment in American history when a president was elected primarily by citizens who wanted to see the Supreme Court move to the right and overturn Roe v. Wade. Abortion is "THE" issue in the current debate over the next Supreme Court justice. Americans want and need a public discourse on abortion and the question of when life begins.
With the current debate on abortion surrounding the recent Supreme Court vacancies, more and more people are seeing that the courts are only part of the answer. The document to which all our laws must comply, the U.S. Constitution, must be legally interpreted to clearly and unequivocally protect the lives of pre-born boys and girls.
The Right to Life Act of 2005 would do just that!
Political and cultural conditions are the most favorable they have ever been for legislation that would implement equal protections under the Constitution and restore the legal protections of personhood to the pre-born.
Now is the time to press for the Right to Life Act of 2005.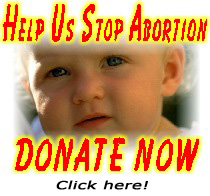 Currently, the RTL Act is languishing in the House Judiciary Subcommittee on the Constitution. No hearings have been scheduled. Hearings are important because they will open up the national debate about the personhood of the pre-born — a debate that is long overdue.
When the Congress held hearings on the partial-birth abortion ban, the entire nation became aware of the heinous nature of late-term abortions. They began to understand that there are some things civilized people JUST DON'T DO. The attitudes of Americans were changed as a result and now the overwhelming majority of our countrymen oppose late-term abortions.
We believe that a similar debate concerning the personhood of the pre-born could further enlighten our nation as to the heinous nature of ALL abortion, and could be the next step in reclaiming the right to life for ALL Americans, regardless of their age or stage of development.
We must get America talking about the personhood of the pre-born and the all-important question of when life begins. This is a debate the abortion lobby fears more than anything because they know it is a debate we will always win!
THIS IS WHERE YOU COME IN!
We are asking you to do three things to help move this live-saving legislation along and open the national debate on the personhood of children in the womb:
Contact the Congressman from your district and ask him or her to sign on as a co-sponsor of the Right to Life Act of 2005. Currently there are 68 co-sponsors, more than there have ever been! But more are needed to give this bill the kind of respectability that will motivate Congressional action.
Click here to view the current list of co-sponsors.
Click here to contact your representative.
Contact Congressman Jim Sensenbrenner (R-WI) and ask him to schedule hearings on the Right to Life Act of 2005

. Rep. Sensenbrenner is the Chairman of the House Judiciary Committee. It is within his power to schedule hearings or kill this bill through neglect. It is guaranteed that he will not act UNLESS HE HEARS FROM US! Congress has reconvened this week, and all representatives at their Washington DC offices now.
Congressman Jim Sensenbrenner:
E-mail: sensenbrenner@mail.house.gov
Phone in Washington DC: (202) 225-5101
Forward this message to your friends and family and ask them to do the same.
There has never been a better opportunity to pass legal protections for the pre-born that now. We know not everyone can protest against abortion, or drive a Truth Truck, or hold a graphic sign. But everyone CAN and SHOULD make two phone calls or write two e-mails asking for co-sponsorship and hearings for the Right to Life Act of 2005.
Please do not let this bill continue to languish in neglect. If we have to wait until 2006, there is no guarantee conditions will be as favorable.
But most importantly, if we have to wait another year, the lives of 1.3 million innocent children will be needlessly taken by abortion! That's right. The lives of 1.3 million children (and countless more if this bill is not debated and passed) desperately depend on you and me making a couple of phone calls and sending a couple of e-mails. (After all we've been through, how ironic is that!)
Please stop and make your calls and send your messages now!
While you are at it, please call or fax Congressman Duncan Hunter and let him know you appreciate his staunch pro-life efforts. Rep. Hunter is well known to those of us from Southern California and has been kind and courageous enough to speak on behalf of the pre-born at our rallies in past years. Please let him know his efforts are appreciated. He can be reached at (202) 225-5672; FAX: (202) 225-0235.
Please consider making a donation to Operation Rescue to help us stop abortion.
---
Text:
http://thomas.loc.gov/cgi-bin/query/z?c109:H.R.552
Right to Life Act (Introduced in House)
HR 552 IH
109th CONGRESS
1st Session
H. R. 552
To implement equal protection under the 14th article of amendment to the Constitution for the right to life of each born and preborn human person.
IN THE HOUSE OF REPRESENTATIVES
February 2, 2005
Mr. HUNTER (for himself, Mr. SHIMKUS, Mr. KINGSTON, Mr. BARTLETT of Maryland, Mr. TIAHRT, Mr. WICKER, Mr. SMITH of New Jersey, Mrs. MYRICK, Mr. TANCREDO, Mr. WHITFIELD, Mr. DOOLITTLE, Mr. GARRETT of New Jersey, Mr. AKIN, Mr. FRANKS of Arizona, Mr. RENZI, Mrs. JO ANN DAVIS of Virginia, Mr. RYUN of Kansas, Mr. KING of Iowa, Mr. MCCOTTER, Mr. PEARCE, Mr. NEY, Mr. JOHNSON of Illinois, Mr. NEUGEBAUER, Mr. SOUDER, Mr. GINGREY, Mr. LEWIS of Kentucky, Mr. JONES of North Carolina, Mr. WAMP, Mr. WILSON of South Carolina, Mr. PITTS, Ms. FOXX, Mr. CHABOT, Mr. HOEKSTRA, Mr. HOSTETTLER, Mr. GREEN of Wisconsin, Mr. GARY G. MILLER of California, and Mr. LAHOOD) introduced the following bill; which was referred to the Committee on the Judiciary
———————
A BILL
To implement equal protection under the 14th article of amendment to the Constitution for the right to life of each born and preborn human person.
Be it enacted by the Senate and House of Representatives of the United States of America in Congress assembled,
SECTION 1. SHORT TITLE.
This Act may be cited as the `Right to Life Act'.
SEC. 2. RIGHT TO LIFE.
To implement equal protection for the right to life of each born and preborn human person, and pursuant to the duty and authority of the Congress, including Congress' power under article I, section 8, to make necessary and proper laws, and Congress' power under section 5 of the 14th article of amendment to the Constitution of the United States, the Congress hereby declares that the right to life guaranteed by the Constitution is vested in each human being.
SEC. 3. DEFINITIONS.
For purposes of this Act:

(1) HUMAN PERSON; HUMAN BEING- The terms `human person' and `human being' include each and every member of the species homo sapiens at all stages of life, including, but not limited to, the moment of fertilization, cloning, or other moment at which an individual member of the human species comes into being.
(2) STATE- The term `State' used in the 14th article of amendment to the Constitution of the United States and other applicable provisions of the Constitution includes the District of Columbia, the Commonwealth of Puerto Rico, and each other territory or possession of the United States.