Disgraced former Attorney General Paul Morrison's ex-mistress also testified and adamantly denied outrageous claims that Kline told her to pressure Morrison to charge Tiller.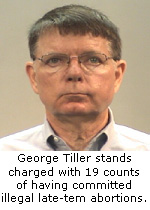 Wichita, KS – The hearing in a motion to suppress evidence against late-term abortionist George R. Tiller resumed today after a six week break. Tiller is charged with 19 counts of having committed illegal late-term abortions.
However, the casual observer might have thought that it was instead Kline who was on trial as he took the stand and testified for most of the day. Kline's successor, Paul Morrison, actually filed the charges that Tiller now faces.
Tiller's attorney, Dan Monnat, engaged in questioning that ran the gamut from boring and irrelevant to aggressive, offensive, and demeaning. Kline handled Monnet's sometimes insulting questioning with grace and dignity.
In testimony perhaps even less to Monnat's liking, Kline revealed that in April, 2006, he had gone to Shawnee County District Court Judge Richard Anderson because he had reason to believe that abortion records that he received through subpoena as Attorney General contained evidence of a conspiracy between Tiller and Planned Parenthood to violate the Kansas late-term abortion law. Nevertheless, Kline was ordered to return the Tiller records to then Attorney General Morrison.
Kline said that he found that Planned Parenthood had referred three women to Tiller for late-term abortions even though the women were over legal threshold of 22 weeks gestation, and that the women did not meet any of the exceptions to the Kansas ban on late-abortions since they had no physical or mental health problems. Judge Anderson later advised Kline to ask Morrison for the three records in question. Kline made the request, but Morrison refused it.
Late in the day Linda Carter took the stand. Carter was the former Director of Administration in the Johnson County District Attorney's office who admits to having an adulterous affair with Paul Morrison while he served as DA, and later while he served as Attorney General. Morrison resigned in disgrace after news of their affair became public. At that time, and again today in court Carter alleged that Morrison had pressured her to interfere in a Federal suit involving Kline, and that he wanted her gather information about Kline's abortion investigations for the purpose of impeding them.
However, Tiller attorney Dan Monnat posited the outrageous claim that Kline had used the fear of the loss of her job to intimidate Carter into pressuring Morrison to charge Tiller. Carter adamantly and in the strongest terms testified that Kline did no such thing, and that Kline never discussed or hinted that he was aware that Carter was having an affair with Morrison until a month after the charges were filed.
"Monnat's accusation against Kline was thoroughly shot down by Carter," said Operation Rescue President Troy Newman, who monitored the court hearing for most of the day. "Most of the questioning was just an attempt to smear Kline in front of the media. It was irrelevant to the criminal case against Tiller. Tiller's defense is more about smoke and mirrors than about the real issues of law. It seems like they are hoping no one really notices that it is Tiller, not Kline, that is charged with crimes."
Tiller was present throughout the hearing, but appeared slow and lethargic in his movements, almost as if he were heavily medicated.
The hearings are set to resume at 9 AM on Wednesday with Carter expected to continue her testimony.