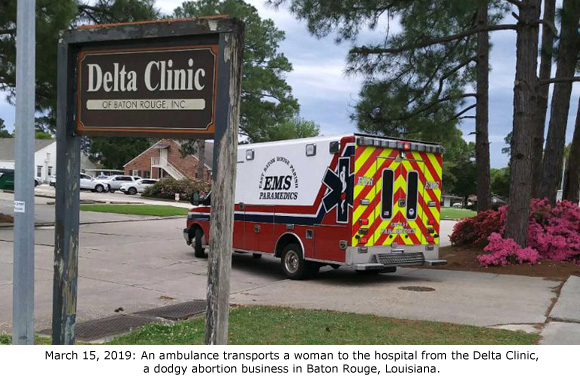 By Cheryl Sullenger
Baton Rouge, LA – The Louisiana Department of Health declared an Immediate Jeopardy situation at Delta Clinic of Baton Rouge in March 2019, due to multiple serious violations cited during an investigation into a medical emergency that took place on March 15, 2019.
Immediate Jeopardy is a situation in which the provider's noncompliance with patient care standards and/or regulations has caused or is likely to cause serious injury, harm, impairment, or death to a patient.
Due to two separate complaints filed by Louisiana pro-life activist Rich Mahoney and Louisiana Right to Life, an investigation and inspection found 16 pages of violations that resulted in Delta's facility license being place on provisional status and a total fine of $4,200.00. (See p. 2 of Department of Health letter dated April 10, 2019.)
Operation Rescue had been advised of the March 15 medical emergency at Delta by Mr. Mahoney and reported on it on March 22, 2019.
While no 911 records were released prior to that report, new documents related to the Department of Health's investigation reveal startling details of what this patient endured as a result of Delta's incompetence.
Patient 1
A 28-year old woman, referred to as Patient 1, reported to the Delta Clinic on March 15, 2019, for the last day of a Dilation and Evacuation (D&E) dismemberment abortion at 15 weeks into her pregnancy.
She had a history of five previous Cesarean Section deliveries and one miscarriage that resulted in heavy bleeding – all indicators that this woman was at high risk of suffering serious abortion complications. Nevertheless, no one at the Delta Clinic bothered to check to see if emergency supplies were available.
Patient 1's abortion was started at 12:18 p.m. and lasted 44 anxious minutes. Once the placenta was removed, Patient 1 began to bleed heavily. Her blood pressure began to drop and her heart rate began to race – symptoms of significant blood loss. Her medical records indicated she lost 250-350 cc, (8.8 to 12.3 ounces) of blood during the dismemberment procedure.
In the recovery room, Patient 1 continued to hemorrhage. She drifted in and out of consciousness from blood loss with signs of tachycardia (rapid heart rate), which occurs when the heart is attempting to compensate for the lack of blood in the body.
When IV fluids were sought to help stabilize her, the clinic staff – including the abortionist James C. Deguerce II – discovered there were no IV fluids in the clinic.
A call was placed to 911. Once EMS personnel arrived, Patient 1's blood pressure had dropped to 78/56. She was given IV fluids by the emergency responders and her condition began to improve somewhat.
At the hospital
Patient 1 was transferred to the hospital at 2:15 p.m., over an hour after her abortion procedure ended. There, she was listed in guarded condition. The hospital estimated she had lost about 300 cc of blood (10.5 ounces) during her abortion, then another 800 cc (28.2 ounces) of blood at the Delta Clinic while in recovery at the abortion facility.
Hospital staff prepped Patient 1 for surgery after an ultrasound exam revealed retained parts of the baby that the Delta Clinic abortionist had neglected to remove.
While in surgery at the hospital, the woman continued bleeding even after multiple suction and D&C attempts to remove all the baby's remains. A balloon was inserted to tamponade the bleeding and a catheter was placed in her bladder to relieve pressure on the uterus.
When all those attempts to stop the hemorrhaging failed, the hospital suspected the woman had suffered from placenta accreta, a condition where the placenta is attached too deeply into the uterus. Women with histories of Cesarean Section deliveries – and Patient one had five – are particularly susceptible to this condition.
Patient 1 was again sent into surgery where she had a complete hysterectomy with the removal of her Fallopian tubes. She spent at least three days in the hospital where she received four units of blood to save her life, according the deficiency report.
Immediate Jeopardy
Due to the quick submission of complaints by Mahoney and Louisiana Right to Life, the Department of Health placed a phone call to the Delta Clinic at 4:40 p.m. on the day of the emergency. Once the Department discovered that the Delta Clinic had no IV fluids available in the event of an emergency with additional abortions scheduled or underway, it declared an Immediate Jeopardy situation and halted abortions at Delta until corrections could be made.
The Department of Health launched a deeper investigation and discovered that the clinic had no protocols for replacing IV fluids that had been used. An inspection of the crash cart showed required drugs that were missing or expired, and there was no balloon for use on women that hemorrhaged.
The clinic submitted protocols for replenishing emergency supplies that at first failed to mention the quantity that should be on hand. The second attempt at developing protocols also failed when it was learned that no medical staff were consulted in developing what proved to be inadequate protocols.
Repeat offender
The Delta Clinic was considered a repeat offender, having failed inspections on numerous occasions, most recently in June 2017, and in July 2018 when a staggering 51 pages of citations were noted. Deficiencies cited included some of the same violations found cited in the 2019 report.
In fact, the Delta Clinic has a long history of failed inspections, fines, medical malpractice, and the deaths of at least two patients, Ingar Weber and Shelia Hebert.
One Delta abortionist, Kevin Work, was accused of conducting abortions while his medical license was under suspension. He has had his medical license repeatedly suspended over the years for deception and shoddy patient care practices, most recently on February 26, 2019.
Gosnell link
The shoddy conditions and despicable patient care violations should not be a surprise. The Delta Clinic is owned by a man named LeRoy Brinkley. He also once owned two abortion facilities in Delaware where he employed a Philadelphia abortionist, Kermit Gosnell. Both of those Delaware facilities were shut down after Gosnell's notorious West Philadelphia "House of Horrors" Women's Medical Society was raided by police in 2010.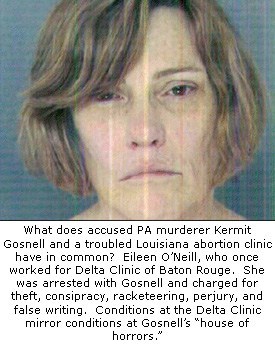 Gosnell and nine of his employees were later arrested on numerous criminal counts, including murdering infants born alive during incompetently done late-term abortions. Gosnell was convicted in 2013 of three counts of First Degree Murder for snipping the necks and spinal cords of babies that were born showing signs of life.
Among those arrested with Gosnell was an unlicensed medical school graduate named Eileen O'Neill, who had previously worked at the Delta Clinic in Baton Rouge, but she relinquished her Louisiana medical license due to what she called "post traumatic stress," which speaks volumes about her time at Delta. Brinkley referred her to Gosnell for employment in West Philadelphia. O'Neill eventually reached a plea agreement that allowed her to avoid jail time.
Why is this clinic still open?
Given the long history of conduct and conditions that have injured untold numbers of women and ended the lives of at least two others, Patient 1 is lucky to be alive.
However, her life would never have been placed in jeopardy if authorities had acted earlier to protect women by closing this abortion mill that has proven to pose chronic threats to women's lives and health.
"Over the years the Delta Clinic has demonstrated a gross disregard for the law, patient care standards, and common decency. It has shown over years of abuses and failed attempts at remediation that it is incapable of being rehabilitated," said Troy Newman, President of Operation Rescue. "What more evidence does the Department of Health really need? How many more women must suffer life-altering injuries or death? This abortion facility will never comply with the law and should be immediately closed before more women are exploited, injured, or abused."
Read the full packet of documents, including the Department of Health Deficiency Report