By Cheryl Sullenger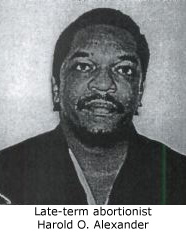 Forestville, MD – The Maryland Board of Physicians issued a "cease and desist" order on Friday, October 25, 2013, to Harold O. Alexander, of Forestville, Maryland, ordering him to stop performing abortions and stop administrating certain drugs, including sedation.
Operation Rescue investigations confirmed that Alexander was operating an unlicensed abortion clinic, Integrated Ob/Gyn, last June. A recorded undercover phone call made to Moore ObGyn, which shares an office with Integrated ObGyn, revealed that Alexander was conducting abortions four days per week – mostly in the evenings – and that he was charging women an extra $100 per abortion for pain relief. Those who could not afford the extra fee had to endure the excruciating pain of a surgical abortion.
Operation Rescue turned the documentation it obtained over to a local pro-life activist that ensured that it reached the hands of the appropriate authorities then published a report concerning its findings. [Read the report here.]
"Alexander's cease and desist order represents a huge victory for Operation Rescue as well as for women and their pre-born babies that were endangered by Alexander's shoddy abortion practices," said Troy Newman, President of Operation Rescue. "This represents over two and a half years of work by our investigative staff and validates our allegations against Alexander, who we consider a danger to the public."
As a result, the Maryland Office of Health Care Quality inspected Alexander's office on Monday, October 21, 2013, and discovered that not only was Alexander's abortion business unlicensed, but he was allowing unqualified "Med Aids" to administer IV drugs and sedation in violation of Maryland Code Regulations, which requires such medications be administered only by a physician or qualified nurse anesthetist. Alexander's practices mirror those of Pennsylvania abortionist Kermit Gosnell, who was convicted earlier this year of three counts of murder and hundreds of other abortion-related crimes.
In addition, Alexander had no Registered Nurse in his employment even though Maryland Code Regulations require that an RN must be present when surgical abortions take place.
Alexander had been subjected to license suspension in August 22, 2012, in part based on a complaint filed by Operation Rescue after a seven-month investigation into his association with disgraced Florida abortionist James Scott Pendergraft, IV. He and Pendergraft were operating an illegal late-term abortion business secretly out of Alexander's Forestville abortion clinic. At the time, Pendergraft held no medical license in Maryland and was serving a license suspension in his home state of Florida.
The Board found that Alexander had illegally destroyed patient records related to his shady late-term abortion operation with Pendergraft while those records were under Board subpoena. The Board put an end to the Alexander/Pendergraft late-term abortion scheme.
The Board also found that Alexander was improperly prescribing drugs like Viagra to non-patients engaging in "sexual boundary" violations, botched abortions, and shoddy or non-existent record keeping.
In April 2013, Alexander's license was restored and he was placed on a 2-year term of probation. The conduct uncovered by inspectors discovered last Monday were violations of that probation.
"We understand that more revelations about Alexander's illegal unlicensed abortion business will be forthcoming and we look forward to the day when his medical license in revoked once and for all," said Newman. "While we may not get the outcome we want on every complaint we file, the Alexander case is just the most recent success story in a long list of victories of which we have been privileged to be a part. When abortionists like Alexander are banned from plying their grisly trade and when abortion clinics close, as they have 45 times this year alone, lives are rescued, and that is what our work is all about."
View Alexander's profile on AbortionDocs.org.