[Operation Rescue partners with Project Defending Life and Protest ABQ to expose abuses and bring an end to abortion in Albuquerque, NM, the Late-Term Abortion Capital of the World. — OR Staff]
By Tara Shaver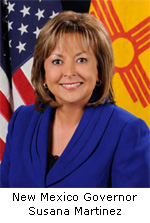 Albuquerque, NM- On Saturday, August 16th after attending a gala hosted by the Baby Brianna Foundation, leaders of Protest ABQ, which included Bud and Tara Shaver, sat down with Gov. Susana Martinez during a 30 minute meeting and spoke about how she as Governor can take steps to protect the lives of women and pre-born children from the horror of abortion in New Mexico.
This meeting was a direct result of Protest ABQ's focus on Gov. Martinez over the past several months due to her reluctance to take meaningful action to prevent abortion even though she campaigns as a pro-life supporter.
"New Mexico currently has no restrictions whatsoever on abortion. Because of that, Albuquerque is known nationally as the 'Late-Term Abortion Capital' of the nation where elective abortions are performed through all nine months of pregnancy. Therefore, it is imperative that the Governor take pro-active steps to reign in the out-of-control and unregulated abortion industry that is taking the lives of healthy babies just days or weeks before birth and sending women to hospitals for emergency care when things go wrong," stated Bud Shaver Executive Director of Protest ABQ.
"During our meeting with Governor Martinez we were able to focus on these truths and discussed ways that this can change in New Mexico with her leadership."
Since Saturday's meeting with the Governor, correspondence between Protest ABQ leaders and members of Martinez' staff has been initiated at her request.
This is a breakthrough and a victory.
It is the exact result expected from the Protest ABQ campaign. Protest ABQ is committed to exposing and protesting those who support, profit from and condone abortion. Protests and public pressure do work, and the Martinez meeting is proof of that.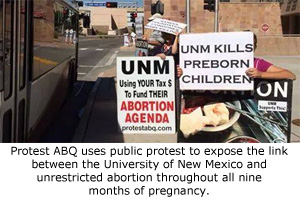 Protest ABQ encourages pro-lifers across the nation to employ these methods. Protest ABQ is leading the charge and calling on pro-life groups to join us for a National Call to Action: "National Protest's culminating with a National Strike on January 22, 2015."
Protest ABQ has halted its protests of Gov. Martinez to give her and her administration an opportunity to take action on the abortion issue on behalf of the most vulnerable in our state as her re-election approaches.
Protest ABQ is currently focusing on the University of New Mexico (UNM) due to its radical abortion agenda. For more information about why UNM is the heart of the legalized child-killing cartel in New Mexico, please read the following report by Tara Shaver: "Exposé: Tax Funded Abortion Training and the Betrayal of True Medicine at UNM".