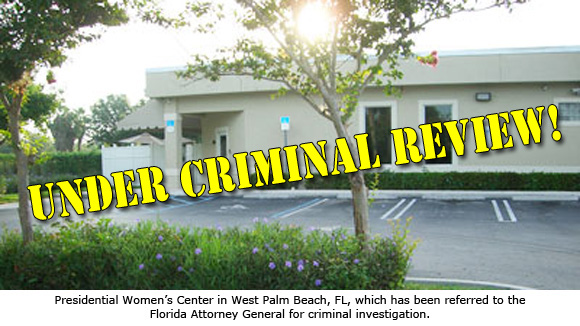 By Cheryl Sullenger
Tallahassee, FL – A state prosecutor with the Florida Attorney General's office has contacted M. Susan Pine of FACE Life, Inc., with confirmation that he is reviewing a criminal referral of Presidential Women's Center, Inc. made by the US. House Select Investigative Panel on Infant Lives.
"Attorney General [Pam] Bondi asked my Office of Statewide Prosecution to review the information for any criminal prosecution to ensure Florida takes the appropriate necessary action," stated Nick Cox, a statewide prosecutor with the Attorney General's office, in an e-mail to Pine on February 17, 2017.
This confirmation came just two days after Operation Rescue urged supporters to contact the Florida Attorney General to ask if her office planned to act on the criminal referral of Presidential Women's Center. Previous inquiries requesting confirmation that the criminal referral would be acted upon had been rebuffed.
"We thank Attorney General Bondi for handing over the House's criminal referral of the Florida abortion facility to a prosecutor for review," said Operation Rescue President Troy Newman. "It is in the interest of the State of Florida to protect women from this kind of exploitation and abuse. News that a prosecutor is reviewing the case is encouraging and gives us confidence that appropriate action will be taken once the review is completed."
The Select Investigative Panel supplied evidence to Attorney General Bondi on November 30, 2016, that Presidential Women's Center, an abortion facility in West Palm Beach that conducts abortions throughout the second trimester of pregnancy, was violating State and Federal laws prohibiting the following:
• The sale of aborted baby tissue for profit.
• The use of tissue from aborted babies for research or experimentation.
• The disclosure of individually identifiable health information to another person.
• The disclosure of individual health information for commercial advantage.
"I especially want to thank everyone who contacted Bondi's office and helped us get the answers we were seeking," said Newman. "We hope that justice will be done and that the Presidential Women's Center will be closed for good."
View the full e-mail from Cox to Pine
Read the Congressional Criminal Referral letter for Presidential Women's Center
Read related report