By Cheryl Sullenger
Bronx, NY – Over six months after first making a request for public 911 records related to an August 17, 2019, medical emergency at an abortion facility located in Bronx, New York, Operation Rescue finally received a recording of the call and the computer aided dispatch transcript from the New York Fire Department that revealed the nature of the emergency.
The recording of the original call placed from Dr. Emily's Women's Health Center was disturbing. The caller seemed unprepared for even basic questions that are commonly asked by 911 dispatchers. That caused a delay in dispatching units.
The caller was stumped on the question of the patient's age. There was an uncomfortable silence on the phone while she fumbled through paperwork, and in the end guessed that the woman who needed an ambulance was in her 30's. She also had to leave the phone to ask about the woman's condition so it could be relayed to the dispatcher who was waiting on the line.
Finally, it was learned that a woman had just endured a surgical abortion when she experienced a series of at least three prolonged seizures over a 30-minute time span. She was known to have a medical history of seizures.
"It only makes sense that when an outpatient abortion facility is knowingly incapable of coping with a woman's known medical condition, the woman should not be scheduled for an abortion there," said Troy Newman, President of Operation Rescue.  "In this case, it appears her medical history was ignored, at the expense of her safety."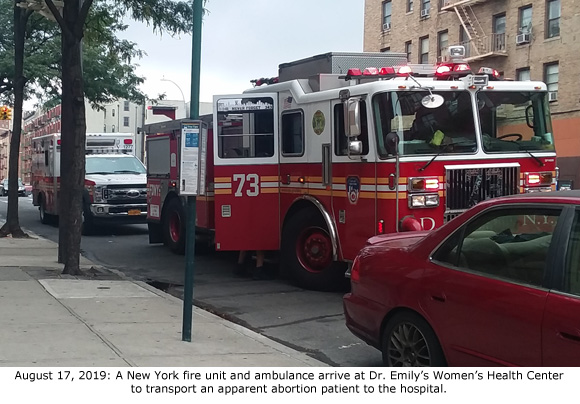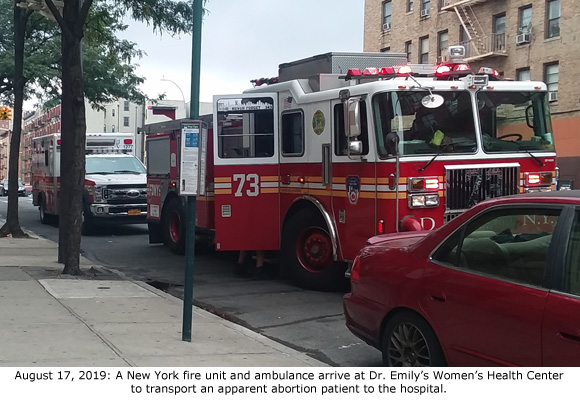 According to the CAD transcript, the call was placed from a Voice Over Internet Protocol (VOIP), which had to be transferred. Further information about the VOIP call was redacted from the records.
When the 911 call records were initially requested on August 20, 2019, Operation Rescue was told that they would not be available until January 2020. Months later, the request was flatly denied. An appeal was made, and finally, the redacted records were released – over six months after the fact.
"Obviously the person that declined to release the public records was either in error or was covering up for the abortion business hoping we would not appeal," said Newman. "The delay in receiving these records was unconscionable."
Operation Rescue confirmed that the abortionist at Dr. Emily's Women's Health Center is Jane E. Kaufman, who has a dubious safety record.
The website Vitals.com noted that Kaufman works or has worked at the Margaret Sanger Planned Parenthood, located at 26 Bleecker Street in Manhattan. That abortion facility is known for its frequent medical emergencies that require patients to be rushed to local hospitals.
In 2012, while at its former location about a block down the street from where it is now located, pro-life activists filmed bags of trash discarded onto the public sidewalk. Those bags were filled with bloody trash that included recognizable aborted baby remains. Complaints filed against Dr. Emily's Women's Health Center by Operation Rescue were ignored by New York authorities.
"I'm sure we haven't seen the last of Dr. Emily's abortion facility," said Newman. "As long as New York authorities continue to ignore complaints and cover up for medical emergencies there, women will remain at risk."