As you are aware, on March 25 the U.S. Supreme Court will hear two important cases that will decide whether those in the faith community will be forced by the government to pay for abortion through Obamacare in violation of their deeply held religious beliefs.
Operation Rescue opposes the government stealing away our religious freedoms and has been a leader is standing against the forced abortion funding in Obamacare.
We enthusiastically endorse this project from the Stand Up for Religious Freedom Coalition, of which we are a part. Please do all you can to support this critical event!
-Operation Rescue Staff
—–
Stand Up Coalition to Rally at Supreme Court March 25 for HUGE Hobby Lobby Case
On March 25, the US Supreme Court will hear oral arguments in the historic Sebelius v. Hobby Lobby and Conestoga Wood v. Sebelius cases which challenge the Obama Administration's HHS Mandate, and the Stand Up Rally Coalition will be there.
These two cases could overturn Obama's HHS Mandate—the very victory we've been seeking since 2012!
The Green family, owners of Hobby Lobby, and the Hahn family, owners of Conestoga Wood Specialties, are standing for all of us as they defend religious freedom by challenging the HHS Mandate in court. And now we must stand up with them as their cases are brought before the Supreme Court.
Here are 3 ways you can help:
1. Join us at the Supreme Court on March 25.
Join us for a prayer vigil and rally at the Supreme Court (Map) from 9:30 to 11:30 a.m. on March 25. Look for the huge "Stand Up for Religious Freedom" banner. We will provide signs, or you can make your own to welcome the Greens and the Hahns as they enter the Supreme Court.
If you can make it, RSVP on the Facebook event page.
But if you can't make it, please spread the word to friends or family in the D.C. area. Encourage them to make every effort to join this prayer vigil and rally for religious freedom.
2. Help spread the word far and wide about this critical Supreme Court hearing and rally.
E-Mail: Use this sample e-mail (or if you're a Stand Up Rally Captains use the Rally Captains sample email) to alert all your e-mail contacts about these cases and the rally for religious freedom at the Supreme Court.
Facebook: Tell all your Facebook friends about the March 25 Rally and share the event page with them.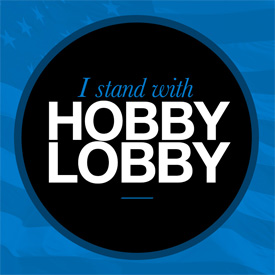 Change your profile picture to the "I Stand with Hobby Lobby" image you can see to the right.
Twitter: Get on Twitter and use the hashtag #ReligiousFreedomForAll, and participate in our TweetStorm 10-11 a.m. on March 25th when the oral arguments will actually be presented.
Here are some sample tweets:
Join me in supporting Hobby Lobby's fight for religious liberty. Visit hobbylobbycase.com and follow @hobbylobbycase #religiousfreedomforall
Learn what's at stake in the Hobby Lobby Supreme Court case. Visit hobbylobbycase.com and follow @hobbylobbycase #religiousfreedomforall
I support Hobby Lobby's right to religious liberty. RT if you agree and follow @hobbylobbycase #religiousfreedomforall
Add your voice to the fight for religious liberty. Visit hobbylobbycase.com and follow @hobbylobbycase #religiousfreedomforall
The @hobbylobbycase holds serious implications for the religious rights of all Americans. Add your voice to support this courageous fight! #religiousfreedomforall
Understand the @hobbylobbycase and why all Americans should be concerned with the outcome: http://bit.ly/1e2vNow #religiousfreedomforall
3. Pray for these important cases in the coming days.
Keep the Green and Hahn families, all their attorneys and the Supreme Court justices hearing their cases in your prayers over the coming days before the oral arguments.
This is the most important case yet in the battle over Obama's HHS Mandate. Please do your part today to help promote the rally effort and defend our cherished religious freedom!
– See more at: http://standupforreligiousfreedom.com/2014/march25/#sthash.SJNgsnjk.dpuf