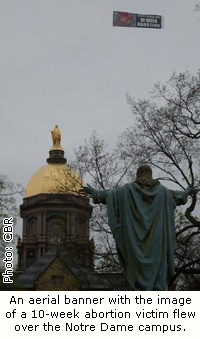 South Bend, IN – The Center for Bioethical Reform yesterday flew an airplane over Notre Dame towing a large banner with a photo of an aborted baby. Operation Rescue praised the bold move and is working with CBR to mount public opposition to President Obama's scheduled speech there on May 17.
In addition to the aerial protest, others have been expressing their displeasure that a stalwart Catholic institution would compromise church teaching and invite a man who radically supports killing children in the womb.
• Mary Ann Glendon, a Harvard University Law Professor and former U.S. Ambassador to the Vatican, has refused to accept an award from Notre Dame, citing Obama's support for abortion.
• A Notre Dame alumni group is reporting that their 900 members will not be giving $8.2 million in donations to the school in protest to the Obama appearance.
• A group called Pray Daily America has called for Notre Dame's President, Fr. John Jenkins, to resign over the scandal.
"This is truly a grassroots movement that continues to grow," said Operation Rescue President Troy Newman. "We may not be able to stop Obama's appearance at Notre Dame, but we can send the message loud and clear that there are serious moral, spiritual, and practical consequences to stubbornly embracing the sin of abortion."
Click here to contribute to our Notre Dame Protest project.