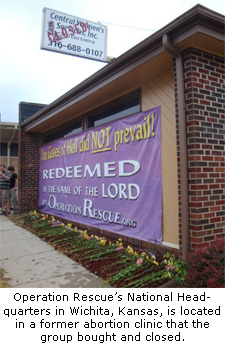 Wichita, KS – Telephones at Operation Rescue's national headquarters were inundated with hateful messages in the wake of the weekend vote on health care in the House of Representatives. Operation Rescue has been outspoken in its opposition to the Obama health care takeover plan, especially provisions that would provide taxpayer funding for abortions.
The calls filled the mailboxes of several extensions and ranged from nonsensical messages, to sexually explicit "dirty phone calls," to anti-Christian, hate-filled tirades. In weeks preceding the vote Operation Rescue staff members received death threats.
"Normally we don't give the threats and hateful calls we receive much thought. But lately there has been much made about threats to Democrats that supported the health care takeover, and we thought that people needed to know that the hate calls are flowing both ways," said Operation Rescue President Troy Newman.
"This kind of harassment and intimidation will never deter us from our mission to save the lives of innocent babies and stop abortion in our nation," said Newman. "However, we do take security precautions and are working with the FBI, which continues to investigate death threats against me and my staff."
Listen to sampling of the calls (Warning: Strong language)