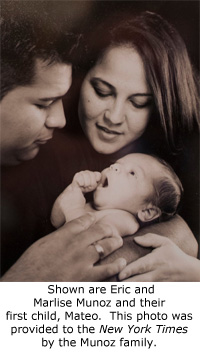 Ft. Worth, TX – Pro-Life leaders will hold a prayer vigil Sunday outside the Texas hospital where a 33-year-old pregnant woman is being kept on life-support to give her 20-week-old pre-born baby an chance at life.
Marlise Munoz collapsed in her home last November from an apparent blood clot in her lungs when she was 14 weeks pregnant with her second child. Her husband and other family members have asked the John Peter Smith Hospital in Ft. Worth to remove Marlise from life support after they were told she was "brain dead." Ending life support would also end her pre-born baby's life.
So far John Peter Smith Hospital officials have refused to follow the family's request, citing a Texas law that prohibits hospitals from removing life support from pregnant women.
Pastor Stephen E. Broden of Fair Park Bible Fellowship and Founder of National Black Pro-Life Coalition will be leading the vigil in support of Marlise and her baby.
The vigil will be held at:
Sunday, January 12, 2013, at 3:00 p.m.
John Peter Smith Hospital
1400-1598 S. Main St.
Fort Worth, Texas 76104
"We must save this baby. It is a person, guaranteed protection under the constitution. There is an alternative for the family. There are families willing to take the baby and provide a safe place for it to grow in a loving environment," said Pastor Broden. "If we err, we should err on the side of life."
The designation of "brain death" is a controversial one and presents moral and ethical issues, especially when the life of a baby is involved. There are many cases where babies have survived after the mothers have experienced similar situations to that of Marlise Munoz. There is a very strong possibility that Marlise's baby could survive, given a little more time.
"We feel great compassion for the family of Marlise Munoz and her pre-born baby. No one ever wants to be in their difficult and tragic situation," said Troy Newman, President of Operation Rescue. "Marlise wanted this baby, and as long as there is a chance that he or she can be saved, we support John Peter Smith Hospital in their bid to follow the law and protect this baby's life."
NARAL Pro-Choice America, a leftist feminist group that promotes abortion, plans to rally earlier in the day to lobby the hospital to terminate Marlise's life support and kill her pre-born baby.
Pastor Broden may be reached for comment at 214-394-0098.