Listen to Concerned Women For America President Wendy Wright in Washington, DC, invite you to join us in prayer. (This spot is airing on radio stations in the Wichita area.)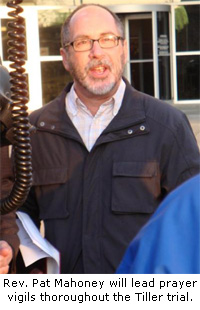 Wichita, KS – A group of pro-life leaders from all over the country are gathering in Wichita to pray for justice on the opening day of the criminal trial of late-term abortionist George Tiller.
There will be a press conference and prayer vigil outside the Sedgwick County Courthouse, located at Main and Central in Wichita, Kansas, at 8:00 AM.
Scheduled to attend are:
• Rev. Pat Mahoney, Christian Defense Coalition, Washington, DC
• Lou Engle, Founder of TheCall and the Justice House of Prayer
• Eileen Smith, pro-life activist and speaker, whose daughter died of a botched abortion in 2007.
• Members of the Survivors of the Abortion Holocaust
• Troy Newman, President, Operation Rescue
Morning prayer at the courthouse will continue at 8 AM daily while the trial is in session.
Beginning on Monday evening at 7 PM, and on each evening throughout the duration of the trial there will be a prayer rally at Living Word Outreach, 3033 S. Hillside in Wichita.
Statement from Rev. Pat Mahoney:
The trial of George Tiller is the result of over 25 years of sacrifice by the pro-life community who prayed for this day outside of his clinic under the glare of the blazing Wichita summer sun and in the freezing blustery winds of winter. This trial reminds us that God honors faithfulness and dedication.
This trial has national significance, as a conviction will energize the national pro-life community in a way that we have not seen for 20 years. With an Obama Administration and a hostile political climate in Washington, D.C., the Tiller trial is a vivid reminder that the strength of our movement must be rooted in the local community with grass roots activism.
Tiller's trial also shines a national spotlight on the radical pro-abortion policies of Kansas Governor Sebelius as she is being considered for HHS Secretary and the extremist abortion policies of President Obama.