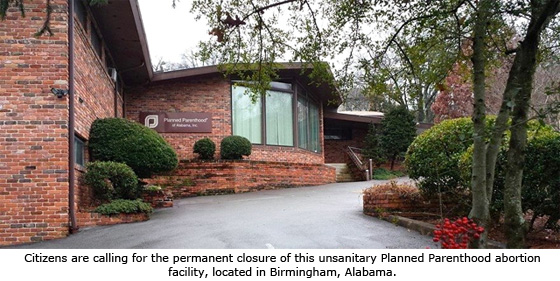 By Cheryl Sullenger
Birmingham, AL – A pro-life group is calling on the Alabama Department of Public Health to shut down the Planned Parenthood abortion facility in Birmingham after serious infection control issues and other violations were uncovered there.
The CEC for Life, led by Fr. Terry Gensemer, held a press conference on Wednesday to discuss 15-pages of deficiencies found at the Planned Parenthood facility during a September 23, 2016, state health inspection.
Genesmer noted that Planned Parenthood is a repeat offender, and cited a long history of health and safety issues at the Birmingham abortion facility.
"In 2010, this facility was placed on a year-long probation after failing to report cases of statutory rape. In 2012, it was sued for negligence when their abortionist performed a surgical abortion on a woman with an ectopic pregnancy, rendering her infertile. In 2014, its own employees were caught selling abortifacients out of the parking lot. How many chances is ADPH willing to give this dangerous facility, and how many women will have to pay the price? This facility has shown no regard for the lives of their patients or the regulations of the state they wish to operate in. They should be shut down immediately, not given another free pass," said Fr. Gensemer.
Among the most serious violations found in the 2016 deficiency report were a failure of staff to wash hands between patients and a failure to properly sterilize surgical instruments. This exposure to contamination put women at risk of infection and disease.
Inspectors also discovered that the abortion facility failed to maintain documentation as to whether five employees were ever screened for highly infectious diseases, such as Tuberculosis and Hepatitis B.
Shoddy record keeping was also a serious issue with incomplete records found in 13 of 22 medical charts reviewed.
Two abortion patient charts contained ultrasound images that belonged to other patients. In others, abortionists failed to note whether the baby was considered viable, or how abortion drugs were administered to patients.
There was also no record many patients were ever given the name and phone number of an on-call physician in the event of an emergency.
Operation Rescue joins the CEC for Life is seeking permanent closure of the Planned Parenthood abortion facility in Birmingham.
"If Planned Parenthood can't be trusted to sterilize surgical instruments or wash hands, it can't be trusted at all – and it certainly shouldn't be trusted with our tax dollars," said Troy Newman, President of Operation Rescue. "The fact that this facility over a long period of time has never been able to comply with the law shows it is too dangerous to operate and should be shut down for good."
Newman also says that the Birmingham Planned Parenthood's history of violations and recidivism make a powerful argument for Congress to defund Planned Parenthood as soon as possible.
"If Planned Parenthood is so incompetent that it can't clean up or even get the right woman's paperwork into her files, we shouldn't be paying for that incompetence with our tax money," said Newman.
Read the full Birmingham Planned Parenthood deficiency report.