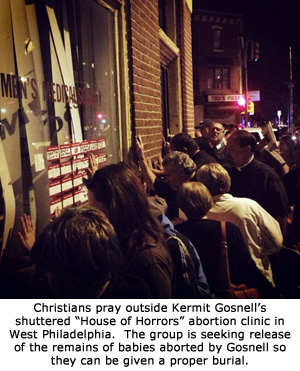 Philadelphia, PA — A coalition of pro-life groups gathered in Philadelphia Sunday evening to call on the Philadelphia Medical Examiner's office to release to them the remains of 47 aborted babies found at Kermit Gosnell's squalid abortion clinic so that the babies can have the dignity of a proper funeral and burial.
Gosnell was convicted earlier this year of three counts of first degree murder for intentionally severing the spinal cords of late-term babies that had been born alive during abortions. The remains of the babies were discovered in a filthy freezer in the rat-and-flea-infested basement of a brick building on Lancaster Avenue that became known as the "House of Horrors." He was also convicted of hundreds of lesser charges related to illegal late-term abortions. He is serving three life sentences without possibility of parole.
Led by Rev. Patrick Mahoney of the Christian Defense Coalition, a group of about 60 people gathered at Drexel University and marched with police escort to Gosnell's now-shuttered and deteriorating abortion clinic where a moving candlelight prayer vigil was held. Participants prayed for the closure of every abortion clinic as well as for the babies that die at them.
"These children need to be treated with dignity and respect," noted Rev. Mahoney, "and like any other member of the human family, they need to have a proper burial and funeral."
The medical examiner has refused to release the remains to any third party saying that the remains will eventually receive "a respectful disposition." However, that could take as long as ten years, which is unacceptable to the groups.
UPDATE: The pro-life groups held a press conference and public witness Monday morning outside the Medical Examiner's office in Philadelphia to once again demand that Gosnell's victims be release for proper burial. The event concluded with no movement on the Medical Examiner's position.
Rev. Mahoney released the following statement:
The official guidelines and regulations set forth by the Medical Examiner make it clear that any "interested" party can put in a request asking for any unidentified person to be released into their care.
Numerous national and local faith and community organizations have put in written formal requests for these children.
The conviction of Kermit Gosnell on murder charges makes it clear that these babies are "persons" and must be afforded the same equal rights as anyone else under the law.
It is tragic and barbaric that government officials are playing 'abortion politics' with these innocent babies. These children were brutalized once by Kermit Gosnell. We are now demanding that they are not brutalized again by the City of Philadelphia.
The coalition of pro-life groups include the Christian Defense Coalition, CEC for Life, Priests for Life, Stand True, Students for Life in America, Alliance Defending Freedom, Operation Rescue, and others.