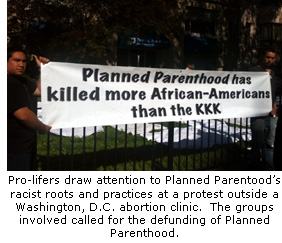 Washington, DC – Activists from several national and international pro-life groups gathered at a Planned Parenthood abortion clinic in the nation's capital this morning to protest Planned Parenthood's racist roots and policies and to call for the defunding of the nation's largest abortion provider.
The protest, organized by the Washington, D.C. based Christian Defense Coalition, featured "sheets of shame" displayed on the lawn outside the Planned Parenthood facility as well as signage that informed the public that Planned Parenthood has killed more African-Americans than the KKK.
Planned Parenthood founder Margaret Sanger believed in using abortion to keep minority populations in check and was even to speak at KKK rallies. About 13 percent of American women are black, but they
account for over 35 percent of the abortions. Planned Parenthood is known to target minority neighborhoods for abortion.


Literature from Life Dynamics, Inc. was distributed documenting these facts.
"This racist targeting of minorities, especially African-Americans, should be more than enough for our government to stop dumping millions of our tax dollars in Planned Parenthood's coffers each year," said Operation Rescue President Troy Newman, who attended the event. "A black baby is three times more likely to be murdered in the womb than a white baby. With Planned Parenthood providing the majority of abortions in our country, they are almost single-handedly decimating the African-American community. We say: Not with our tax dollars!"
The protest was attended by activists from all over the nation and several foreign countries. Some of the groups represented included Operation Rescue, The Survivors, and Stand True.