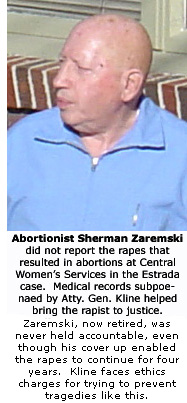 Topeka, KS – Closing arguments were made before a 3-member disciplinary panel Friday in the ethics case against former Attorney General and District Attorney Phill Kline.
Disciplinary Administrator Stan Hazlett chastised Kline for investigating Planned Parenthood of Overland Park and George Tiller's late-term abortion business in Wichita, claiming he was disqualified to do so because of his strongly held pro-life beliefs. He recommended disbarment for Kline.
Kline gave his own closing arguments lasting two hours in which he told the panel that his prime concern was for the welfare of children in Kansas whose sexual abuse was not being reported by abortion clinics.
[Read a tragic example of this.]
"Kline is a principled man of strong integrity and faith who simply was attempting to enforce the law," said Operation Rescue President Troy Newman. "The abortion cartel made an example out of him in order to intimidate anyone else from investigating abortion clinics. That's the bottom line. Investigations reveal the largely untold truth about abuses that take place regularly at abortion clinics. Political cronies of the abortion cartel in Kansas stopped at nothing to keep their dirty little secrets hidden from the public.
"The wrong people are facing ethics charges. The ones who should be before the disciplinary panel are those who blocked or impeded investigations and subverted the citizen called grand jury."
Panel members indicated that their ruling could take "weeks." If the panel decides discipline is in order, they will refer their recommendations to the Kansas Supreme Court, which will decide what discipline, if any, is merited. Discipline could range from a letter of censure to disbarment.
In 2007, Kline filed a massive 107 criminal counts against Planned Parenthood for illegal late-term abortions and manufacturing evidence to cover up their crimes. After two years of scrutiny by the Kansas Supreme Court, that case is now moving forward. A preliminary hearing is set for October 24-26.
"This ethics case was about two things: getting revenge on a political rival of the former pro-abortion administration, and discrediting the prosecutor who filed the charges against Planned Parenthood so that there would be a reason to drop the case and bury the evidence against Kansas' largest abortion supplier," said Newman.
Below is a video interview of Kline made by KansasWatchdog.org that summarizes his closing arguments. More information about the proceedings can be found on the KansasWatchdog.org blog.