Radical Pro-Abortion Activists on the Plaintiff's List!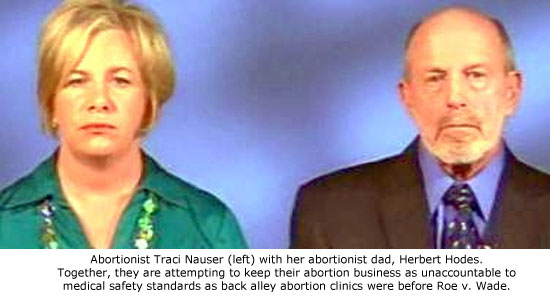 By Cheryl Sullenger
Topeka, KS – At least there are minimal signs of life – perhaps not in Kansas abortion clinics, but in a Shawnee County court where a 2011 abortion clinic licensing and safety law has languished without much action for five years.
However, on March 7, 2016, attorneys for the father/daughter abortionist team of Herbert Hodes and Traci Nauser filed a preliminary list of proposed witnesses and exhibits in their marathon legal challenge to block the 2011 Kansas abortion law. Attorneys representing the Kansas Department of Health and Environment and State Attorney General Derek Schmidt also filed similar lists.
An injunction has blocked enforcement of the law over the past five years and left abortion facilities without oversight or accountability to any kind of medical safety standards.
However, the filing of potential witness and evidence lists by both the abortionists and the State, which is tasked with defending the law, is reason for a glimmer of optimism in a case that has been largely forgotten.
"Most Kansans probably believe that there are abortion clinic licensing requirements in Kansas. Certainly a big deal was made when Gov. Sam Brownback signed the long-awaited legislation into law in 2011," said Operation Rescue President Troy Newman. "After five years of inertia, it is important to remind people that abortion clinics in Kansas have no oversight and are not required to meet any minimum safety standards."
Potential witnesses for the abortionists include:
• Traci Nauser, M.D. is an abortionist who operates the Center for Women's Health in Overland Park, Kansas, with her father Herbert Hodes. She is a plaintiff in the case. It is likely that her abortion business would not qualify for licensing under the 2011 law and would be forced to shut down if the law was enforced.
• James Mirabile, M.D., an Overland Park Ob/Gyn who refers abortion patients to Hodes and Nauser. He will testify that there is "no medical reason" for abortion facilities to be licensed or meet safety standards.
• Tracey Cowles, M.D., another Overland Park Ob/Gyn who refers abortion patients to Hodes and Nauser. She will testify that it is her opinion that there is "no medical reason" for abortion facilities to be subject to safety standards or oversight. Cowles was also a plaintiff with Hodes and Nauser in a Federal Court case that challenged the Kansas mandatory child abuse reporting law. Cowles advocated that abortionists and their employees should be "discretionary" reporters of child sexual abuse.
• Elizabeth Raymond, M.D. of New York, New York, has published numerous studies on abortion topics, including the use of digoxin in late-term pregnancies, the use of the medication abortions on adolescents, and several studies on the use of various contraceptives world-wide to prevent pregnancy. Her so-called "studies" have been used as propaganda to promote the notion that abortion is safe.
• Joshua Freeman, M.D. of the University of Kansas Medical Center in Kansas City, Kansas, is set to testify about the status of abortion in Kansas and the "climate in which women access and providers perform abortions in the state," even though he does not participate in abortions.
• Jane Doe(s) are women who are expected to testify about how the licensing of abortion clinics will negatively impact their ability to access abortions.
Most of those on the abortionists' witness list are known to be radical supporters of unrestricted abortion and unaccountable abortion facilities, but such a lack of oversight has led to abortion atrocities such as those uncovered at Kermit Gosnell's "House of Horrors" abortion facility in Pennsylvania. In Kansas, hands-off policies allowed abortionist Krishna Rajanna to operate an appallingly filthy and dangerous abortion mill in Kansas City for years until local activists finally documented the conditions and reported him to the authorities.
On the other side of the lawsuit, the State of Kansas notified the court that it plans to use the plaintiffs, Hodes and Nauser, as witnesses along with "one or more present or former employees" of their Overland Park abortion business.
"A former abortion worker who was employed by Hodes and Nauser could have the potential of being a game-changer in this case," said Newman. "Abortion workers see everything and know the truth about what really goes on inside abortion businesses. Their experiences are very different than the sanitized sob-stories media organizations such as the New York Times like to publish to make people think the sky will come crashing down if women have to drive more than a block to kill their babies."
The State's potential witness list also includes:
• Representatives from Comprehensive Health of Planned Parenthood, another abortion facility also located in Overland Park, which dodged 107 criminal charges brought against it by a former county prosecutor that were related to illegal late-term abortions and manufacturing evidence to cover their crimes. That case was dismissed after it was discovered that a still-unknown person or persons inside the State Attorney General's office under former A.G. Steve Six, destroyed the evidence against Planned Parenthood.
• Representatives from South Wind Women's Center, an abortion business in Wichita that is located in the same building that once was occupied by George Tiller's infamous late-term abortion business.
• Representatives from the Kansas Department of Health and Environment, which held public hearings on the need for the abortion law and developed specific safety regulations to protect women from unsafe conditions and practices.
• Other medical experts who have not yet been disclosed.
Efforts to create clinic licensing and standards date back at least to 2003, when then-Governor Kathleen Sebelius vetoed the first of three efforts to enact laws that would have for the first time placed Kansas abortion facilities under the regulatory authority of the Kansas Department of Health and Environment.
"It has taken the court five years to begin discovery in this case, that should have been resolved within a few months," said Newman. "The truth is that the lack of will exhibited by the Attorney General's office to defend this law has allowed abortion facilities to run amok without accountability and jeopardize the lives of women and girls. It has also allowed two new abortion businesses to open in Kansas after years of clinic closures. It's a source of embarrassment to the state of Kansas."
The case has been a source of frustration for Operation Rescue, which heavily supported efforts since 2003 to place Kansas abortion facilities under the oversight authority of the Kansas Department of Health and Environment.
Since the abortion law was passed and signed by Gov. Brownback in 2011 — only to be blocked by a county court judge — one surgical abortion facility, South Wind Women's Center, has opened in Wichita and a Planned Parenthood facility, also in Wichita, has added medication abortions. Neither facility would have met licensing and safety criteria had the law been enacted and enforced.
"The unconscionable judicial delay in this case has resulted in abortions that would never have taken place. When you look at the delay from the standpoint of innocent lives of little boys and girls lost to abortion at the two Wichita facilities, it has been a bloody five years in Kansas," said Newman.