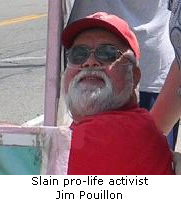 Owosso, MI – Citizens for a Prolife Society are inviting pro-lifers everywhere to attend a prayer vigil in memorial to pro-life activist Jim Pouillon, who was gunned down as he stood for life outside Owosso High School. The vigil will be held at the same location where Jim ministered and died.
Vigil Details:
-Sunday, Sept. 13th, 2009
-3:00pm to 4:00pm
-Outside the Owosso High School, 765 E. North Avenue, Owosso, Michigan 48867
-Owosso is located west of Flint, Michigan off of M21
-Bring flowers, candles, and photos, signs, and/or posters that reveal the victims of abortion. WHY? Jim Poullion was martryed for showing the truth about abortion–we honor his witness by witnessing on behalf of these outcast little ones as he did.
Please invite others to come to this important vigil and send this invitation to your own lists.
UPDATE: To send a card, letter, or gift to Jim Pouillon's family, you can do so through the following address which was where the family attends church:
Family of Jim Pouillon
c/o Abba's House
P.O. Box 201
Owosso, MI 48867