By Cheryl Sullenger
Birmingham, AL – It was for years the focus of the abortion wars in the South. The non-descript red brick building in Birmingham once housed the most notorious abortion business in Alabama. In a final post script to decades of pro-life efforts, it was razed to the ground the weekend by new owners who have other – better – plans for the property.
Operated by the "Abortion Queen" Diane Derzis, New Woman All Women was a poorly-maintained abortion facility that became well known for shoddy practices and deceptive tactics that kept it operating well beyond its legal ability to do so.
A coalition of pro-life groups, including the CEC for Life, Life Legal Defense Foundation, and Operation Rescue, worked to expose and report below-standard patient care, dangerous facility conditions, and in the end, illegal abortions done by long-time Derzis employee Bruce Elliot Norman.
The beginning of the end for Derzis and her Birmingham clinic came on January 21, 2012, when local pro-life activists with CEC for Life photographed two abortion patients being hand-carried out a back door down broken steps to gurneys waiting in a trash-strewn alley. Emergency 911 records obtained by Operation Rescue indicated that the two women suffered drug overdoses caused by ill-trained clinic staff.
Operation Rescue worked with CEC for Life and Life Legal Defense Foundation to file complaints against the clinic and its two abortionists, Ivan Diamond and Bruce Elliot Norman. An inspection prompted by the pro-life groups' complaints uncovered 76 pages of serious health and safety code violations, including a third abortion patient who was hospitalized in intensive care on the same day the two other women were rushed to the emergency room.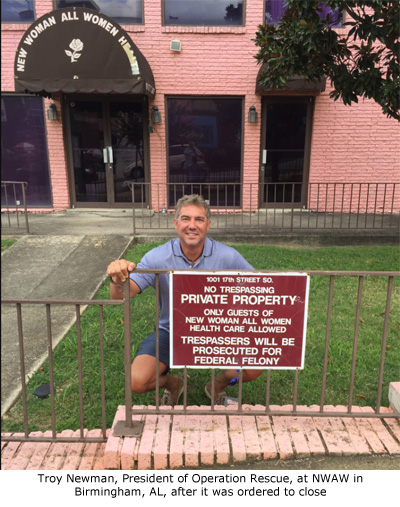 The Alabama Department of Public Health (ADPH) issued a closure order in April 2012, ruling that the abortion clinic was a repeat offender that was too dangerous to continue operating after pro-life groups brought public pressure to bear.
But that wasn't the end for Derzis, the defiant abortion clinic owner who also owns and operates the Jackson Women's Health Organization, the last abortion clinic in the state of Mississippi.
Over the next two years, NWAW attempted to reopen under one deceptive scheme after another. Each time the coalition of pro-life groups jumped in to expose the deception and each time, NWAW was blocked from continuing abortions.
Nevertheless, Norman reopened the clinic illegally, boasting to Fr. Terry Gensemer of the CEC for Life, "I'll be here long after you are gone."
But Norman's arrogance could not stand. The pro-life groups documented Norman's illegal abortion scheme and reported him, and once again a judge ordered Norman and Derzis out of the abortion business.
In March, 2014, Derzis and Norman finally gave up and placed the clinic property up for sale.
"I often wondered how many times we would have to close that abortion clinic," said Troy Newman, President of Operation Rescue. "In the end, Derzis' corrupt abortion business could not withstand the scrutiny and determination of our united effort to ensure laws were enforced so women and babies could be protected."
With the same groups at its core, an expanded coalition of pro-life groups enjoyed a second success just last month, driving yet another illegal abortion clinic out of business in Selma.
In the end, for the Birmingham and Selma clinics, the Abortion Cartel's own illegal activity and arrogance brought them down, but it took pro-life groups working within the system to point that out to state regulators.
"When pro-life groups work peacefully within the law in unity toward a common goal, we can accomplish almost anything," said Newman. "The demolished rubble that was once Alabama's abortion stronghold is a public testimony to that fact."