Video: Mary Maschmeier
By Cheryl Sullenger
St. Louis MO – It was New Year's Eve morning. A small group of pro-life activists gathered peacefully on the sidewalk outside the Planned Parenthood abortion facility in St. Louis, as they routinely do, to offer help to women.
But today wouldn't be routine.
Before the morning was over, John Ryan, an experienced activist who regularly offers help to pregnant women at Planned Parenthood, was under arrest and escorted to the back of a patrol car.
He would later be charged with domestic terrorism and pulling a fire alarm, which made no sense to those who were on the street with Ryan that morning. They say he never left the public sidewalk, nor did he ever break the law.
According to a Facebook posting, Ryan believes the arrest stemmed from false accusations made by a clinic worker with which he had a brief conversation that was witnessed by at least a half-dozen people.
Ryan said that he asked the abortion worker, "How would you like to bring in the New Year with a new job?"
"You didn't dream of working at an abortion mill when you were a little girl," he added. "No little girl dreams of that. What happened to that little girl?"
After Ryan's arrest, police dispatched a K9 unit to Planned Parenthood, which was inside the high-volume abortion facility for about an hour while Ryan remained cuffed in the back of a patrol car.
"Our lawyer came but the police would not let him talk to John," said Mary Maschmeier, founder and president of Defenders of the Unborn, who took video of the arrest and posted it to Facebook. "Finally the police opened the window and we were able to speak to John for a few minutes. The police came out of the mill and said no more questions or talking to him."
Maschmeier told Operation Rescue that the police never asked Ryan for his name nor did they respond to questions about why he was being put under arrest.
Ryan said that police spoke to none of the approximately six pro-life activists that had witnessed Ryan's conduct all morning and could attest to the fact that he never broke the law.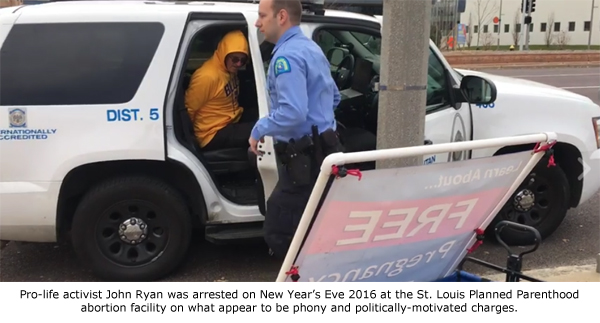 Suspiciously, Ryan was told by one of the officers that they were detailed ahead of time to Planned Parenthood. It was almost as if they knew ahead that someone would be accused of a crime.
Ryan was finally released on January 1, 2017, on his own recognizance — without having to post bail — something that also seemed odd given the charge of "domestic terrorism."
Even more suspicious was the timing of Ryan's arrest in light of a proposed city ordinance, BB 203, due to be discussed later this week that would amend the city's anti-discrimination ordinance to include "pregnancy and 'reproductive health decisions'" as "protected classes."
Two St. Louis Aldermen, Megan-Ellyia Green and Christine Ingrassia, both Democrats, have worked "in tandem" with the National Abortion Rights Action League (NARAL) to introduce BB 203 and a new buffer zone ordinance that would keep protesters away from the facility – the only abortion facility in Missouri — and make it more difficult to offer help to women.
A buffer zone would also make it more difficult for pro-life activists to document medical emergencies involving injuries to women that have taken place at the St. Louis Planned Parenthood abortion facility 63 times in the past eight years.
"It appears possible that John Ryan's suspicious arrest was orchestrated by Planned Parenthood and the St. Louis Police Department to ensure there was a recent 'incident' that could be used to support new laws that are meant to seriously hinder the free speech rights of pro-life activists," said Troy Newman, President of Operation Rescue. "There is obvious corruption within the City of St. Louis that is protecting the most dangerous Planned Parenthood abortion facility in the country. It is so important that we expose and oppose this corruption that is endangering women and costing innocent lives."
Ryan's case is set for a hearing on January 17.
Meanwhile, he has a special request of pro-life activists in the St. Louis area. He believes the "best response" to his unjust arrest would be for pro-lifers to expand their presence outside the St. Louis Planned Parenthood, lest they "sense they can intimidate us into submission."